How To Make Your Own Patchwork Jeans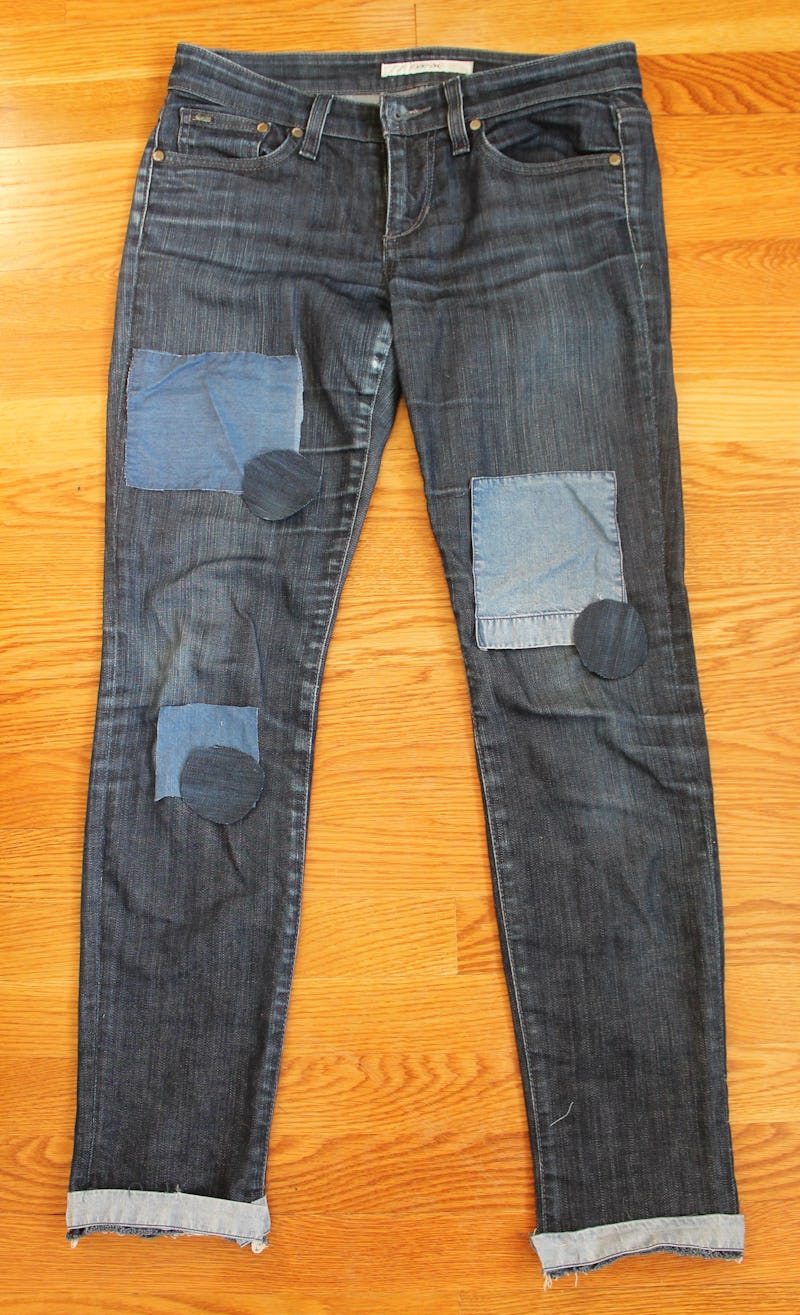 Spring denim trends are in full effect now, and if there's one thing that's caught my eye, it's the patchwork jeans comeback. I've been coveting a pair for a while, and I've looked at this Isabel Marant style enough times in the flesh and online for it to grace the not-so-covert ad space on my Facebook newsfeed every time I log in. Even though they're from an earlier season and marked down as low as 70 percent, I don't have the lifestyle for a three-digit-priced pair of embellished jeans.
Patched jeans, like their cousins, destroyed denim, are often more expensive than their clean-cut versions because of the extra care and fabric required to make them. Two reasons they also make for the perfect do-it-yourself project. Why buy patchwork denim when you can add patches to a pair of your own jeans? My thoughts exactly, which is why I headed into the trenches of my closet to find a pair of jeans that needed doctoring and denim I'd be willing to sacrifice for patches.
Making patchwork jeans is a simple project that anyone who can stitch a needle and thread can take on. You'll need a pair of jeans you'd like to continue wearing, another pair worth cutting up, scissors, a regular sewing needle, straight pin needles, cotton thread, and an iron.
Step 1: Choose Your Jeans
Mine are an old pair that I've had since high school. I thought they were growing with me until I realized holes had taken up residency in the crotch and thigh areas last year, and I unevenly cut off the bottom hem once. I mostly keep them around for the memories, so they seemed like a practical choice for a sewing experiment.
Step 2: Choose Your Battered Jeans
(Try to choose denim in varying washes to add more contrast.)
Choose the denim you'll use to cut into patches. Buy a cheap pair from a thrift store, find a worn-beyond-wear pair of your own, or buy a yard of denim fabric. Any fabric that contrasts with the jeans you want to patchwork will do. I used a denim shirt that had one too many balsamic vinegar stains and some leftover scraps from jeans that I cut into shorts in past years.
Step 3: Cut Your Patches
Size and shape is your choice, but I cut mine into five-inch squares. I also admit to cheating a bit because the denim shirt already had rectangular pockets, though I did cut a few more squares of darker denim from the jean scraps. The shirt also had denim piping in the back that could be of use somewhere, perhaps along the pockets or the bottom hem.
Step 4: Make Some Stencils
If you want to make shapes other than rectangular patches, make a stencil by drawing the shape on paper, cutting it out, then placing it on the fabric as you cut. I wanted to add a star-shaped patch, but I've tried to make star stencils in the past and proved inept at drawing them, so I went with the low-risk option and made circles instead.
Step 5: Do Some Pinning
(The denim piping from the shirt is repurposed as a pant cuff to cover the uneven, frayed edges.)
Pin your patches into place. This is the fun, experimental part of the design process — go as simple as you like with one knee patch or layer the pieces on top of each other. I chose to layer the circles over the rectangles, and I used the denim piping to cover up the frayed edges of the hem.
Step 6: Time For The Hard Work
Get ready to do some manual labor. Once you've put your vision into place, production begins. A sewing machine will expedite the process, but if you don't have one, you'll need to sew the patches using a needle and thread. Here are a few tips:
Use thread that matches the denim so it doesn't stand out, and a needle that isn't too thick — the bigger the needle, the longer it will take to sew.
You'll need to rethread the needle for each patch you sew, and make sure you cut enough thread so you don't have to restart mid-patch.
Sew a running stitch along the perimeter of the patch at about a quarter-inch distance from the border.
Put on some music, turn on the TV, enlist some friends to help. Sewing by hand is tedious but surprisingly calming once you get into the swing of things.
Step 7: Get Out Your Iron
(They're not Isabel Marant but they'll do.)
Once you've sewed on all the patches, run an iron over the jeans. This will further set them into place.
And you're done! Take them for a spin and see how many compliments you get. The best part about making your own patchwork jeans is that you can add embellishments to them whenever you want. I haven't given up on my star patch, so once I get the stenciling part down, I plan to add stars to the back pockets.
Images: Author's Own