Nail Art You Can Do In 30 Seconds Or Less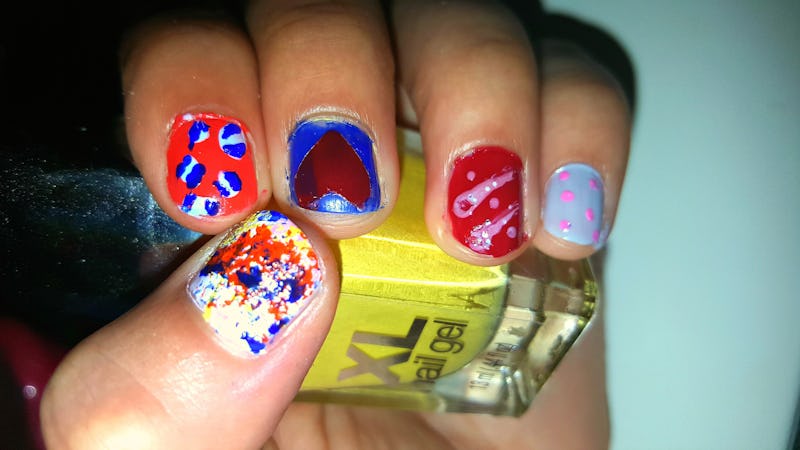 If you've ever scrolled through Instagram, you might have been downright intimidated by all of the amazing nail art looks that people post, and if you haven't, then you need to check it out. The #nailart can bring in some looks that are out of this world, and there's no question out there that people have skills. However, it begs the question: Where do people find time to execute these designs? Seriously, some of them look like they could take hours to pull off.
As someone who's always on the go and running around all over the place, finding the time to paint my nails is tough — and recreating intricate designs is just out of the question. To be honest, I can't even hold a set of utensils sometimes without dropping them at some point during my meal, so holding a nail polish brush steady can be tricky. Luckily, there are some nail art tricks that you can pull off in 30 seconds or less!
Simplicity can go a long way when it comes to staying on trend. After all, having the perfect nail art design can make a bold statement and has the power to tie your entire outfit together. With spring in full swing, there's no time like the present to up your mani game and make your nails the envy of all of your friends. Bonus: No fancy nail art tools required; all of these designs can be done with things you have around the house.
Heart
Step 1: Fold a clear piece of tape in half.
Step 2: Draw half of a heart on the tape.
Step 3: Cut out the design of the heart and unfold the tape.
Step 4: Place the tape over your nail.
Step 5: Paint over the stencil with a second color.
Step 6: Carefully remove the tape.
Diamond
Step 1: Fold a piece of tape in half and draw half of a diamond.
Step 2: Cut out the design and unfold the tape.
Step 3: Place half of the diamond shaped tape above the cuticle.
Step 4: Paint over the tape with a second color.
Step 5: Carefully remove the tape.
Polka Dots
Step 1: Dip the tip of a pen in nail polish.
Step 2: Gently place dots over the nail starting in the shape of a diamond.
Paint Splatter
Step 1: Pour at least four nail polish colors over a piece of plastic wrap.
Step 2: Take another piece of plastic wrap and dip it into the first nail polish color.
Step 3: Pat the nail polish onto the nail.
Step 4: Repeat with other colors.
Stripe
Step 1: Cut a piece of tape into two strips and place strips over nail vertically, leaving a space in the center.
Step 2: Paint over the nail with a second color and carefully remove the tape. (I can't stress this enough, don't rush it like I did or you'll end up with a line that's not precise.)
Quick Lines
Step 1: Break off the ends of a cotton swab. Place the cotton swab in between two toothpicks and tape them together.
Step 2: Dip the ends of the toothpicks in nail polish and swipe across the nail to reveal two lines. Dot nail polish in between the lines.
Leopard
Step 1: Dot nail polish onto nail with brush focusing on placing "spots" on the corners of the nail.
Step 2: Break a toothpick and dip the end into nail polish. Draw borders around the spots.
Images: Author's Own