'Jane the Virgin's 17 Best Fashion Moments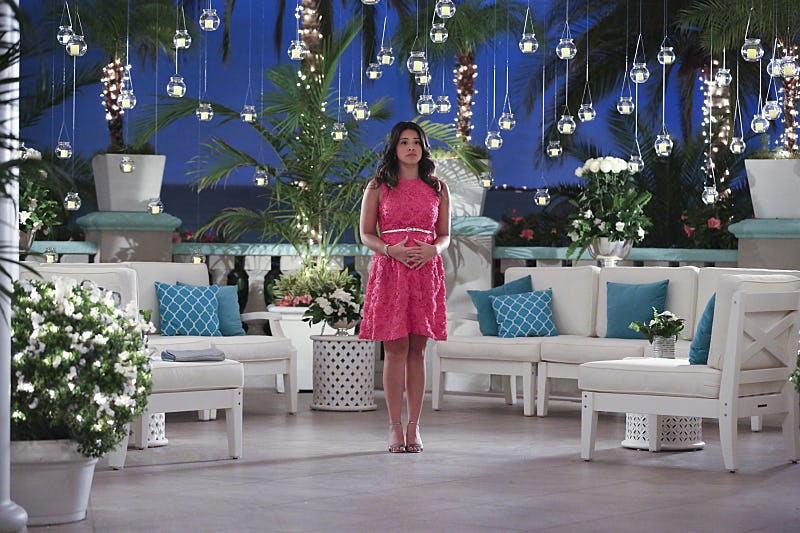 Good TV shows are my jam, and good TV shows that also happen to be fashionable are really my jam. Needless to say, I absolutely love Jane the Virgin. It's almost not fair to other series that one of the best shows on television right now is also one of the best dressed. Seriously, when it comes to fashion, Jane the Virgin is top-notch, crafting looks that rival those from the lauded Mad Men and Game of Thrones.
Whether it's youthful sundresses and equally youthful denim jackets from Jane, ultra put-together ensembles from Petra, or telenovela-level fabulous costumes from Rogelio (and even his rival, Esteban), there's no denying the fact that Jane the Virgin is stylish. The series has many charms, but one of its biggest is definitely its distinctive look. Everything is so wonderfully colorful, and it uses an almost fairy tale-esque palette that fits perfectly with its tone — and the fashion is a big part of that. So, without further ado, let's take a look at some of the most fashionable moments on Jane the Virgin. And trust me, there were a ton to choose from — basically every outfit to ever appear on the show.
Petra's Printed Dress
Jane's usually the one in prints, while Petra typically sticks to solids, but she switched it up when she wore this absolutely gorgeous snakeskin-esque number.
Jane & Rafael's Salsa Wear
Rafael (as always) is rocking that sharp suit, and Jane (as always) is rocking that floral minidress.
Rogelio's Fedora
Rogelio's worn a lot of truly great ensembles, and this fedora (complete with a lavender accent ribbon, of course) is definitely one of his best.
Rafael & Jane's Harlequin Romance Wear
Really, kudos to all parties involved.
Petra's Studded Blouse
Petra's got the ultra classic look down pat.
Jane's Red Tie-Dye Dress
Basically, everything about this moment was perfect: From the falling rose petals, to Jane's printed summer dress paired with matching high-heeled Mary Janes... and of course, THAT KISS.
Jane's Wedding Dress
#TeamMichael.
Xiomara's Spangles
WERQ.
Petra's Monochromatic Printed Dress
Pretty darn fab, with an epic facial expression to match.
Rogelio & Esteban's Space Suits
A stylish duo if ever there was one. Also, Rogelio may think he doesn't "pop in peach," but he's definitely pulling it off.
Jane's 3D Dress
Ah, the perfect dress to get engaged in (too bad she said no).
Petra's One-Shouldered White Dress
A comeback dress if ever there was a comeback dress.
Rogelio's Pirate Wear
RIP Santos.
Rogelio's Lavender Jacket
Seriously, how much do we miss El Presidente?
Jane's Printed Sun Dress
Jane loves her electric bright florals, and this is one of her best.
Petra's Blue Romper
I have to admit, Petra's pretty much single-handedly sold me on the concept of rompers and formal shorts.
The de la Vega-Villanuevas At The Paloma Awards
A+ styling from the entire Villanueva/de la Vega clan.
Images: gilmoresgirls, janethevirgin-gifs, marymargaretholland, talesofnorth (2); Giphy; Danny Feld (8), Greg Gayne, Tyler Golden/The CW