This Pro-LGBT Hillary Clinton Shirt Is Awesome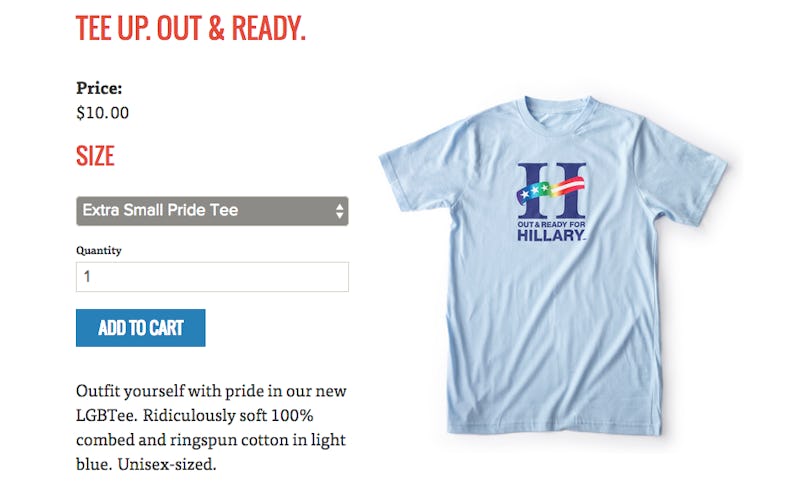 Hillary Clinton, having finally announced that she is running for president, will count gay rights among the most important issues of her campaign. If you're all about a major presidential contender championing the controversial topic in an unprecedented move (as far as I know), the Ready for Hillary PAC's pro-LGBT Hillary Clinton shirt will surely be your cup of tea.
Featuring a rainbow flag (complete with stars and a stripe) running across the vertical line on the "H" that sits on top of the caption "Out & Ready For Hillary," the shirt is a Clinton double-whammy, both to express your support for the presidential frontrunner and to advocate her championing of gay rights.
Based on her super-inclusive announcement video, her presidential campaign will be one that focuses on the middle class, the growing Hispanic population, and gay rights. On the issue of the latter, the timing has lined up rather perfectly for Clinton. Between the increasing number of Americans — particularly the youth — expressing their support for LGBT rights and the Supreme Court being on the verge of deciding by early summer whether same-sex couples in all states have a constitutional right to marry, the tide is turning for a community in the U.S. that has been traditionally suppressed by the larger society.
Clinton's personal views on gay rights have seen a steady evolution, particularly on the issue of same-sex marriage. During her stint as First Lady, she held progressive views on LGBT rights — though she and Bill did support the Defense of Marriage Act. As Secretary of State she advocated for gay rights abroad, and after leaving her position in the Obama administration, Clinton publicly expressed her support for same-sex marriage.
While Clinton rides the wave of support for LGBT rights across the nation, those who remain on-the-fence or in stubborn opposition will perhaps be left behind. No matter how she arrived at her current stance on gay marriage, I say kudos to Clinton for already drawing a sharp divide between her and the other official presidential contenders: Republicans Ted Cruz — the right-wing politician who vehemently opposes gay marriage — and Rand Paul, who doesn't seem to be against it but hasn't publicly declared his support like Clinton has, and isn't about to make it a central issue in his campaign.
Image: Ready For Hillary; Getty Images (2)