Where To Get The Best Hillary 2016 Swag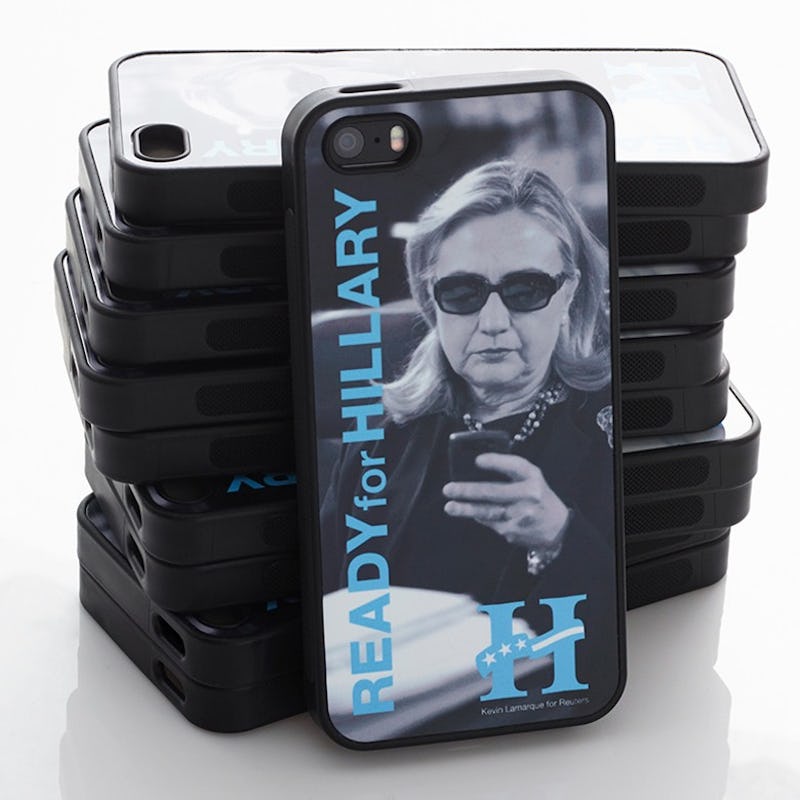 Hillary Clinton finally announced her 2016 presidential campaign on Sunday, so now her supporters can start shopping for Hillary 2016 campaign gear. I'm talking t-shirts, hats, buttons, stickers, coffee mugs, dog clothes, and even champagne glasses (to toast her victory with, obvi). Multiple websites, including ReadyforHillary.com have infinite Hillary 2016 swag for sale, so get your credit cards ready. Buy everyone in your life a nice Hillary 2016 gift for all foreseeable birthdays and holidays and a few (dozen) things for yourself.
For those people who don't want to actively campaign for Hillary 2016 by volunteering to go door-to-door or call strangers asking for their support, flaunting campaign merchandise is a nice and passive alternative. I mean, we have to wear clothes anyways — those clothes might as well serve a higher purpose. Not to mention, if Clinton becomes the first female president of the United States, that campaign gear will become a valuable keepsake that you can bring out at family gatherings in 50 years and impress your grandchildren with. No price is too high to pay for that satisfaction, so online shop away. Here are some of the best Hillary 2016 campaign swag items out there.
This tee not only supports Clinton, it also helps make #Hillary2016 a trending hashtag — two birds, one stone.
Possibly the best onesie ever made, this baby swag is a must-have for any Clinton-supporting parents.
An "I'm Ready for Hillary" beanie keeps your head warm and makes for a great conversation starter. It says, "Hi, nice to meet you. I'm ready for Hillary."
Back to the White House for Clinton, but this time as the HBIC.
Now that there's a viable female candidate for president, it's actually acceptable to wear pink campaign t-shirts.
Hillary 2016 undies don't really help campaign for Clinton since most people won't see them, but still good to have if you want to rock a head-to-toe Clinton look.
While not 100 percent optimistic, this Hillary 2016 magnet makes a good point.
What's better than a dog hoodie? A Hillary 2016 dog hoodie.
The same applies to cat collars.
With this "Ready for Hillary" phone cover, you can make a political statement while ignoring people and checking Instagram, much like Clinton's doing in the photo.
There's really no better glasses to toast your most important life achievements with than ones that say "Ready for Hillary."
Images: ReadyforHillary.com (3); Amazon.com (2); cafepress.com (2); ReadyforHillary.com (4)