6 Times Butts Brought All The Wallets Out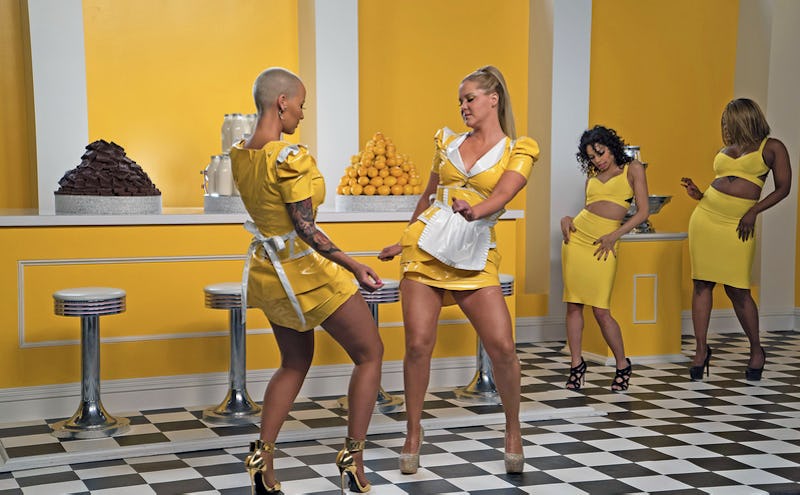 Amy Schumer has an announcement to make: the butt is back.
Now, some of us might reasonably argue that the butt has never really gone away: we've had them basically since humans started walking upright, and they've never ceased to be fascinating. (So big! So round!)
But we will say that this year, butts got even bigger -- both literally and figuratively. Kim Kardashian demonstrated her ability to balance champagne on her butt. Nicki Minaj's "Anaconda" appropriated the ur-Butt Song, Sir Mix-A-Lot's "Baby Got Back," and went double-platinum. Miley Cyrus, unable to face the rising onslaught of worthy competitors, announced she was retiring from twerking for good. And now, bless our hearts, we have "ass"-cessories like the Belfie that are completely devoted to capturing ourselves from our "good sides." If we learned anything in 2014, it's that you have to shake it to make it in this wild and crazy world.
Judging from the commercials we've been seeing on TV, advertising agencies have finally caught on. It's as if everyone simultaneously realized that nothing sways the (m)asses like a swaying derriere.
Wanna sell a high-tech, crumb-free toaster? Twerk about it. Trying to shill a low-interest credit card to millennials? Shake that thang. Want to promote weight loss but ALSO loving yourself for who you are? All you need is the butt, and nothing but.
Or are you Amy Schumer, promoting the third season of a hit television show? Create a music video called "Milk, Milk Lemonade," which gently reminds us of the True Meaning of Booty.
Warning: This is chock full of rump-shaking and somewhat NSFW, depending on where you "W."
In the spirit of supporting our fellow butts, Bustle and Comedy Central's Inside Amy Schumer have rounded up the best (worst?) times our fudge machines have been used to sell products. Using a completely unscientific rating system, we assessed them based on the emotional response they received from our hearts, our minds, and our butts.
Tune in tonight (Tuesdays) for an all new episode of Inside Amy Schumer at 10:30/9:30c on Comedy Central and on the Comedy Central App.
Advertiser: MoneySuperMarket How It Made Our Butts Feel: Wealthy Enough To Twerk About It
Hey, guys: What should you do when you save money? Did you say "spend it all"? Gosh, you're so irresponsible! The responsible thing to do, according to this UK price comparison website, is to bounce that thang in the city streets to the tune of "Don't Cha" by the Pussycat Dolls. Not only does this commercial give the Dolls a much-deserved royalty check, but it also paves the path for equal-opportunity booty dancing. Now, British gentlemen everywhere know that saving on car insurance is the perfect excuse to strut their stuff in denim cutoffs. You're welcome, world.
Final Ass-essment: 7/10 We kind of like a world in which "look how much money I saved!" translates into "let me put on my 7-inch heels and show this city what I'm made of!" Demerits for performance-enhancing butt pads.
Advertiser: MSI How It Made Our Butts Feel: Painfully Out Of Shape
For those of us who can't even catch objects with our hands, this computer parts manufacturer (yes, you read that right) finds a new way to make us feel inferior and weak. A spoof of a Ray-Ban ad featuring a man catching sunglasses with his face, this is an ad in disguise as an anonymous "viral video." In other words: It appears to be created by very talented young men who have no concept of handling technology with care. But! It's actually an advertisement for buying new computer parts -- after a less talented butt fails to catch your laptop in its crevice, we presume.
Final Ass-essment: 9/10 Why search for fitspiration on Tumblr when you can just watch this ad? Stop the squats right now and hurl expensive electronics at your cheeks of steel. (Actually: Please do not try this.)
Advertiser: Booty Pillow How It Made Our Butts Feel: Replaced
The pillow market is tough. It's hard to establish yourself as the pillow to buy with big guys like Serta and Tempur-Pedic leading the pack. That's why one entrepreneurial go-getter invented the Booty Pillow, a shapely pillow that allows women of the world to be free of partners who seemingly can't afford proper bedding. This commercial manages to work in the closing line "putting a smile on your cheeks," which, PROPS.
Final Ass-essment: 3/10 Booty Pillow loses creativity and inclusivity points. These suckers should come in different sizes, and they should NOT be forced to wear thongs. #notallpillows
Advertiser: Vichy How It Made Our Butts Feel: Lumpy
What do skin-care brands have in common with half-undressed men? Very little, but thanks to some ad agency geniuses and France's equal-opportunity attitude to objectification, Vichy was able to launch Booty Break, a website dedicated to men shaking, grinding, and slapping their own asses. Why? To encourage women to get rid of their icky, icky cellulite. (Womp, womp.) After all, nothing says "loving yourself" like "ogling someone of the opposite sex." Fortunately, they've since taken the website down.
Final Ass-essment: 1/10 One point for the audacity of faceless ass-smacking, but nine points off for a pricy cellulite-"correction" cream that also forces you to love yourself.
Advertiser: T-Mobile How It Made Our Butts Feel: Like They Should Bow Down To The Queen
Kim Kardashian seems to be endlessly competing for attention with her own butt. There's Kim the Personality, and Kim the Butt, and they have both edged their way into the spotlight time after time. When scrappy up-and-comer Kim the Butt finally achieved a spot in a Super Bowl ad, both Kims achieved their lifelong goal of informing the nation about its very serious data shortage.
Final Ass-essment: 3/10 It almost seems too easy.
Advertiser: Polycell How It Made Our Butts Feel: Vaguely Terrified
This ad initially seems to be the only one not on Team Butt, since this British wall spray wants to rid the world of cracks. It's only when you reach the end that you learn just how helpful and polite handyman cracks can be.
Note from Bustle: We apologize if you're unable to sleep soundly tonight after watching this ad.
Final Ass-essment: 5/10It's hard to admire the handiness and resourcefulness of a hardworking butt crack when you're simultaneously terrified.
Tune in tonight (Tuesdays) for an all new episode of Inside Amy Schumer at 10:30/9:30c on Comedy Central and on the Comedy Central App.