5 Reasons To Watch 'White Collar'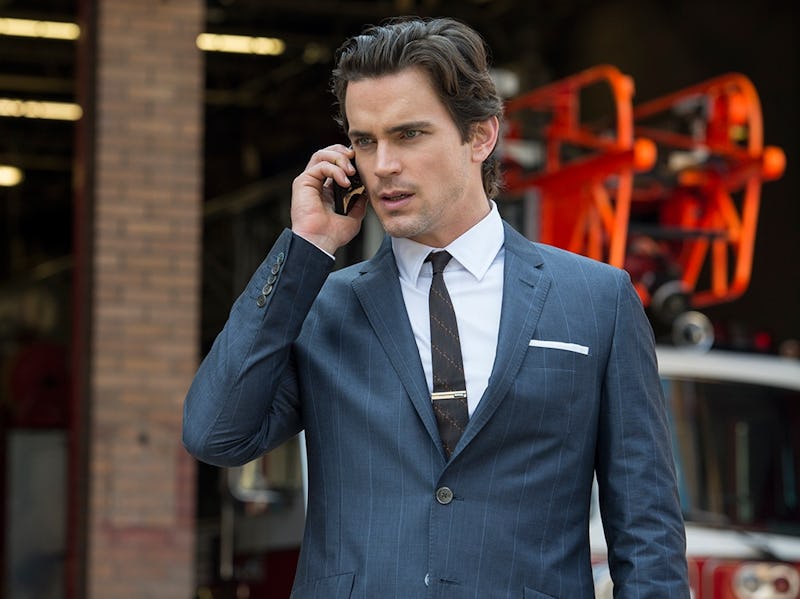 USA's White Collar aired the second episode of its fifth season on Thursday night and if you haven't been a fan in the past, you should probably start being one now. If the fact that Matt Bomer, one of the Fifty Shades fans' top picks for Christian Grey, graces the screen with his beautiful visage isn't enough to win you over, the show itself features some of the greatest bromances on TV. And this week, some fancy footwork by Bomer's character Neal Caffrey to a Mozart concerto would be enough to make you fall hopelessly in love.
Thursday's episode focused on Neal being passed off to a new handler, now that his original handler Peter Burke (Tim DeKay) has gotten a promotion at the Bureau. It's impossible to ignore how sad it is that Neal and Peter aren't a team anymore, even though the new guy seems to be trying to get into Neal's good graces by playing the vanity card, so that's fun to watch.
The new handler, FBI agent David Siegel (Warren Cole), gets paired with Neal on a investigation of the black market that ends up leading to Mozzie (Willie Garson). (Awkward.) Neal's forced to think quick to avoid implicating Mozzie and himself for thwarting justice when the FBI uncovers not one of Mozzie's many aliases on his computer, but his true identity. The episode's biggest news came in the form of agent Diana Barrigan's (Marsha Thomason) new baby, that Mozzie ends up midwifing into the world, and who she later decides to name "Theo" after his real first name, Theodore. White Collar's got a little bit of everything, so here's why you should be watching:
1. Neal Caffrey's Wardrobe
Okay, so everything about Matt Bomer's character is really great, but if I have to pick one thing, it'd have to be his impeccable wardrobe. In Thursday episode, the ex-conman flashed some perfectly worn-down red bottoms on his Louboutin dress shoes and a perfect, classic black fedora and that's just the tip of the iceberg. If you're going to fall in love with one man's wardrobe on television, it's Neal's. His suits are tailored, his ties are ALWAYS skinny (the perfect tie) and he's got a hat and a tie clip for every occasion. He's the most put-together criminal informant on television. Neal's also just charming as hell, impeccably good looking, and can ballroom dance better than any guy you know.
2. Epic Bromance
Neal and Peter's bromance is amazing. Like, think of every great television bromance you've ever acknowledge and then forget them. First of all, Peter followed Neal around for 10 years during the latter's days as a white-collar criminal, attempting to catch him. When he finally does succeed in getting Neal behind bars, he ends up breaking him out by cutting a deal that he becomes his partner and criminal informant to the FBI. Pretty sweet, right? Peter loves Neal even when he doesn't trust him (which is pretty often) and Neal loves Peter, which is why Peter's usually wrong about doubting Neal's allegiance to him as a friend and colleague. Their friendship chemistry is off the charts, and it's so endearing that you want to wedge yourself between them and walk arm-in-arm down the street together making jokes.
3. It's A Fun Crime Show
Granted, it's devoid of homicide and creepy, sociopathic children like some procedurals on television today, but White Collar is still a fun crime show. In fact, even better because of that fact. The entire production is centered around the antics of an ex-art forger that's now employed by the FBI, helping to solve crimes that he's probably committed himself. Also, his criminal mastermind sidekick, Mozzie, is the perfect neurotic addition to Neal's calm, cool exterior. Neal pushes Peter's buttons, something ALWAYS goes awry, but in the end, they get to solve the case somehow in a way that satisfies us and makes us laugh. Plus, the suits! Always remember the suits.
4. Tiffani Thiessen
I know you'll never forget about Kelly Kapowski, so yeah. Thiessen's Elizabeth Burke is a party planner that loves her dog and hates that her husband works so much. She also is always the first person to vouch for Neal whenever Peter goes off on a tangent about him not being loyal. She's a moral compass (that sometimes gets derailed), and she really knows how to throw a killer party. Thiessen also looks damn good, so if you're looking for a nostalgia pass to start tuning in, you've got it.
5. White Collar Crime
For the people that love blood and guts and gore, please turn to every other crime show on television. For me, and perhaps a large nation of nerds, White Collar is that crime show to watch. White collar crime is actually really interesting and takes enormous skill, two things I had no idea were true going into watching the early seasons of this show (which are all on Netflix for your binge-viewing pleasure). For example, during Thursday night's episode alone, Neal and Mozzie brainstormed the perfect way to artificially age documents to make them look authentic. (Spoiler: It's ultra-violet light.) For epic history/technology/art nerds, White Collar has something for you.
Image: USA