20 First Date Ideas Other Than Dinner & A Movie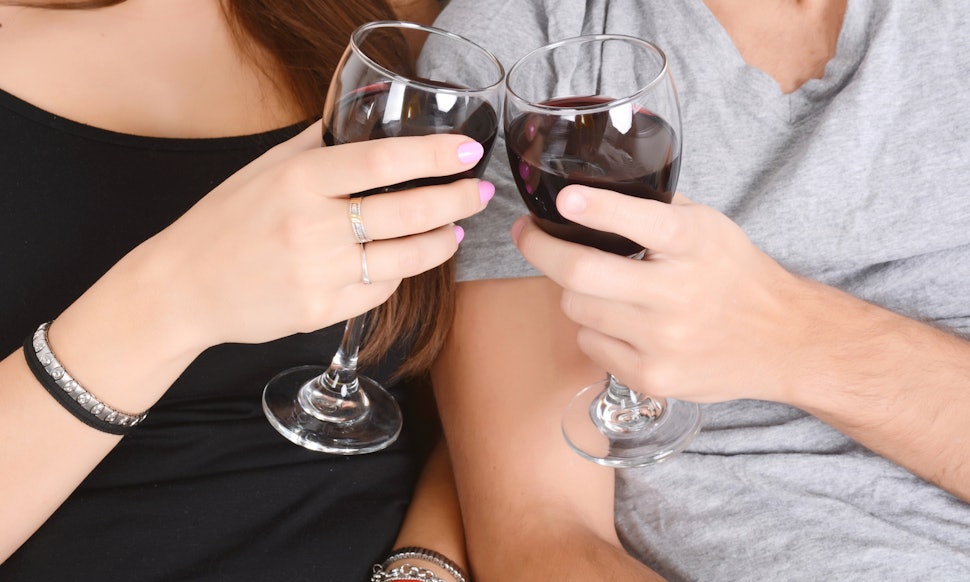 First dates can be quite intimidating. From asking the person out on the date to trying to think of conversation starters during — it's enough to make you a bottle of nerves. Now, add in trying to think of the perfect first date idea, and you've got yourself a one-way ticket to stressful town. If you're hoping to impress your date, why not think outside of the dating box? I'm not saying the classic dinner and a movie date is a bad idea, but it might be a little played out. So, if you're willing to spice things up, here are some different first date ideas that will hopefully lead you to a second date.
Image: Fotolia
Hiking
Get high together—on a hike, that is. Get your endorphins going as you both hike up a trail. You are getting to know each other in a beautiful environment. What could be better?
Ice Skating
Not only is this date a cool idea, but it will have you two laughing as you two try to find your inner Michelle Kwan or Johnny Weir.
Picnic
Don't be picky — have a picnic. Grab some essential picnic items (blanket, snacks, something to drink, etc.) and relax on this first date.
Get Your Museum On
Bring your date to a museum and get your knowledge on. Hopefully this date will be a work of art.
Beer Bliss
Go to your local brewery and get some beer flights. Test out of the beers as you test out the connection between you two.
Animal House
Get wild and take your date to the zoo. All of the animals are great conversation starters when that awkward silence comes along.
Image: Leo Hidalgo/Flickr
Cooking Class
Spice up your date with a little cooking action. A cooking class is a great way to get to know each other and to see if your date has the ingredients that you are looking for.
Image: Fotolia
Painting
Get creative for this first date and show your colors of the world.
Image: Fotolia
Wine Tasting
Who doesn't love a glass of wine? Well then, who doesn't love a glass of wine for a first date? I rest my case.
Must Love Dogs
If you both have dogs, take your dogs to a dog park together or go on a walk and bring your fluffy pals along.
Watch The Sunset
Watch the beautiful sunset fall, as you watch yourself falling for your date, and vice versa.
Image: Fotolia
Bike
Find your inner Lance Armstrong and bike on your first date. No training wheels necessary.
Arcade
Let the games begin! Invite your date to play games with you at your local arcade and let your competitive and fun spirit show.
Bowling
Your date will be a total strike with this idea.
Comedy Club
There's nothing like a good laugh. And, there's nothing like a good laugh and a good first date. Take your date to the comedy club and see if he or she has a similar sense of humor.
Trivia Night
What better to get to know your date and random pop culture facts than a night involving trivia. Take your date to a trivia night at a bar and see how well you two get along and how well you know your stuff.
Stargazing
Let your date shine by watching the stars together. During the night, you'll see if the stars have aligned for you two.
Do A Duet
This date idea is for the less shy. Belt it out with one another at a karaoke bar and see if you've got a Sunny and Cher kind of romance.
Image: Fotolia
Fortune Teller
Go see a psychic together. Not only is it fun and entertaining, it's also a great way to see if this date will make it to number two — just ask the fortune teller. Will it be a fortune or misfortune?
Get Your Game On
Show off your game while watching a game. Take your date to a hockey game, or bring him or her along to a basketball game. Watch baseball together and see if the date's a hit.