The Rad #ImNoModelEither Social Media Campaign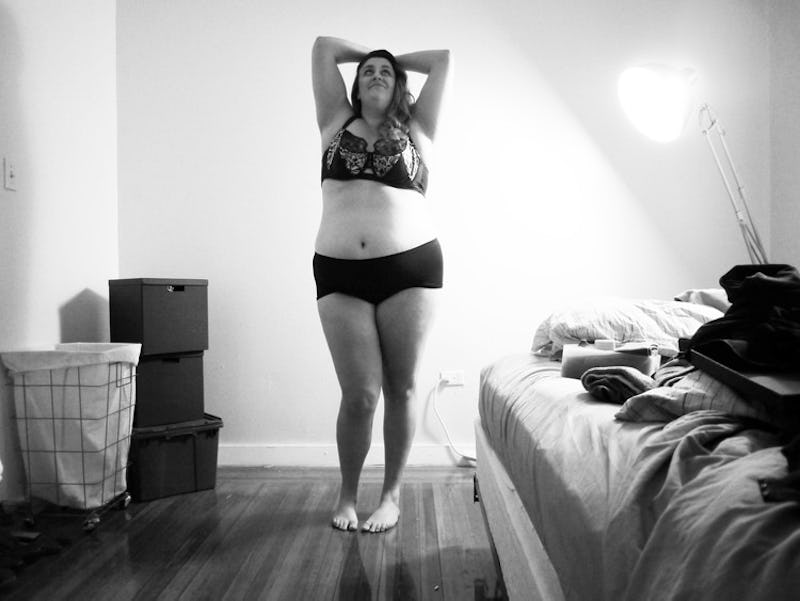 Last week, a plus-size retailer released their latest lingerie ads and invited consumers to join the conversation on social media by posting photos of their own: Lane Bryant's #ImNoAngel campaign. My Instagram feed was quickly flooded with lingerie-clad babes supporting the message. Like any other Beyoncé fan, I assumed this was a reference to the 2013 song before realizing that the tagline seemed to take aim at Victoria Secret's ads.
While many bloggers praised the campaign for challenging societal beauty standards and featuring racial diversity, there was an insular discussion happening within the body positive community. And the question seemed to be: This campaign may push the envelope for mainstream fashion but is it truly representative of the women who wear Lane Bryant's lingerie? When body positive blogger Amanda Richards first saw the campaign, she couldn't see her size 18 self reflected in the models who appeared mostly to be around the lower end of Lane Bryant's 14-28 size range. Her solution? The #ImNoModelEither social media campaign.
Richards, 29, first took to her blog to challenge the Lane Bryant #ImNoAngel campaign. Though her initial reaction to the images was positive, she found the name itself problematic.
"It's snarky, and detrimental to how many plus-size women want to be represented," Richards told me in an email interview. "Why does the message of the campaign have to be 'we're not thin?' Why does the plus-size woman need to define herself in relationship to another type of woman? It would have been much more compelling if the message was strong, bold and maybe even a little tongue-in-cheek — but didn't pit one group of women against another."
In response to Richards' criticism, a representative from Lane Bryant told me via email that the campaign was intended to be inclusive:
"This campaign is intended to celebrate all women coming together to redefine the ideals of beauty," said Lane Bryant representative Toyin Graham. "The message is completely open and we hope to redefine society's current view of what sexy is. This campaign message is all inclusive. Our issue is not with certain sizes of women, it's with media's definition of ideal beauty."
Graham says the six women cast in the campaign represent the Lane Bryant woman:
"Lane Bryant cast six beautiful women of various sizes and body types to star in this campaign, those of which who have remained a driving force behind our society's views of real women, and have values that align to ours," said Graham. "We feel they represent the woman who unapologetically celebrates herself and we couldn't be happier with the image results."
But for Richards, the fact that models appeared to be proportional sizes 12-14 with flat stomachs and large busts made the campaign miss its intended message. In her blog, she argued that the plus-size community is begging for models that look like them rather than being presented with what she says we are told is an acceptable plus-size woman. Richards told me she thinks retailers shy away from using models above a certain size because some people are still not comfortable seeing fat bodies.
"As far as representation is concerned, one look at any body positive social media tag will prove that we've got the 'Fabulous and Beautiful Fat White Woman' category covered," Richards said. "This isn't to say that there isn't a place for those women anymore — hell yes there is! I'm just ready for body positivity to push its own boundaries and become more diverse. That means women of color, older women, trans folks, disabled, fat women with less-represented body types, etc. There are just so many voices that need to be heard, and this is a movement that has a real opportunity to make room for them all."
While Richards pushes back against the idea of baby steps as progress, other plus-size bloggers such as Sarah Chiwaya of the blog, Curvily argue in favor of small changes in the plus-size community. She wrote in support of the #ImNoAngel campaign on her blog saying, "When you are deep into your self-love journey, it can be easy to forget that so many women have yet to take the first step. For women and girls who are killing themselves to try to fit into the narrow standard of mainstream beauty, seeing larger women unabashedly embracing their sexiness on a national stage can truly be groundbreaking."
But Richards didn't identify with the models featured in the #ImNoAngel campaign and she sensed she wasn't the only one. So she dug into her closet and set her camera self-timer to show women what a non-model looks like in Lane Bryant lingerie and she tagged the pictures on her Instagram with the hashtags #ImNoAngel #ImNoModelEither and invited others to do the same. Started less than a week ago and the tag #ImNoModelEither already has 90 posts.
The tag demonstrates that there's power in storytelling and visual imagery. By using something happening in the mainstream media, Richards built onto the important conversation sparked by the Lane Bryant campaign and created an alternative narrative. Richards stresses that this is not just a space for plus-size women. She says that the #ImNoModelEither social media campaign is for women with all types of bodies — even those that may look exactly like a model.
"The point isn't to exclude so-called 'ideal' plus-sized bodies, or thin bodies for that matter," she said. "The point is to take control of what types of images of women — angels, no angels, or anywhere in between — are out there, instead of accepting an unrepresentative image simply being projected at us."
Since initially posting her own photos on April 9, Richards has been reposting the tagged images on her Instagram and she says she will continue to do so. She sees the movement as not just a means to further the conversation about body diversity but as a way to connect women with similar stories.
"The diversity in body types has been pretty surprising, coupled with the fact that most of the women who have shared have a story about what brought them to body positivity and self-acceptance," said Richards. "It was really awe-inspiring to realize that most women navigate a tremendously long and complex journey when it comes to their bodies — especially because it feels so lonely sometimes. The truth is no matter what the story, someone can relate to it."
Here are some of the photos posted as part of the #ImNoModelEither Social Media Campaign:
Images: Courtesy Amanda Richards (3); Courtesy Lane Bryant; Instagram/FatShitCray; Instagram/MajoraMarina, Instagram/hearyoumejessie; Instagram/Marymorganxo; Instagram/amandaapparel