'True Detective' Season 2 Spoilers Reveal A Lot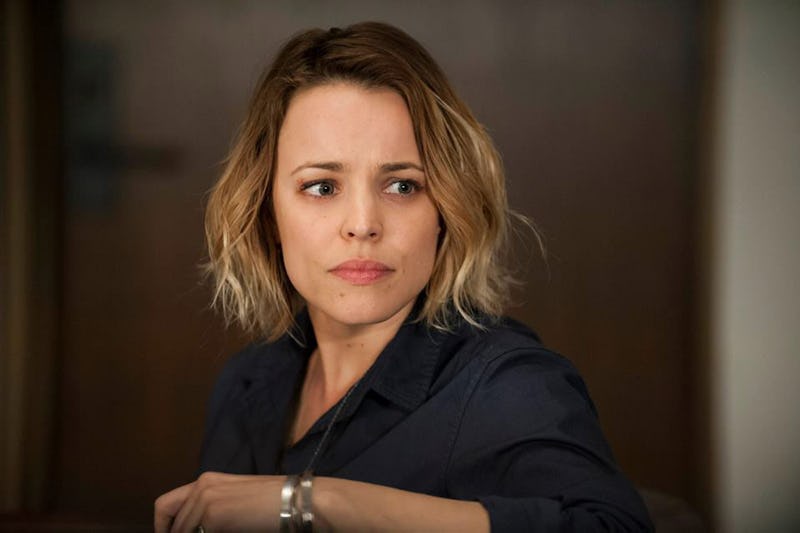 With Mad Men on its way out the door and only 10 episodes of Game of Thrones Season 5, the world of television drama desperately needs the return of True Detective. (Rather, my friends and I need something to obsessively analyze and gush over.) My point is, True Detective Season 2 is beyond the phrase, "highly anticipated." The first season of the HBO crime anthology was groundbreaking in its critical response and cinematic quality. Matthew McConaughey was celebrated for his performance and was a pivotal point in the McConnaissance — a truly blessed time in American film and television history. Ever since Season 1 of True Detective aired its final episode in 2014, showrunners have been hush-hush about the details of Season 2 — leaving us fans all dying for some True Detective Season 2 spoilers.
Little by little, though, we have learned a few things about what is to come this summer when the gritty mystery series returns for Season 2. Gone are the days of Louisiana's country backroads, the mythological Yellow King, and the power of Carcosa — now we shift our focus to the West Coast, where big money, corrupt police, and urban sprawl will play into this season's nasty crimes.
Here is everything we know about True Detective Season 2 before its premiere on June 21:
Vince Vaughn Is The Prime Suspect
Vaughn plays crime boss turned "legit" businessman Frank Semyon — so when his partner and City Manager Ben Caspar is found dead on the side of a highway in California, all signs point to Semyon. Three investigators (Rachel McAdams, Colin Farrell, and Taylor Kitsch) dissect the story from three different points of view — a shift from Season 1's use of flashbacks. Semyon's new endeavors include trying to build a high-speed railway system to combat Southern California's traffic problem, but obviously, his investments and plans are far from clean.
Rachel McAdams Gets Tough
McAdams plays Ani Bezzerides, the sheriff in charge of the investigation. Though she's being described as no-nonsense, her character is not without flaws. Bezzerides fights her past addictions, which include gambling and alcoholism.
Taylor Kitsch Goes Down The Rabbit Hole
The Friday Night Lights star plays Paul Woodrough, a California highway patrol officer and war veteran who suffers from PTSD. While he works on the investigation, he gets caught up in uncovering a crime ring that includes the law enforcement. Woodrough also goes up against sexual assault charges from a routine traffic stop, which take a huge toll on his personal and professional relationships.
Colin Farrell Is A Man Frayed
Ray Velcoro is deep in the mob world of the industrial city of Vinci. He is on the side of the law, but also working with the crime bosses to get to the bottom of his city's corruption...which, according to the Season 2 trailer, lead him to Frank Semyon.
The Murder Is Horribly Gruesome
Not that this should come as a surprise, but this season's grisly crime is not without a flare for the gory and occult. When Caspar's body is found, his eyes are burned out, his genitals have been removed, and there are satanic markings all over his chest. Maybe Carcosa isn't as far behind us as we all thought...
Images: HBO (6)