Raina Revealed Her Gift On 'S.H.I.E.L.D.'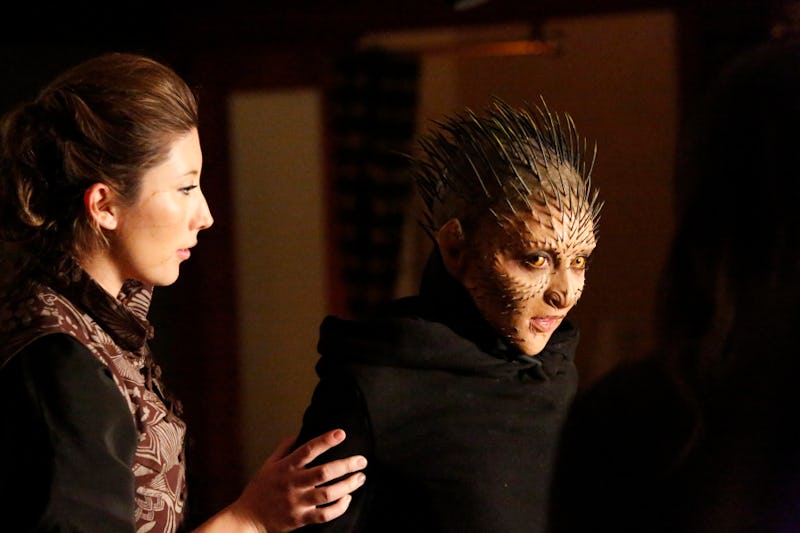 Well well well, Raina does have powers other than a thorny exterior and a sour attitude. On Tuesday's episode of Agents of S.H.I.E.L.D. we learned that Raina can see the future through her dreams. Her "nightmares" were alluded to early in the episode, as Raina told Lincoln about how horrific they are. However, Raina described a dream in which Skye was happily eating dinner with her father, drinking champagne with bouquets of daisies on the table. This disgusted Raina, who felt more isolated and jealous of Skye than ever.
Lo and behold, that's exactly what happened at the end of the episode. Skye, who had just officially met her mother, sat down to eat with Jiaying and Calvin Zabo exactly as Raina had pictured. The Inhuman Lincoln walked by the room, and put the pieces together. These weren't just dreams that Raina was having. It's the future she can see! What else has Raina seen in her sleep?
Raina has been feeling trapped in Afterlife, the Inhuman community for descendants with the potential to go through the Terrigen mists. She's not allowed to leave, or even get fresh air, due to her visage. She hasn't taken well to her abilities and appearance at all. She's tried to take her own life on multiple occasions. Lincoln, Gordon, and Jiaying have tried to calm her and assure her that her gifts are beautiful and will be revealed with time. However, I did notice an interesting conflict between Gordon and Lincoln when it came to their teaching styles. Gordon seemed to think that his approach was more valuable because he, like Raina, had a physical transformation.
I'm relieved that we have an answer to Raina's gift already. Now, I appreciate if, for her sake, Raina could also learn to retract those thorns. However, the ability to see the future in your dreams is pretty neat, and hopefully learning more about her powers will help Raina to embrace them.
Image: Kelsey McNeal/ABC