14 Bacon Desserts That Prove This Salty Treat Really Is The Secret To Making Life Taste Better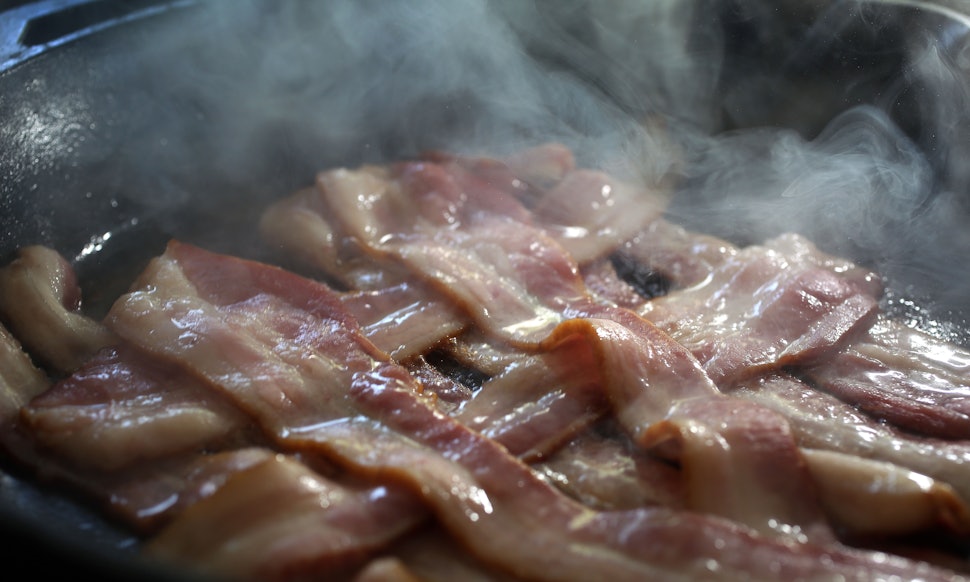 Joe Raedle/Getty Images News/Getty Images
There are a few things in this world that are constant: death, taxes, and the fact the bacon will always be delicious, no matter how or when it's consumed. And if you think these crispy, salty, strips of pork are good fried up on their own, then these bacon dessert recipes are about to blow. your. mind. It's almost as if sweet was made to go with salty. Who wants a chocolate chip cookie when you could have a bacon chocolate chip cookie? Why settle for a basic fluffer nutter sandwich when you could have the most glorious fluffer nutter of all time?
My point is, bacon is the one thing in this world that consistently makes everything better. Don't believe me? Allow these ridiculous recipes to change your mind.
Bacon Fluffer Nutter
Sometimes, you just have to trust your crazy ideas… like smushing bacon, peanut butter, and marshmallow fluff between two pieces of bread a la How Sweet It Is, and seeing what happens. The result is positively genius.
Image and recipe: How Sweet It Is
Maple Bacon Donuts
Bacon and donuts are both crucial to having a balanced, everyday breakfast (right?), so you might as well combine the two into one ridiculously perfect crispy ball of bacon-topped dough. Thanks, Baked by Rachel!
Image and recipe: Baked by Rachel
Bacon Parfait
There are, in fact, a surprising number of ways to make a bacon parfait. Layer pudding with peanut butter, chocolate, or caramel for an unforgettable treat.
Peanut Butter Dark Chocolate Bacon Cookies
You know when it's snack time and you can't choose between eating a heaping mound of chocolate chip cookies or a heaping mound of bacon? (C'mon guys, that can't be just me.) This recipe hybrid by Joy the Baker just solved all your problems.
Image and recipe: Joy the Baker
Chocolate Bacon Bundt Cake
I'm not going to lie — bundt cake usually reminds me of stuffy, old people tea parties. But Your Cup Of Cake makes her devil's food confection with a smattering of bacon for a dessert with an edge.
Image and recipe: Your Cup Of Cake
Pound Cake, Bacon, And Nutella Sandwich
How BEAUTIFUL is this bacon and Nutella sandwich? One look at this recipe by Oh Bite It, and nothing else in the world suddenly matters anymore.
Image and recipe: Oh Bite It
Bacon Cinnamon Rolls
Not only does How Sweet It Is tuck bacon in between each fold of her gooey cinnamon rolls, she also swaps out butter in this recipe for bacon grease. Basically, this is a bacon lover's dream come true.
Image and recipe: How Sweet It Is
Bacon Brownie Bites
Bacon brownie bites are essentially nugget-sized pieces of perfection that you'll want to eat again and again and again and again…. which is cool, because you can whip up a batch in no time at all.
Maple Bacon Ice Cream
Have your ice cream and your bacon too with this killer combo by Oh Bite It. Sundaes just got way more exciting.
Image and recipe: Oh Bite It
Bacon Almond Brittle
It's funny how bacon can transform something as simple as almond brittle into the star of the show. This recipe by How Sweet It Is also includes vanilla bean paste for an extra flavor boost.
Image and recipe: How Sweet It Is
Bacon Chocolate Chip Cookies
Classic chocolate chip cookies are fine on their own, but who wants to settle for "just being fine"? I Am A Food Blog knows that the best way to turn up a recipe is by adding bacon, and that's exactly what's happening here with this winning flavor combo.
Image and recipe: I Am A Food Blog
Chocolate Bacon Buttercream Cupcake
Ah yes, the chocolate buttercream cupcake. Forget the sprinkles — top these bad boys with BACON, and you've got a baker's dozen people will go nuts over.
Spicy Caramel Bacon Popcorn
Did movie night just get 10 times better, or did movie night just get 10 TIMES BETTER? Spicy caramel bacon popcorn is the only thing you'll ever want to munch on ever again, thanks to A Cozy Kitchen.
Image and recipe: A Cozy Kitchen
Chocolate-Covered Bacon
Bacon is delicious. Chocolate is delicious. Dip bacon in chocolate, and you've multiplied the deliciousness factor by two. I like that math.