'Walking Dead' Season 6 Spoilers!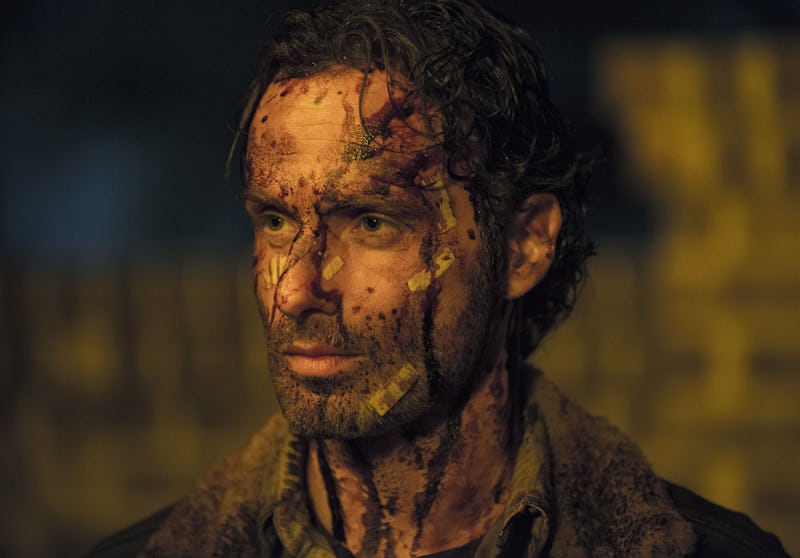 After the show's Season 5 finale, fans are getting antsy over what could possibly be coming in The Walking Dead Season 6. Morgan avoided becoming "wolf" chow, Carol got crazy with a casserole, Glenn stopped himself from putting a bullet in Nicholas' head, Daryl and Aaron are totally BFFs now, and Morgan finally reunited with Rick but at the moment he killed one of Alexandria's more hostile citizens. All in all, it was a pretty intense episode, and the show's creator Robert Kirkman has already begun teasing us with the possibilities for Season 6.
Kirkman is currently attending the National Association of Broadcasters Show taking place in Las Vegas this week, during which he spoke at a panel with AMC President Charlie Collier and The Walking Dead star Steven Yeun. Season 6 will likely premiere this October, though AMC hasn't set a more specific release date. In anticipation, Kirkman and co. dished on some pretty major plot points, while remaining as vague as possible. Teasing is an art form, and Kirkman is the master. Still, there are plenty of details we've gleaned from the creator about what's in story, as well as new information on the upcoming spinoff series.
Will the two intersect? Will the spinoff be a prequel? What will happen with Morgan and Rick come Season 6?
1. There's Going To Be A Major, Intense Reunion
As I mentioned, the Walking Dead Season 5 finale saw Rick and Morgan reuniting once more. After the first couple episodes of Season 1, the pair crossed paths after Morgan's son, Duane, died from a zombie attack and the man was having a mental breakdown in his booby-trapped fortress of solitude. With this next reunion, Kirkman says both will be meeting at drastically different parts of their lives.
Having Rick and Morgan together, finally, again is a huge deal, and it's definitely going to be a big part of Season 6. Now it's a very different Rick and a very different Morgan who are going to have a completely different relationship. And it's the questions of how they're going to interact, how they're going to work together — if they're going to work together — and what comes from those interactions is going to be basically the spine of Season 6.
2. Someone Is Probably Going To Die
Kirkman joked to the audience that the Walking Dead team doesn't kill off popular characters. Those in attendance laughed because they know that to be complete bull. I still remember tearing up over Lori death and the fact that Carl had to be the one to put a bullet through her head. Damn you, zombie apocalypse! So, who's the next one to meet his or her end? While the Season 5 finale was light on the major deaths, it looks like Glenn is next on Death's list.
Though he wouldn't say anything finite, because that would be terrible, actor Steven Yeun beat around the bush with a lot of hypotheticals.
The way that we make the show — the writers and everybody really want to focus on making things poignant and purposeful and meaningful. So if it were for Glenn to go, then it's probably going to be awesome.
3. The Disappointing Truth Behind The Spinoff
Kirkman said, "[Learning the origins] is not the priority in Walking Dead; that's not the priority in Fear The Walking Dead." I know, lame, right? Everyone loves a good origin story, and we had hope that we might discover the reason behind the zombie apocalypse in the Walking Dead universe. But it's pretty clear that this is not a priority for these peeps. Even with the spinoff series, titled Fear The Walking Dead, on the way with a whole new story and cast of characters, this mindset isn't changing.
Kirkman continued, "Every other story deals with that stuff and we're concerned about the heart. ... It's not about fixing this world, and it's not about learning what the cause is."
Images: ScreenCrush; MTV; AMC