Ranking The Dresses From Laguna Beach Prom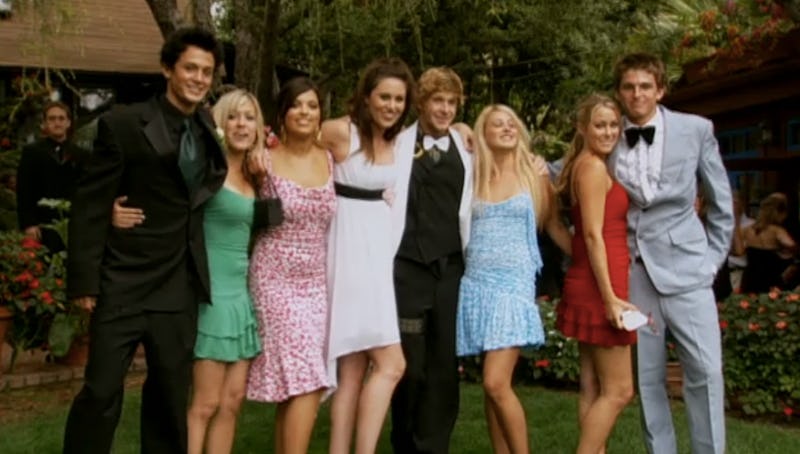 Laguna Beach prom was my first real look into the annual event that was praised by all upperclassmen in my high school. So when I think of ranking all of the dresses from the Laguna Beach prom, it seems nearly impossible. The dresses, however, were so different from the enormous gowns at my own school dance. Was anyone else surprised at how casually cool everyone looked while still looking like they were obviously a part of a reality TV show?
A typical prom day at my high school consisted of the girls up at the crack of dawn, meeting for breakfast, then heading off to nail, hair, and makeup appointments. We'd all met back up at a friends house to put on our dresses and begin the picture-taking process, only to be quickly whisked off by our dates in a nice-ish car and taken to a dinner any typical high school student could afford. The aforementioned pictures became our new MySpace or Facebook profile pictures until summer concert season.
But the Laguna Beach prom was very different. Lauren and Lo planned their after prom outfits the day of. Kristin and Alex bullied Jessica until she left to meet Jason. And some of the guys looked nicer in their tuxes than the girls did in their formal dresses. It may have been backwards, but it was so Laguna Beach. Take a look at each of the girl's adorable dresses, ranked in order of early 2000s fabulousity.
12. Lo Bosworth
Lo was my girl on Laguna Beach. She was hilarious, witty, and so relatable. Therefore, I feel awful putting her on the very bottom of this list. And while that blue dress complimented her eyes so well, it just wasn't my favorite. The bottom was confusing and didn't look like it matched the top. Sorry, Lo.
11. Morgan
I loved that her dress was a little longer than the mini-dresses the rest of the girls were sporting. Being different is the key to standing out at prom after all. That floral print, however, just made it feel a little too casual for such a special night.
10. Christina
Christina's dress was perfect for her personality. I just feel like I've seen it on every flower girl.
9. Cami
Cami was in the show for like .2 seconds, but she managed to score a prom date with bad boy Jason. And her white dress was beautiful and probably easy to dance in — but also super casual.
8. Taylor
Taylor gave a nod to the '70s in this printed green dress. I love the pattern!
7. Alex
Although Cami may have scored a date with Jason, it was Alex who left with him at the end of the night. Draaaaaama! Must have been this edgy-meets-girly print.
6. Kristin, Part I
She's obviously a fan of solid-colored dresses, which is surprising based on her sparkling personality.
5. Kristin, Part II
Kristin's prom dress was very simple but very pretty for her senior prom. It's basically the same as the green one from the year before, but the color is much more flattering.
4. Alex
Alex was more dressed up than the rest of her group for prom. Her dress was printed and had multiple shades of pink that was broken up by a gold belt. She looked beautiful and actually like she was going to prom instead of a garden party.
3. Lauren
Lauren stunned in an all-red dress that was simple without being lackluster. She matched it with red, drop earrings and, in true 2000s style, a flower for her hair.
2. Jen Bunny
She's wearing a tiara. How could I not include her?
1. Casey
Obviously she gets the Number 1 spot in top Laguna Beach prom dresses. It was super risqué, but at least it was actually a prom dress. Plus, the girls could not stop talking about it.
Images: MTV