8 Times 'Mad Men' Spoilers Left Us Hanging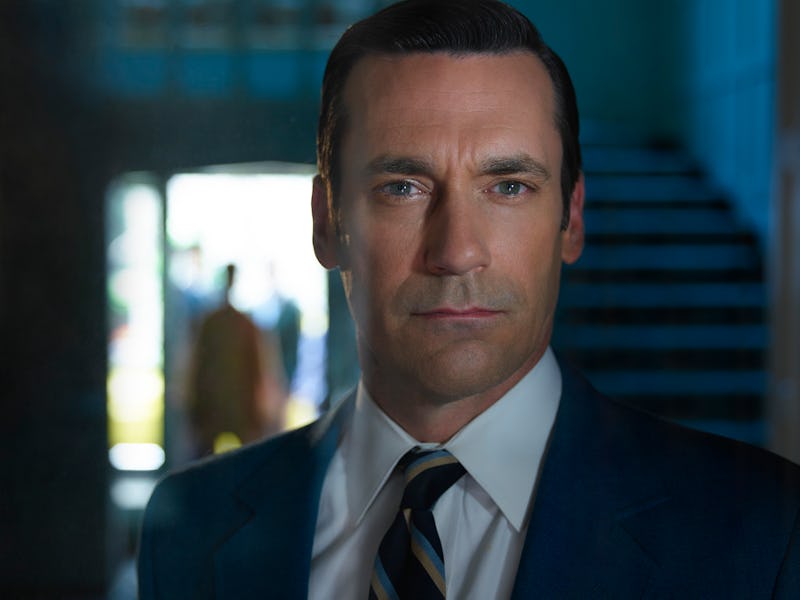 The Mad Men finale is getting closer every minute, and spoiler mavens are on the hunt for clues. Unfortunately for sleuths like me, most of the Mad Men Season 7 spoilers don't reveal anything. Just like their infamous "shut the door" promos, Mad Men is staying tight-lipped about the end of the series. We know that each episode should feel like a series finale. We know that, according a TV Critics Association panel with the cast that they were surprised but also not surprised and according to TV Guide that characters will change but also not change so much. I mean come on!
What's it gonna take to get some spoilers around here? Who will die? Why does Don keep seeing ghosts? Will Pete ever be satisfied? Will Joan's name finally be on the agency wall? What year is the finale gearing towards? There are so many questions that I'm not too surprised that Mad Men has approached this subject by giving away nothing at all. That said, we should all prepare for anything with this finale. Remember, Matthew Weiner is a disciple of David Chase, the creator of The Sopranos and one of the most polarizing series finales of all time.
If you're not too bitter, here a few empty "spoilers" from the show to give you a chuckle.
8. This Museum Prank
The Museum of the Moving Image in Queens, New York is currently hosting a Mad Men exhibit filled with props, costumes, set recreations as well as a recreation of the writer's room (pictured above). See how the remaining episodes are covered up on that chart? Next to this part of the exhibit, on the background of a photo on the wall that was taken in the real writer's room are fake Mad Men Season 7 spoilers that include "Harry's Funeral," "Sal Returns," "Plane Hijacking" and "Chestnut Stuffing." Hilarious! However, not very helpful.
I missed this when I visited the exhibit myself. That was probably because I was too preoccupied by the people who walked right by the fascinating recreation while saying "whatever, this is just the writers" — true story! How very rude.
7. The Creator Wants To Know What You Think
"I'm extremely interested in what the audience thinks. So much so that I'm trying to delight them and confound them and not frustrate and irritate them. I don't want them to walk away angry... That said, a huge part of entertainment can be catharsis and bad things happening are considered a good thing in entertainment."
Great. That's what Matthew Weiner "revealed" to TV Guide before the final episodes aired. I'm also interested in what you think Mr. Weiner... and by what you "think" I mean what you "know is going to happen in the Mad Men finale."
6. The Promotional Photos
Do you really expect all of these characters to gather for some fun and fancy free company picnic? A wedding, perhaps? Other than a change in fashion, these pictures reveal nothing.
5. "The way it goes down makes a lot of sense."
That's what John Slattery said at a recent "Black & Red Ball" held by the studio, according to Variety. I'm not the actor who plays Roger Sterling. I'm not inside his head. What would make sense to him?
4. Some People (Who Are Not Us) Already Know
"I knew how it was going to end when I sold the show. I did not know how it would be executed though. That came to me three years ago... I kept it a secret. I've had people who have come and gone on the show who have never heard it, because I didn't want them to hear it."
In an interview with The Telegraph, Weiner reveals that while his wife, Jon Hamm, and a few other cast and crew members knew in advance how the series would end, that reveal has been calculated by the big man in charge for years.
3. Jon Hamm's Mixed Metaphors
"[He's] rudderless in a way that he hasn't been before... Don's life is built on a very busted foundation. The house keeps falling over and he keeps trying to build the house back the way he knows the house is supposed to look. But the thing he doesn't realize is that the slab is broke... He's building a house on a broken foundation, and that is 100 percent guaranteed to be a sh-- house."
This TV Guide interview with Hamm is more about houses (and boats) than anything worth deciphering.
2. "Nothing's good enough for my Joan!"
I agree, Christina Hendricks! In a set of interviews for E!, the cast said similarly vague things about the final episodes. They called it beautiful, the best work they've done yet, and John Slattery used the three words "satisfying, unpredictable, inevitable."
Are you kidding me, Slattery? Those worse all contradict one another!
1. Weiner Tells Us One Thing
And it's a single word — "no." Recently, Vulture interviewed Matthew Weiner about the premiere and the final season. They asked if the last shot filmed for Mad Men was the last shot in the finale episode. It is not. He also revealed that the last thing they shot was "not minor at all." Spoiler alert! Geez, Weiner, don't give it all away.
Images: Getty Images Justina Mintz (2), Michael Yarish, Frank Ockenfels 3 (2)/AMC