Where Is 'True Story's Michael Finkel Now?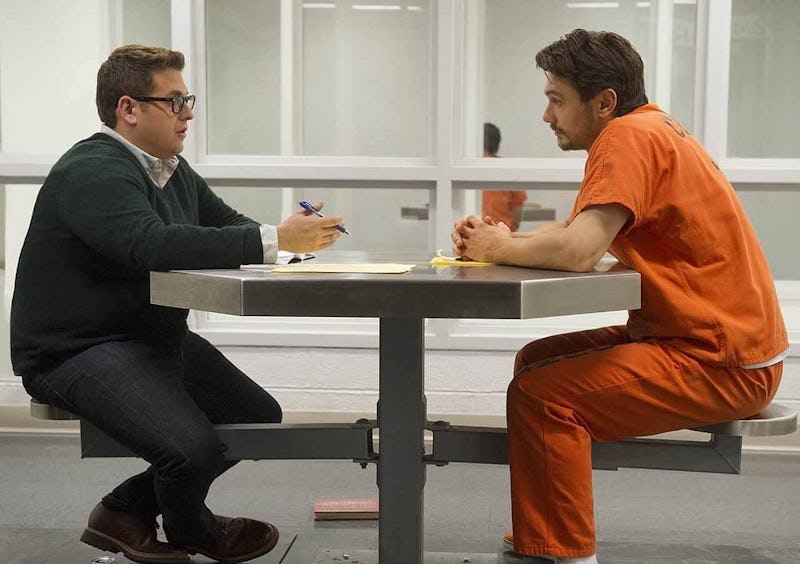 It's The first rule of journalism is don't fabricate, but that is exactly what former New York Times journalist Michael Finkel did in a 2001 article on child slavery in Africa. That was only the beginning of Finkel's journey, though; at almost the exact time he lost his job, Finkel received a call from The Oregonian informing him a man named Christian Longo, who was suspected of (and later convicted of) brutally murdering his wife and three children, had been apprehended in Mexico and was going by the name of Michael Finkel. This strange chain of events serve as the basis for the film True Story starring James Franco as Longo and Jonah Hill as Finkel. With the movie running through the true-life events surrounding Longo's murder case and his relationship with Finkel, it's a question worth asking: Where are Michael Finkel and Christian Longo now? We know Longo is still tucked away in Oregon State Penitentiary on death row, but what became of Finkel in the decade after Longo became an intrinsic part of his life?
Turns out, since the events depicted in True Story, Finkel started over thanks in large part to Longo's story. At a time when Finkel was publically disgraced and his promising career in ruins, the story of the most notorious killer in the country at the time became entwined with his own thanks to Longo's insistence that he would only discuss his case with Finkel. During an in-depth interview for CBS's 48 Hours, Finkel says at the beginning of his relationship with Longo, "He was the only friend or person in my life to whom I felt morally superior."
Finkel, a born storyteller, could not resist the draw of Longo's story, even as the grisly details would become increasingly hard for him to stomach. After countless letters, phone calls, and visits with Longo, Finkel eventually penned the memoir True Story: Murder, Memoir, Mea Culpa in 2005. His book became the basis for the Franco/Hill film True Story — it was also Finkel's gateway back into the world of journalism he had been exiled him from after the incident with the New York Times.
Since Finkel chronicled the life and trial of Longo, he has tried to distance himself from the man he once reluctantly called "friend." His attempts have been thwarted to some degree. Finkel is now married with children of his own, and he finds it harder than ever to think about the brutal way Longo murdered his own wife and children. Earlier this month, Finkel told Vulture:
I have three children and a wife. To talk to him about that, I feel like he doesn't deserve any satisfaction off of that. I was thrust into this story in the most uncomfortable, distressed moment of my life, so it's sort of the story that saved me on some level. I have this commitment to it that I can't quite explain or even rationalize. I feel like I must be a masochist. I can't put the final period on the sentence of this thing.
In the same article, Finkel revealed he is currently in France working on a new book. He largely stayed away from the film, although he did speak with Hill over a long dinner and visited the set once during filming of a particularly traumatic court scene. Through it all, Finkel has never stopped writing.
He has also never stopped talking to Longo, even though a part of him wishes he could. Both in the film and in interviews, it has been widely reported Longo calls Finkel on the first Sunday of every month. Despite his better judgement, Finkel almost always picks up the phone. When speaking to The New York Times, Finkel revealed, "Despite the fact he's a sociopath and a quadruple murderer, Longo is also insanely perceptive and eloquent, and his descriptive abilities are amazing. So yes, I pick up the phone. I'm a journalist."
Even as Finkel's life moves forward, a part of him will continue to look back as long as the murderer who assumed his identity and drew Finkel into his life still lives. For Finkel, True Story is as much his story as it is Longo's.
True Story hits theaters April 17.
Image: Fox Searchlight