Paris's Unoriginal Comeback Continues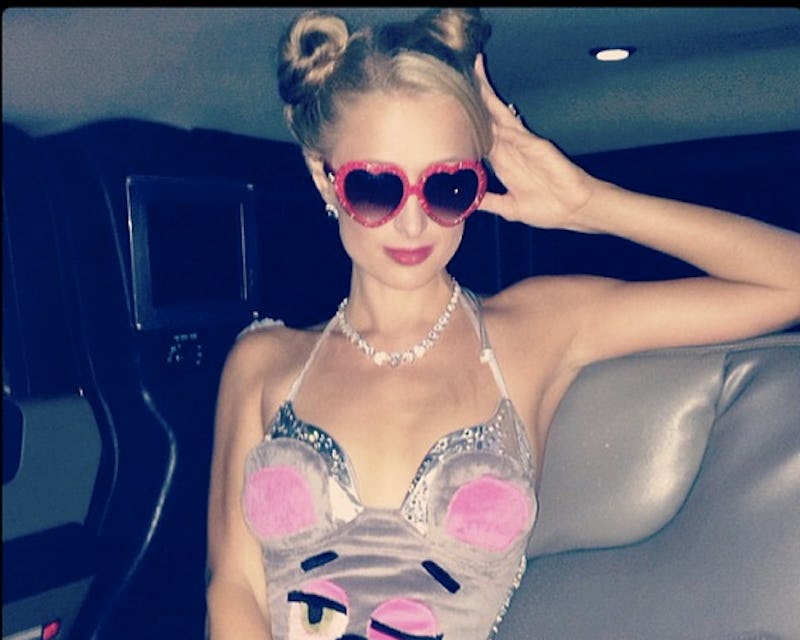 Can we all just gather round real quick here and take a look at the amazingness that's happening right before our eyes? Because I am totally on board with everything that is going down. After releasing her single "Good Time" earlier this month, Paris Hilton's Halloween costume just serves to further thrust the former famous-for-nothing reality star back into her rightful spot in the limelight. Because when Paris Hilton dresses up like Miley Cyrus, we all win.
It's just great on so many levels. Just like Paris's "career," the costume she chose is totally played. No one's dressing up like Miley because everyone's dressing up like Miley, and Paris, always about 10 years late to the game, missed that point. Even though her sexy-baby bear costume is identical to the one Miley donned at the VMAs, and even though she looks good in it, you have to detract some points for the unoriginality of it of all.
Speaking of not thinking outside the box, Paris's other costume (she has two, of course), was a Barbie. Paris Hilton dressed up like a Barbie. How less creative can you get?
Still, though, Paris the Heiress clearly has a game plan. She's entertained us for decades and what we like most about her comeback is that it so beautifully vintage. It's as if she hasn't changed at all since she first busted onto the scene at 22-years-old and now, 10 years later, she's like Encino Man or a live-action "throwback Thursday," and we love it.
Making the obvious choice and/or pretending like it's 2003 works for her. We could all use a little predictability in our lives... and if a former sex-tape star and hotel millionaire can provide that, we're all for it.
Keep it up, Paris. Never change. Nostalgia is so hot right now.
Check it out:
Images: ParisHilton/Instagram