Tom & Jason = Draco & Lucius IRL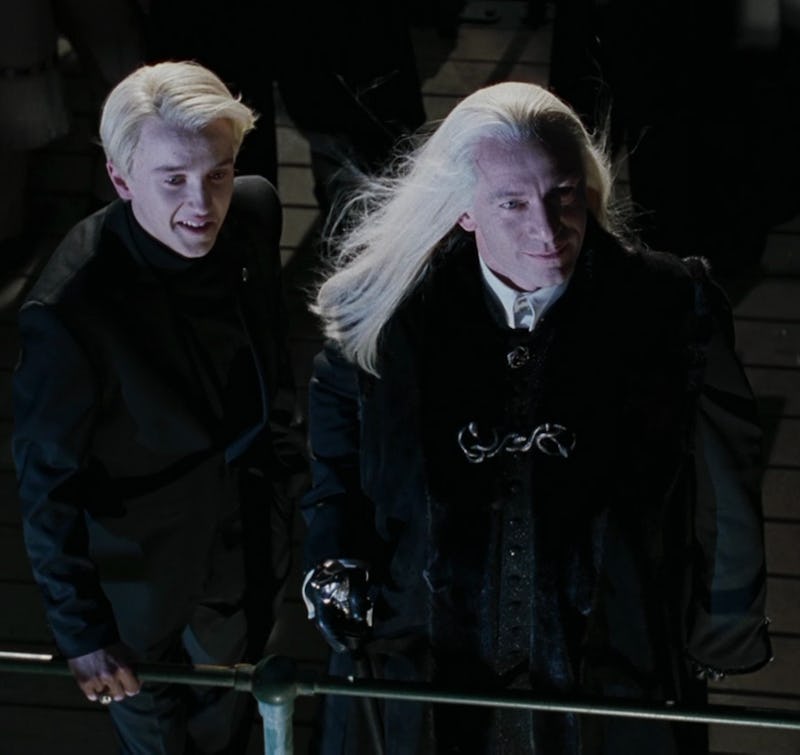 Even though it's been 14 years since the first Harry Potter movie was released, Potterheads can't get enough of the actors who brought the series and their favorite characters to life. Funnily enough, it seems like Tom Felton and Jason Isaacs, who played Draco and Lucius Malfoy, respectively, can't let go of their characters either. I mean, why would they? Draco and Lucius sure are memorable and have become two of the most memorable characters ever.
If you follow the two on Twitter (who doesn't follow the entire Harry Potter cast on social media?), then you know that the actors are still super close and constantly tweet one another. Yes, it's the best thing ever and will fulfill at least part of your Harry Potter needs. Basically, Felton and Isaacs act like father and son in real life. Granted, they are nothing like Draco and Lucius, because, well, neither mistreat one another, are followers of Voldemort, or are wizards. But they are super kind to each other, instead. Not only do they praise one another, but they also reminisce about the good old days of Harry Potter and that time they both sported extremely blonde hair.
Here are several times Felton and Isaacs acted like they are still the famous villainous father/son duo who everyone loves to hate.
That Time They Discussed Kim Kardashian
You know Draco and Lucius would comment on Kim Kardashian's blonde hair. So, no wonder Isaacs and Felton made references to their characters' blonde hair when Kimmy dyed her hair blonde. Who loves them even more now?
When Isaacs Praised Felton's Handsomness
I don't know about you, but Felton sure did grow up to be a good-looking man. You know what else? Isaac agrees. Not only does he think Felton is one handsome guy, but he also approves of Felton's girlfriend. What a good father figure — unlike Lucius.
That Time Felton Reminisced About Isaacs
Felton shared this sweet note from Isaacs during their Harry Potter days. Of course, the actor couldn't help but respond. Too bad Draco and Lucius weren't as sweet as these two men.
When Isaacs Supported Felton's Career
For BBC, Felton made his directorial debut in Tom Felton Meets The Super Fans , where he met Harry Potter and other super fans, as a way to understand them. You know what what means? Isaacs absolutely watched.
That Time Felton Called Isaacs "Father"
After Isaacs praised Felton for his work on Tom Felton Meets The Super Fans, Felton thanked his movie dad by calling him "father." So many feelings right now.
They play two of the most despised Harry Potter characters, but how can you not adore Draco and Lucius in real life?
Images: Warner Bros. Pictures