6 'Sex And The City Outfits' That Every Woman Should Try Once, Because The Naked Dress Is A Forever Classic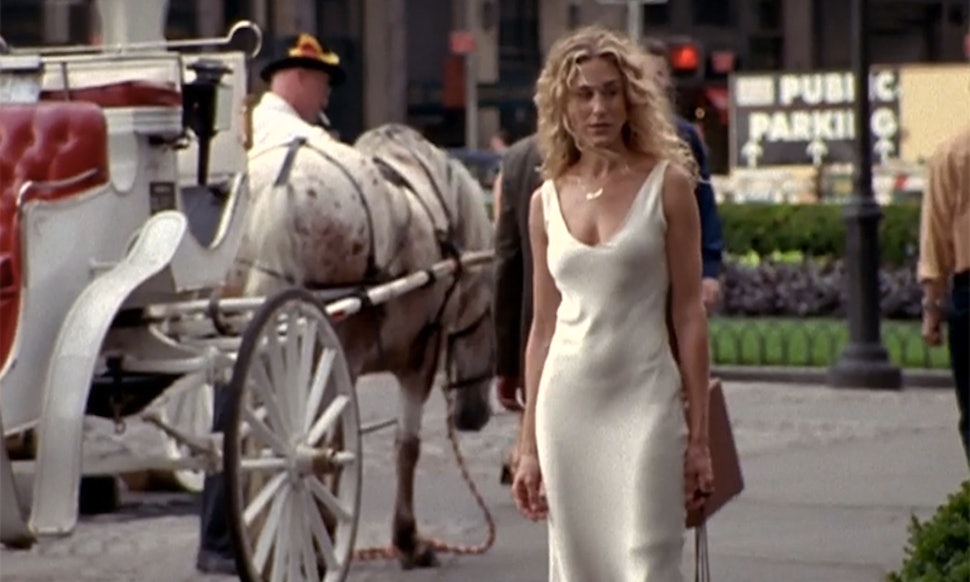 In between the sex columns and the — well — sex, the four ladies of HBO's Sex And The City managed to set some serious trends in the six seasons and two films they strutted through in their Manolo Blahnik stilettos. Some of the looks were good, some bad, some heinous, and a select few? Timeless. While Carrie and the gang's cautionary tales of love and romance require our focus, it won't hurt to take a few notes on their closets, too.
From a little white dress to something with polka dots, these six looks embody fashion rules that will stand the test of time and ones that all women should try at least once. With these items in your closet, rest assured you will always be in style.
Image: HBO
A Unique Cocktail Dress
While Carrie was screaming at Mr. Big at the top of her lungs in the middle of the street, I was busy ogling over this stunning cocktail dress. Every woman must try out a cocktail dress with this level of flair, whether there be rhinestone embellishments, floral appliqués, or a funky neckline. A cocktail dress is like a calling card, so make sure your phone is ringing off the hook.
Image: HBO
A Nude Dress
Carrie and Mr. Big ended up on the floor post-coital because of this dress, so naturally, every woman should wear their own version of a nude dress on their next date.
Image: HBO
An Old Fashioned Silhouette
After watching an Elizabeth Taylor E! special, Charlotte takes to the street done up in an ensemble undoubtedly inspired by the late screen siren. It's safe to say we are all inspired too. The color? Gorgeous. The cut? On fleek. The look? Perfection — and one that all women should try to mimic at least once. C'mon, do it for Liz.
Image: HBO
Something Polka-Dotted
In the last episodes of SATC, we see the best wardrobe selections Carrie has to her name, this particular ensemble included. Polka dots are so versatile that they can be worn on any item of clothing, from a dress to a strappy pump, so there has to be a polka-dotted item to fit every woman's taste. Just don't cover yourself in spots: Stick to one item and keep the rest of the outfit simple, or you might start to resemble a dalmatian.
A Jumpsuit
In the Sex And The City movie, we get a look inside of Carrie and Mr. Big's rehearsal dinner. Instead of a dress or separates, Carrie opts for a sleek black jumpsuit with a statement belt. Talk about chic. Every woman should wear a jumpsuit and feel like a rockstar for at least one night — even if it means holding your pee until you get home and rip the whole thing off.
Image: HBO
A Little White Dress
In the legendary scene between Carrie and Mr. Big after his engagement party, Carrie brushes his hair away from his face and walks away in a beautifully simple white satin cocktail dress. While most women have a signature black dress hanging in their closet, a white dress is equally as important, especially on a hot night with a bronze summer glow.
Image: HBO