New Plot Details For 'Star Wars: Rogue One'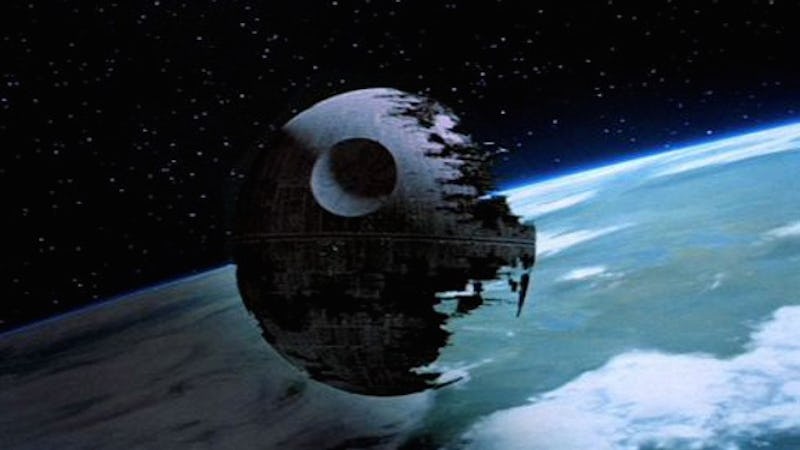 While much anticipation has been surrounding Star Wars Episode VII: The Force Awakens — the latest installment in the Star Wars franchise set for release on December 18— new plot details for the prequel Star Wars: Rogue One were revealed on Twitter via the official Star Wars account. A tweet was posted on Sunday, which was also the last day of the Star Wars Celebration convention in Anaheim, where fans had been treated to some sneak peeks to further excitement for the epic saga to continue. While Episode VIII will reunite fans with favorites like Han Solo (shown in the teaser as being reprised by its originator, Harrison Ford) and Chewbacca, Rogue One will feature characters facing an attempt on the Death Star. All of this will take place between the events which occurred in Star Wars Episode III: Revenge of the Sith and Star Wars: A New Hope.
According to the tweet, "A band of resistance fighters unite for a daring mission to steal the Death Star plans in Star Wars anthology film, Rogue One," with one of the said resistance fighters being actress, Felicity Jones. During the Anaheim convention, Lucasfilm vice-president of development Gareth Edwards spoke on the characters' embattlement with the realization that "God's not coming to save us" and that a lacking Jedi will be "omnipresent" throughout the entire film.
Generations of fans remain loyal to the Star Wars franchise, as each film has deftly balanced character-driven story arcs and trajectories with pulsing combat scenes that impress even the most shrewd of Action fans. Based on the new details revealed for Rogue One — due out in December 2016 — and the teaser trailers for Episode VII, it appears that both films will succeed in pleasing the saga's ever-growing fanbase.
Image: Walt Disney Studios