Dorinda Is Bringing A New Attitude To 'RHONY'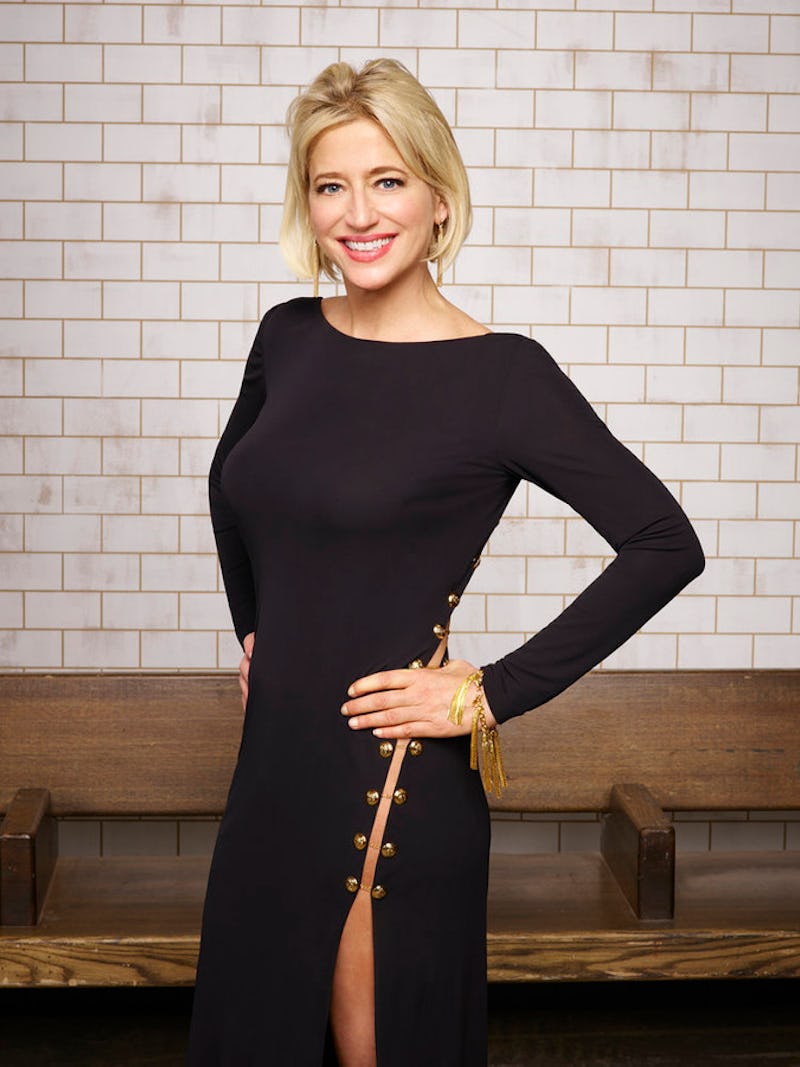 When there's fresh blood on a Real Housewives show, there's reason to be skeptical. Is the new woman going to bring the heat, or is she going to just go along for the ride, plug a charity or business she is starting and fade into the background never to be heard from after the finale? Dorinda Medley, the newest Real Housewives of New York star, is definitely not the latter. Dorinda isn't just one of the new stars of RHONY, I'd say Dorinda has The Potential (capitalized for dramatic effect) to be the star of this season of Real Housewives of New York.
As a reminder: Dorinda joined the cast already friends with Ramona Singer, LuAnn de Lesseps, and Heather Thomson. She is dating the king of dry cleaning, and she has even had her own company. Dorinda has already made an impression on me, which says a lot about her power of impression, as I am a very strict Real Housewives fan who loves the OGs of New York and usually scoffs at newcomers. Dorinda adds a splash of new flavor to the series — balancing out the returning personality of Bethenny Frankel. Here are the six best things about Dorinda joining the Real Housewives of New York.
She's Bringing A Whole New Attitude To Uptown
I don't know what giving "Uptown" a whole new attitude means, but I love it. I like to think Dorinda's tagline means that she is a fun, standout character in a usually very traditional and prestigious Upper East Side, where some of the other housewives reside.
She's Got A "Take No Prisoners" Take On Life
If this is any indication of how Dorinda is going to be on this season of Real Housewives then I think we're all in for a real treat. There are a lot of big personalities on RHONY, and personalities are bound to clash, but ladies, WATCH OUT, because Dorinda isn't going to stop and help you up if she bulldozes over you.
She Speaks Her Mind About Her Costars
Who else could Dorinda be talking about other than Sonja Morgan, the urban myth of New York City? Dorinda isn't afraid to say what she wants to say, something that the other women should be readily prepared for. Luckily, the person I think Dorinda's outspoken nature would jar the most would be Ramona-coaster Singer, but they're old pals, so they shouldn't have too many issues, right? Probably...
She Keeps It SO Real At Home
When Dorinda's daughter wanted to keep a Fendi bag, Dorinda did not take to it lightly. "You don't need a Fendi bag. Get a job," she said. I think this officially marks the first time someone on RHONY said no to a designer item on camera.
She Isn't Afraid To Brag About Her Life
There's nothing bad about humble bragging, and Dorinda knows it. Something I think Dorinda is most proud of currently is John Mahdessian, her king of dry cleaning boyfriend. We all know that there is more to their relationship than the free dry cleaning she gets out of it, but it's still pretty hilarious how she brags about the perks of dating him.
She's Going To Bring Drama This Season
Most importantly, Dorinda is GOING to get up in her costars face this season, which I think we can all agree, makes any newcomer an honorary OG of RHONY.
Images: Mathieu Young/Bravo; Sidewindervx; thatsmissmactoyou; rhogif (2); fromthemotionpicture; beamlyus/Tumblr