13 Pieces Of Empowering Body Positive Artwork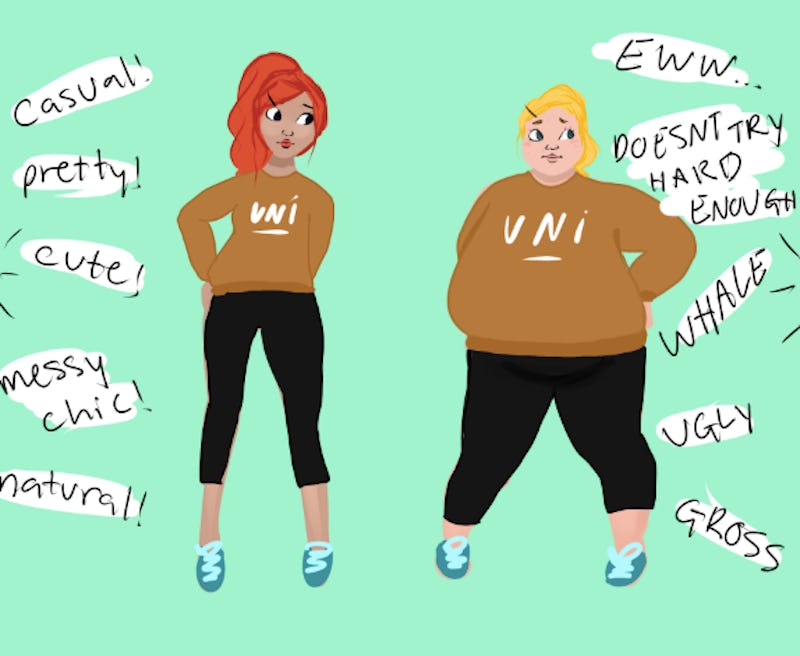 Traditionally, art has always mirrored a societal standard of beauty, which is why plus-size women see themselves reflected more in the paintings of the past than they might today. But a handful of talented artists and illustrators are changing that trend by creating empowering body positive artwork. As an indie designer, I am a strong proponent of the idea that art and fashion can be used as a means to challenge societal norms and create social change. Whether strictly through imagery or a mix of words and images, the message portrayed by body positive artists in an important one: All bodies, including fat bodies, are not just acceptable, but also beautiful.
With mainstream media feeding us the idea that there is only one type of beautiful, body positive artists show that fat women and men can be sexy, smart, sad, or whatever they want to be. The message that rings so true with body positive artwork is not just one of empowerment — but also of agency over one's choices.
The subjects in this artwork are relatable. They are the type of subjects that know what it's like to be fat shamed by strangers on the Internet. And this art helps to humanize their experiences. As someone who is called an "obese whale" at least once a week, looking at these 13 empowering messages gives me faith that one day my existence won't make people so uncomfortable.
1. Double Standards
This original artwork by Tumblr user, Rude42 illustrates the double standard placed upon plus-size women to be traditionally feminine in order to be considered beautiful.
2. You Don't Know Me
When I first saw Melbourne artist Gemma Flack's "You Don't Know Me" zine on Tumblr, I freaked out. It was everything I had ever felt about being fat shamed, slut shamed, and overall told I needed to dress, act, talk, and exist in a certain way. The full zine is available on her Etsy shop.
3. Personal Preference
Tumblr comic MightyHealthyQuest shows the difference between having a personal preference versus body shaming, judging, or bullying someone. While so much of body positivity can be focused on empowering fat women, it's important to remember that it's really about creating a space where all bodies are accepted.
4. Not Your Bae
Body positive artist Tiny Hobo crafts buttons, prints, stickers, jewelry and even apparel featuring her colorful illustrations. There are many gems to pick from in her shop but these "Not Your Bae" buttons are rad to me because I am tired of the assumption that fat women are insecure and desperate for any sort of attention. Sexualized comments are harassment, not compliments.
5. Heart Eyes
I was so happy when I saw this illustration from artist Bonnie Brown because it's not as common to find body positive love for male-identified fat bodies. This piece, which the artist plans to turn into stickers, challenges beauty standards in such an adorable way.
6. Mermaids
I don't care how many times I see a mermaid reference in the body positive movement, I still love it. There's something so empowering about this imagery and this piece by artist Van Scribbles shows just that.
7. Worthy
A visit to Emm Roy's Tumblr, Positive Doodles, shows you where the blog name comes from. These doodles show not only positive messages about self-love, but also about mental illness and gender identity. I identify with the messages of worthiness because they mirror my own journey to self-love.
8. Selfies As Self-Care
I love this comic from artist, Chibird, because I believe in selfies as self care. I've been told to post less selfies so that I don't appear vain, but I agree with the message here: Be your own biggest fan. I say the more days you are feeling yourself, the better.
9. Own It
I first saw this illustration from artist Teafly on Tess Holliday's EffYourBeautyStandards Instagram page, which is run by Holliday and six other body positive babes. In addition to reposting photos of individuals who use the hashtag #EffYourBeautyStandards, the page shares the artwork of many on this list including this piece, which encourages owning your body.
10. Body Positive Corgi
I thought this body positive corgi image was just a super clever meme until I did some digging and found out that it's an image from accessory and apparel label, Human. This image is available on a tote bag, pillow, and tee.
11. Sassy Animals
Artist Elliot Parker creates sassy animal body positive messages and prints them on tees up to size 3XL. I really love the Sassy Pug pictured here but the Sassy Whale is a body posi classic.
12. I Am Here
When I needed to get artwork for my studio, I headed straight to illustrator Tara O Brien. Her work shows beautifully confident women elevated to an almost immortal status. To say the imagery is powerful is an understatement. I love how this piece speaks to both femininity and visibility.
13. Buns, Hun
I first found out about artist Jonquel Norwood when we were both based in Atlanta. I now have two of her pieces hanging in my studio because she features my jewelry designs on her subjects (which is totally the coolest thing ever). I admire Norwood's work because she is always pushing herself to create colorful body positive images. And she recently started printing her pieces as makeup cases so you can get all pretty on fleek.
Images: Rude42, GemmaFemma, MightyHealthyQuest/Tumblr; Courtesy Tiny Hobo; apple-pie-thighs, Vanscribbles, PositiveDoodles, Chibird, Teafly/Tumblr; Courtesy Human; Courtesy Elliot Parker; Courtesy Tara O Brien Illustration; Jonquelart/Tumblr