'The Americans' Almost Didn't Get Renewed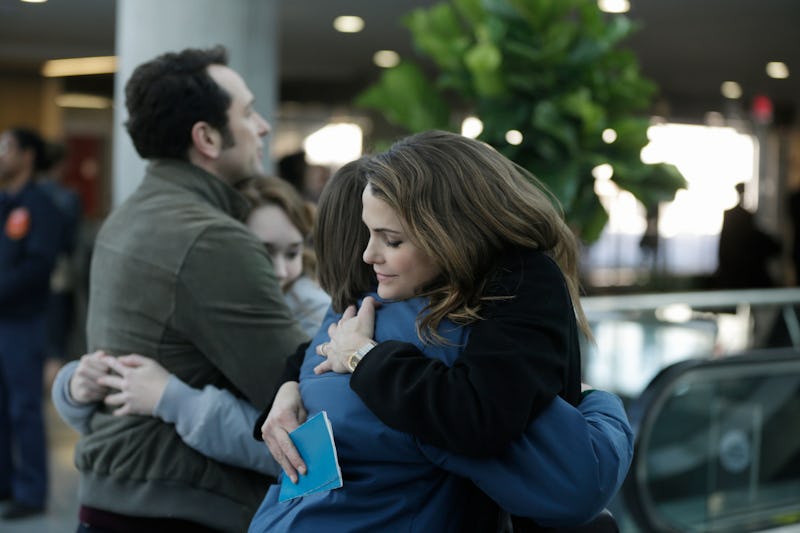 You and I may be totally obsessed with The Americans on FX. But you know who's not so into it? Americans. The show, while totally marathon-worthy, is not exactly a ratings juggernaut. (I mean, I get it. A heavy drama that asks you to sympathize with Soviet spies is kind of hard for FX to sell to a mass audience — at least harder than watching a sneering Timothy Olyphant in a white cowboy hat.) Renewal clearly wasn't a slam-dunk. Those of us waiting for more of Keri Russell's Cold War-era hairstyles were on edge. But The Americans was finally renewed, leaving just one question in our minds: How long do we have to wait for The Americans Season 4 premiere?
Waiting for news of a renewal was more tense than US/Russian relations in the '80s. According to Entertainment Weekly, a recent The Americans episode only had around a million live viewers — yikes! Plenty of shows have been burned like bad spies for numbers like that. But the same article pointed out that the number swelled to more than 4 million once DVR and On Demand were factored in. Phew! That must've been the show's saving grace, since FX decided that it was enough to go ahead with a fourth season, thank Reagan.
What made FX stick with the show when it could have gone the way of the Berlin wall? Time reports that the network was pleased by favorable reviews/blog coverage of the show, so, you know, you're welcome. "Remarkably, this season of The Americans has achieved even greater acclaim than that of its first two seasons," Nick Grad, programming president at FX, was quoted as saying in the magazine. "The series has cemented it status with critics as television's best current drama and arguably the best show on TV, and we couldn't agree more."
I know we should all just be happy that the show is coming back at all, but he real question is: when, When, WHEN?! As with all good things, it looks like we're going to have to wait until next year. The show, "has been handed a 13-episode order for Season 4, slated to debut in 2016," Variety reports.
Winter is a good bet. So far, The Americans has always come back in the winter. The first season debuted at the end of January. The second was kind of an anomaly, holding off until the end of February for a premiere. It was 2014, so my uneducated guess is that the delay was Olympics-related — it came back right after the games ended. Next year, since the Olympics won't be until August, It's a good bet that we'll see another end-of-January premiere. Until then, you'll just have to keep re-watching Dawn of the Planet of the Apes for a Keri Russell fix.
Images: Patrick Harbon/FX; fanbingbings/Tumblr; Giphy; tamsinlexa/Tumblr