How To Rock A Hair Bow This Spring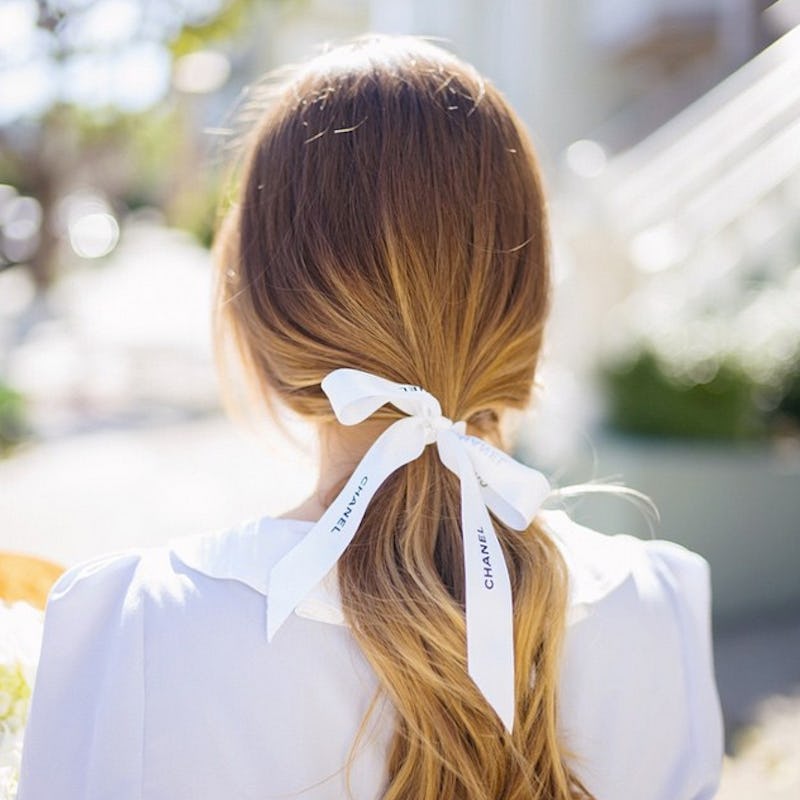 I'd like to wear my hair down every day, but it just isn't practical. That's why I'm excited to adopt the hair ribbon trend for this spring/summer season. While hair bows have been making a comeback for a couple of seasons now, I've been skeptical about the trend — worried that it would make me look too "juvenile." However, a loose bow wrapped around a low pony might just add that extra bit of sparkle to an otherwise average outfit and/or hair day.
The French, who we so earnestly admire for their superb style, seem to be at the forefront of the hair bow trend. Brigitte Bardot, the famous French siren, tied ribbon on top of her head and around loose pigtails. While I can't even imagine wearing pigtails at my age, she made them look sexy, and I have to think it had something to do with the bows. Chanel, the French design powerhouse, took ribbon to a whole new level on their fall 2016 runway, framing faces like Kendall Jenner with thick ribbon headbands. Even Clemence Poesy, the French "It" girl has been known to wear the accessory a time or two. The mixture of tousled locks and a pristine bow actually makes sense — it elevates the famous French mane and eliminates the childish stigma.
Whether you want a dramatic look à la Chanel's 2016 show or a girly 'do like blogger Blair Eadie of Atlantic Pacific, there is definitely a style for you. Scroll down to see how to up your hair game with this season's ribbon trend.
1. On Top Of The Head
A bow on top of your head may seem a bit daunting, but Brigitte Bardot's famous 'do is oh so chic. Follow Lauren Conrad's tutorial to get the look.
2. Branded Ribbons
Add some character to your outfit with ribbons for a special purchase or occasion.
3. Headband
Amp up the drama with a face framing ribbon. Pin the ribbon underneath a messy bun or ponytail for a right-off-the-runway kind of look.
4. Half Up
Oftentimes half-ups look messy with rubber bands and bobby pins showing. Add a colorful ribbon, like the pink velvet one above, to hide imperfections and brighten up your look.
5. Oversized
Make your bow the focal point of your outfit, and opt for an oversized version. Try a black satin bow like the one above for a more edgy look, or go full on girly with a patterned bow.
6. Loose Pony
One of the easiest and most common hairstyles is the loose pony. Whether you do it on the side or in the back, add a ribbon to elevate your 'do.
7. Around The Collar
If you are having a good hair day and don't require any ribbon, take a tip from stylist Martha Ward, and substitute ribbon for a necklace.
Images: laurenconrad_com, juliahengel, chanelofficial, blaireadiebee, marthaward/Instagram