The Best Dark Lipsticks To Wear In Summertime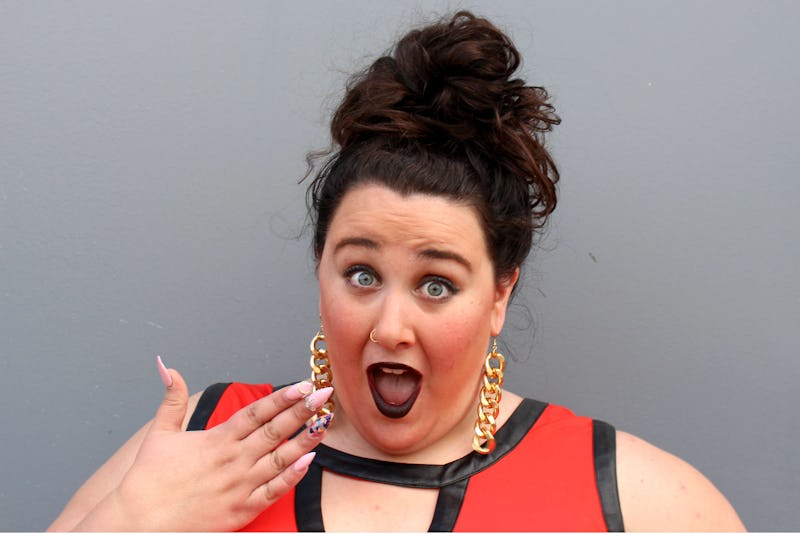 I have a lipstick addiction — so much so that when a picture of Rihanna sitting ringside with a dark vampy lipstick was released in mid-January, I searched for hours for that exact shade only to find that someone had Photoshopped that color onto her lips. Even though I think the weather is attempting to be spring where I live in the Midwest, I am still wearing all of the dark shades I bought and trying to replicate this digitally created lip, which begs the question: Can you wear dark lipstick in summer?
While some may argue that dark purples, deep reds, and matte blacks belong on your lips only when it gets dark at 4 p.m., I am of the belief that rules — especially fashion and beauty ones — are made to be broken. So I took on the challenge of styling seven spring/summer trends with my favorite dark lipsticks. I picked lipsticks that varied in pigment, price, and finish to show a variety of ways to wear this vampy look. As for the clothing side of things, I already wear crop tops and sandals in winter, so it was not too difficult for me to incorporate them into my everyday style, which generally varies between adorably gaudy and granny streetwear chic.
I am no stranger to the camera, but I will say that I took these pictures while working against the elements — which included it being incredibly windy, my mom being very clumsy with the camera, and lipstick getting on my teeth for every outfit. But I think they prove my point: Wear what you want, when you want.
1. Fruity Pattern Top
Nagini Matte Lip Mousse, $14, LA Splash Cosmetics
I decided to pair this incredibly summery print top that I got from Re/Dress with a dark emerald green lipstick called "Nagini" from LA Splash Cosmetics to play off of the leaves on the lemons. This lipstick is technically considered a lip mousse and it goes on glossy and dries matte. It's extremely long-lasting and it's more likely that you'll forget you have it on than you'll feel like you're wearing chalk. I finished the look with the "Slick Kitty" sunglasses from Domino Dollhouse.
2. Semi-Patriotic Crop Top
Temptress Simply Vamp Lip Cream, $7, NYX
I've had this American flag tank for the longest time, but I like to tuck it under and wear it as a crop top with a high-waisted skirt. Playing off of the purple tint in the shades, I picked "Temptress" from NYX Cosmetics' Simply Vamp line for my lips. I will warn you that this lipstick goes on like a big crayon and mine almost immediately separated from the stick. It's still wearable and I love the shade, though, so I make it work. I completed the look with leopard print wedges from Torrid.
3. Boho Chic
Feminish Lippie Stick, $5, ColourPop
While boho is usually not my thing, I was to inspired to try it when I saw this amazing Living Doll Los Angeles lace crochet button down from Hey Gorgeous! I added the headband for a pop of color and I decided to pair with a great deep purple lip shade called "Feminist" from Colour Pop that was only $5. Every shade is made with a matching lip pencil but I opted to just use the lipstick by itself and felt the coverage was of great quality on its own.
4. Summer Maxi Dress
Ruby Kisses Dark Plum, $5, Amazon
When you're a 5'1" fat babe, it's not often that you get to wear a maxi dress. But when I found this Grecian-style maxi from City Chic at Nordstrom, I knew it was worth taking the time to tailor it, especially since Gabifresh wore it on her blog earlier this year. Even though this is arguably the most high-end item in this list, I paired it with the cheapest lipstick: "Dark Plum" by Ruby Kisses. I found it at a beauty supply store for less than $3. The label says it's an ultra matte but it really goes on glossy and stays that way. The pigment is a deep brownish purple. I finished this look with chain link earrings from my own line.
5. Socks With Sandals
Liquid Lipstick In Potion, $20, Anastasia Beverly Hills
Socks and sandals are supposed to be one of those fashion no-nos, but it's a trend that I really love. These fishnet socks are only $4 from Target and I paired them with a faux leather dress that I got from blogger Curvaceously Bee's closet sale. The dress originally had sleeves but I decided to cut them off and create a sleeveless look for a more summery feel. I paired this outfit with a liquid to matte shade that I have been lusting after for a while now: Anastasia Beverly Hills "Potion." Though the $20 price point is steep, the quality is definitely there.
6. Neon Bodycon
ProFixx Lip Pigment In Marble, $30, ProFixx
I am gonna go out on a limb and just say that the neon tropic dress from Chicago plus-size boutique BLAIR is made for my body. It's a nice light-weight fabric, which makes it so wearable for summer. I decided to match my lip to the black accents in the dress and I picked a black shade called "Marble" from indie brand, ProFixx Lip Pigment. The packaging on this lipstick was my favorite and I also love that all of the brand's lip pigments are handmade,100 percent vegan, and cruelty free.
7. Floral Skater Skirt
Very Matte In Sin, $17, Mac
This floral skater skirt from my latest spring collection is definitely my new go-to look. I love the drama created by the pleating. I decided to pair it with the lightest shade from the bunch, "Sin" by MAC, which is a deep wine color. I wear these cobalt blue wedges from Cat's Closet with nearly every outfit for which I know I will have to stand for more than 10 minutes because they are so comfortable.
Here are all the shades on a piece of white paper. I haven't used flash or adjusted the brightness at all so it's just the natural overhead lighting.
So there you have it. If you ask me, dark lips and summer prints go together just right.
Images: Author's Own