Mary-Kate And Ashley Movies You Need To See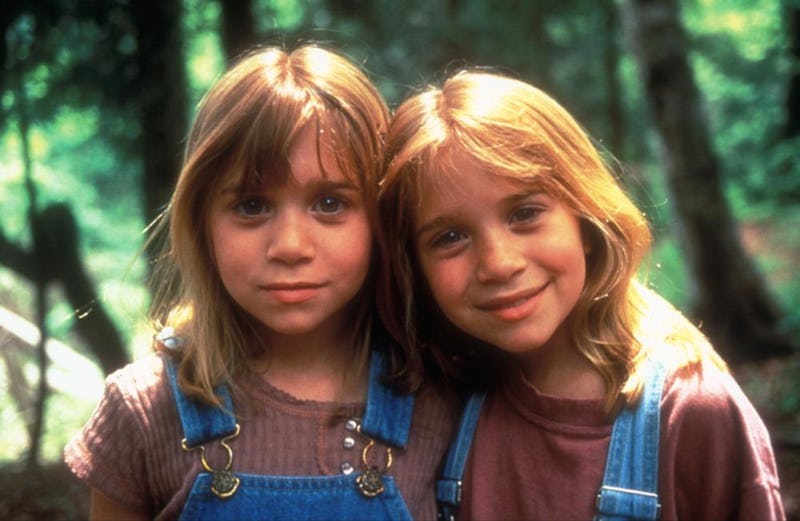 If you grew up in the '90s, it's likely that a lot of your childhood revolved around a set of fraternal (seriously, though — how are they not identical?) twins that brought serious amounts of family fun. I'm talking about Mary-Kate and Ashley Olsen, obviously, who starred as Michelle Tanner on Full House ("You got it, dude!") and went on to create an entire empire that included a whole bunch of amazing kids movies, a fashion line, perfume, board games, calendars, books... the list goes on and on. And while MK & Ashley are all grown up now and embarking on more mature adventures, that doesn't mean we've got to forget about their awesome past. Thankfully, we don't have to, because this week it was announced that Nickelodeon acquired all of Mary-Kate and Ashley's movies and I plan on re-watching every single one (and so should you).
Unfortunately, while Nick got a hold of a good chunk of the Olsens' back catalog, it's not complete. Their series and TV movies will start airing later this year, but there are some big gaps in the schedule. Of course, there are plenty of other ways to get a hold of the movies that are missing — Netflix, Amazon, eBay... you get the picture. If you're ready for a serious a Mary-Kate & Ashley marathon, I'm about to hook you up with the ultimate list of the 10 movies of theirs you HAVE to see, in order, from best to worst. Some will probably air on Nickelodeon and some you'll have to hit up other sites for, but I believe in you. We can do this.
It Takes Two (1995)
Alyssa and Amanda, a rich girl and an orphan, are identical twins but have never met. When they do, they concoct a plan to get Alyssa's dad and Amanda's caseworker — played by Steve Guttenberg and Kirstie Alley — to fall in love and get married and it's basically the best thing ever.
Passport To Paris (1999)
The twins go to Paris and fall in love with French culture AND French boys. This movie is double awesome (get it?) because you get to see a lot of Paris scenery as they race around the city and try to make the best of their overseas trip.
Our Lips Are Sealed (2000)
In this one, MK & Ashley get to go to AUSTRALIA. Why, you ask? Well, they witnessed a crime and had to be placed in the FBI Witness Protection Program. Unfortunately, they keep blowing their cover and have to skip town pretty often, but it all works out in the end, of course.
How The West Was Fun (1994)
Jessica & Suzy's grandma Natty has a ranch in the Wild West, and the girls get to go visit. However, Natty's ranch might have to be sold and it's up to the twins to save it. Can they do it? You'll have to watch to find out.
Double, Double, Toil and Trouble (1993)
Save this one for Halloween, cos it's a good one (have a double feature with Hocus Pocus and that's a night!). Kelly and Lynn's parents could lose their house and the girls are desperate not to let this happen. Turns out, it's their Aunt Agatha's fault since she found a magic stone and now she's a witch doing evil deeds. Can the girls steal the stone and save their family?
New York Minute (2004)
As the Olsens got older, their movies got a bit sassier (but still family-friendly). Jane and Roxy are twin sisters that don't get along. Jane wants to go to an overseas study program and Roxy wants to meet her favorite musicians, but of course things don't go to plan for either of them. They'll have to work together to make their dreams come true — can they do it? (SPOILER ALERT: YEP!)
Holiday In The Sun (2001)
Alex and Madison get to go to the Bahamas on vacation, but it isn't all that relaxing when they discover some criminals stealing artifacts and have to save the day YET AGAIN. Seriously, can't these girls catch a break?
To Grandmother's House We Go (1992)
An early film but a goodie nonetheless. Plus, it's Christmas themed. I love Christmas. If you couldn't quite tell by the title, the girls sneak out to their grandma's house when they feel like their mom wants rid of them. Of course, it's not all quite so simple and while they're only little, they manage to get into some trouble, for sure.
When In Rome (2002)
Leila and Charli (love the new millennium names!) go to Rome for a study abroad internship program but they pretty much get fired right away. Luckily, the boss takes a shining to them and gives them their jobs back... not that it all goes very smoothly. Especially when there are so many distractions, like BOYS!
Images: Getty (1), Giphy (7), ABC (1)