Dascha Polanco Spills On 'OITNB' Season 3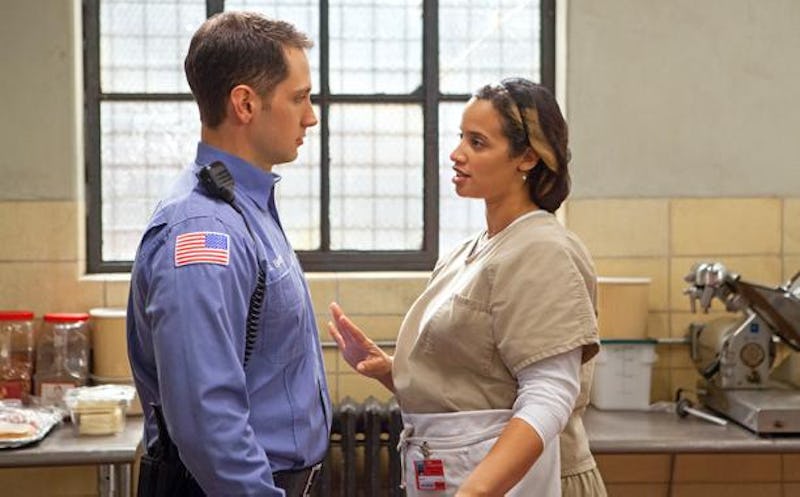 Right now, Dascha Polanco's film career couldn't be going better. After a supporting turn in 2013's Gimme Shelter, she took on a memorable part in this March's The Cobbler opposite Adam Sandler, and just finished filming a role in Joy, David O. Russell's newest drama. Yet for all the actress' achievements in the movie world, it's her TV career, most notably her role on Netflix's Orange is the New Black , that's earned her the biggest acclaim these past few years. As Daya, a pregnant inmmate in love with a corrections officer, Polanco has played a large part in the Emmy-winning show's huge success, and now that the show's about to enter its third season, she couldn't be more excited.
Says Polanco, "When Season 3 comes out, people are gonna have a lot to say."
The actress says that focus will be given to Daya's questioning of her relationship with Bennett, an originally sweet bond that grew complicated after she got pregnant and he refused to take responsibility.
"You're going to see a lot more growth," she says. "She makes decisions... I think the beauty of TV is being able to show experience, growth, maturity — to be able to show the audience progression."
And then, of course, there's the pregnancy. Although Polanco won't say if a baby can be expected this season, she does hint at her character's uncertain future.
"At some point she has to give birth," she says, bluntly. "That's what happens when you're pregnant — hopefully."
She mentions miscarriage as a possibility, but is careful not to give any of the options particular weight.
"There's a lot of stuff that happens," she says. "We'll see when it comes out."
Expectations for OITNB's third season are high, especially after the show's 12 Emmy nominations last year. Polanco admits that there's "definitely more pressure" this time around, but that the series' large fanbase inspires the cast to do better work.
"It's a lot of pressure on the person, because it's a new field for me, a new career, and now I have a following of people that are looking up to me," she says. "But it also motivates you in your career to do more and be the best that you can be."
It helps to have a job as satisfying as OITNB, she adds.
"I really enjoy doing the work," Polanco says. "I'm definitely trying to challenge myself."
Which means delving even deeper into Daya, already one of the series' most interesting complex characters. Talking about the inmate, the affection in Polanco's voice is obvious, even before she calls Daya her "girlfriend."
"When you do TV, you start to have a relationship with your character," she says, happily. "There's more time to explore... I've had three years with Daya, and I got to grow."
Season 3 of Orange is The New Black premieres June 12 on Netflix.
Images: Netflix