10 Easy Wardrobe Hacks For Survivng A Cold Office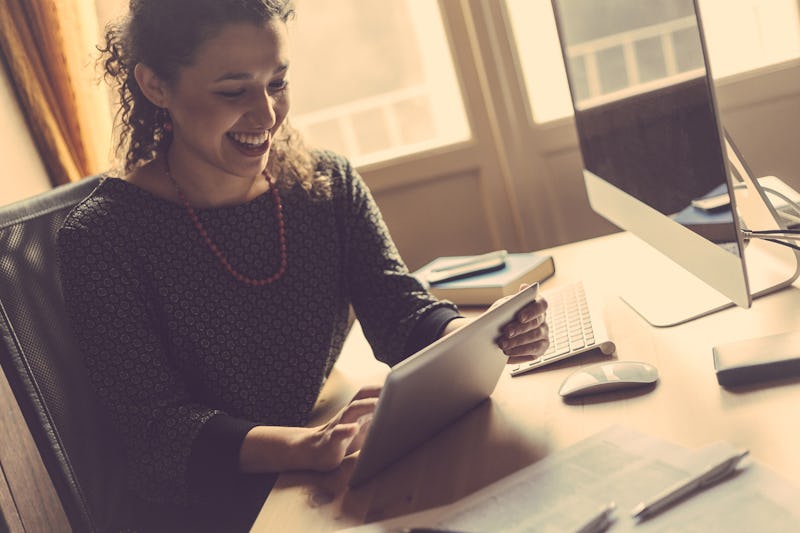 There are many, many things I love about the warmer weather, especially when it comes to summer outfit tips. One thing I don't love? My freezing cold office, which could easily be confused for a very large freezer with desks and computers during the summertime. Only those of us who work in an office building understand the true struggle of going from walking around in 80 degree humidity to sitting in what can only be referred to as an icebox, shivering in front of our computer, and trying to figure out why our building managers hate us so much.
Sure, air conditioning is a wonderful thing, but is there a reason is needs to be kept so low that we need more than a few layers just to comfortably get through the day? If there is a reason, please fill me in so I can think rational thoughts while I am nursing my goose bumps and trying to focus on my work.
Needless to say, cold offices and hot weather make for some interesting wardrobe issues during the spring and summer. You want to wear your cute sundresses and airy sandals so that you don't sweat during your commute to work, but you also want to be cozy once you actually make it to your desk. Figuring out how to accommodate two opposite temperatures can be pretty frustrating, which is why I'm here to (hopefully) help. I've spent four consecutive summers shivering at my desk, and I've picked up a few tips and tricks along the way on how to stay warm while still wearing something seasonally appropriate. These 10 wardrobe hacks are easy to pull off, and will help you stay chic while also staying comfortable. Good luck out there!
1. Use a light summer scarf as a makeshift wrap or blanket.
Summer scarves are always in style. Buy a large one so that you can casually drape it around your neck while walking, but transform it into a wrap while sitting at your desk.
2. Buy a few simple solid-colored cardigans to use as layering tools.
Cardigans should be your new best friend. They're light enough to carry around outside or stick in your bag, but will keep you from being too cold once you're in the office. Buy some solid colors so that they go with everything.
3. Make a kimono part of your outfit.
Kimonos are still on trend this summer, so take advantage of them. They're light enough to be worn outside, and while they won't keep you super cozy, they do make for a nice extra layer of fabric. This paisley piece is less than $25 at Forever 21.
4. Opt for close-toed shoes over sandals.
Sandals are tempting in the hot weather, but if you're sitting at your desk with your feet basically out in the open, you're going to get super cold. Try to wear close-toed shoes to keep your feet warm.
5. Keep thick socks or slippers at your desk.
If you don't want to give up sandals, keep a pair of cozy socks or slippers under your desk to change into while you're sitting around.
6. Have a black blazer handy.
Blazers are professional and make for an excellent layering tool. They also conveniently keep you warm. A black one will go with almost anything and will keep you looking polished if you're in a very professional office.
7. Wear loose-fitting pants.
Palazzo pants or pants made of an airy fabric are light enough to wear outside on warm days, but offer much more fabric than a skirt or dress. Wear them as often as you can. These are $17.95 from H&M, so you can afford to snag some in a couple colors.
8. Wear a button-down shirt with sleeves you can roll up or down.
Keep the sleeves rolled up when you're outside, and roll them down once you're at work to stay a little bit warmer.
9. Layer with tank tops.
Pair tank tops under cardigans or blazers so that you can walk around sleeveless outside but be covered up when you're cold.
10. Keep a blanket at your desk.
If you're comfortable wrapping yourself in a blanket when you're sitting at your desk, do that! It's easy and you won't have to tote it around with you since it will always be there.
Images: william87/Fotolia; Courtesy Brands; Giphy