Why You Should Be Triple Moisturizing Your Skin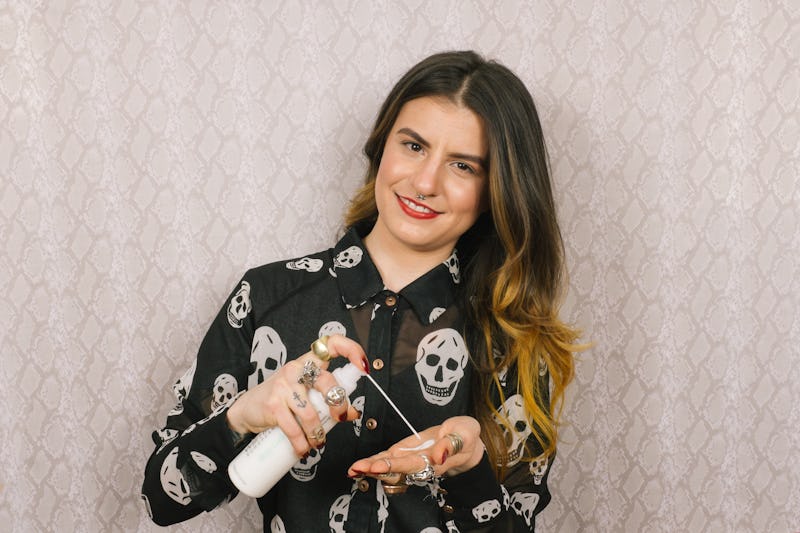 Double moisturizing the skin on my body was something that occurred to me after studying the Korean skincare regimen. By layering on products (such as lotions and body serums) by thickness, you pair humectant and occlusive products and make them work as a team. Translating this into body care means applying moisturizer, then body oil. However, just like the many step routines for facial skin, you can add steps for body as well. This is why I decided to try triple moisturizing my bod, to see if it made things look and feel even softer than my usual routine.
The standard basic facial routine is cleanse, tone, moisturize, but the Eastern method takes it much further, incorporating serums, ampoules, oils, and moisture packs. For body, there are many of the same products, but I really want to take a special look at body serums today. They're as varied as ones for the face, and can really step up your skin softness game.
Basically any oil, cream, or in between can be considered a body serum, provided it has exotic oils in it that are normally reserved for the face. This means argan, watermelon seed, camelia, tamanu, flax, chia, and all of the fancier oils with fatty acids galore.
Although pretty much anything with those oils count as a serum, there are two distinct textures that make up the majority of products: cream based and oil based. Each have different types of moisturizing products, so read on to discover which is the best for you.
Cream-Based Serums
Wilma Schumann Body Contouring Serum, $39, Amazon Kat Burki Body Butter, $62, Kat Burki Ahava Dead Sea Osmoter Body Concentrate, $45, Ahava
The best way to apply any products to skin is to start with the lightest and work your way up to the heaviest formula. Creamy or milky textured serums are great to substitute for a moisturizer if you're short on time, or before lotion and oil to really prep your skin. By using nutrient-packed serums on damp skin post shower, the formulas to spread more easily and absorb more fully. Sealing them in with heavier lotions or oils allows an occlusive layer to protect skin while the water soluble ingredients penetrate even deeper.
Ahava's Dead Sea Osmoter Body Concentrate ($40) is actually cheaper than their facial products. Argan, olive, and coconut oils are blended with glycerin and polymers to make a spreadable and absorbable concentrate. I love this for legs, since its vitamin content (C, B3, B5, E) and caffeinated punch help plump up skin.
Wilma Schumann Body Contouring Serum ($60) is pricier, but it comes in a larger bottle than most serums. The gingko biloba, caffeine, and guarana inside literally wake up the skin. It also contains witch hazel, a natural astringent, which tightens the skin while lactic acid and urea promote exfoliation. This one is decent by itself, but better under lotion; its light scent plays well with others.
If you want a product to do it all, Kat Burki's Body Butter ($62) is a great choice. The numerous herbal extracts lend a soft fragrance that also leave skin very silky. I used it alone and as a top coat after my usual triple coat, and both times my skin felt gorgeously silky. Macadamia, tamanu, rose hip, flax, jojoba, coconut, evening primrose, sunflower and grapeseed oil round out nearly every skin friendly fatty acid.
Oily Serums
One Love Organics Gardenia + Tea Body Serum, $39, DermstoreTata Harper Revitalizing Body Oil, $95, AmazonKahina Giving Beauty Fez Body Serum, $32, Amazon
I am a huge proponent of DIY, but not everyone likes to research everything you need to know to make the best product. When looking into body serums, it was clear to me that this is not child's play. DIY is the only way to get these on the cheap, as most are over 30 dollars. These three are my favorites of whats on the market, and I like to use them as a final step to seal in everything and add a pleasant scent.
When I want to smell like a flower child, I reach for Tata Harper's Revitalizing Body Oil ($90). The scent is so potent but almost healing. Geranium is the most prominent of the rich green smell, and its flowery finish is uplifting and stress relieving. The oil itself is very silky; it soaks in quickly and delivers the herbal extracts of elderberry and alfalfa to your whole body.
One Love Organics' Gardenia + Tea Antioxidant Body Serum ($39) and it is truly lovely — not to mention environmentally friendly and cruelty-free. The nozzle sprays at any angle, which makes it great for applying to our much neglected back. The formula has the benefits of two of my favorite exotic oils, sea buckthorn and chia which add omega-3 and 7 to skin. In a base of coconut oil derivative and sunflower oil, the gardenia scent has a chance to scent skin to the perfect degree. Plus, it works fabulously on hair as well, making it a beach essential.
Last, but certainly most fab, Kahina Giving Beauty Fez Body Serum ($98) has been on my shelf for a while. I always use a pump or two to give my upper body soft moisture and a deep spicy aroma. I use it pretty sparingly due to it's high price, but I can tell you it's worth every penny. If you attempted to DIY this formula, it's potent ratio of pricey exotic oils would still cost a lot. Watermelon seed oil, fair trade argan oil, and a large collection of precious essential oils from rose to cumin give this serum an unforgettable scent, sure to turn heads. I would say this formula is only for the bold.
Now that you know what's what, will you be taking my advice and double or triple moisturizing? I don't think I could ever go back to less than doubling down now, and I must say my legs feel so much softer since I adopted this practice. I don't know too many women over 25 who aren't using a facial serum, and there's no reason not to expand this to include limbs as well!
Photos: Giphy (3); Darnell Scott (3)