9 Books To Buy Your Feminist Mom For Mom's Day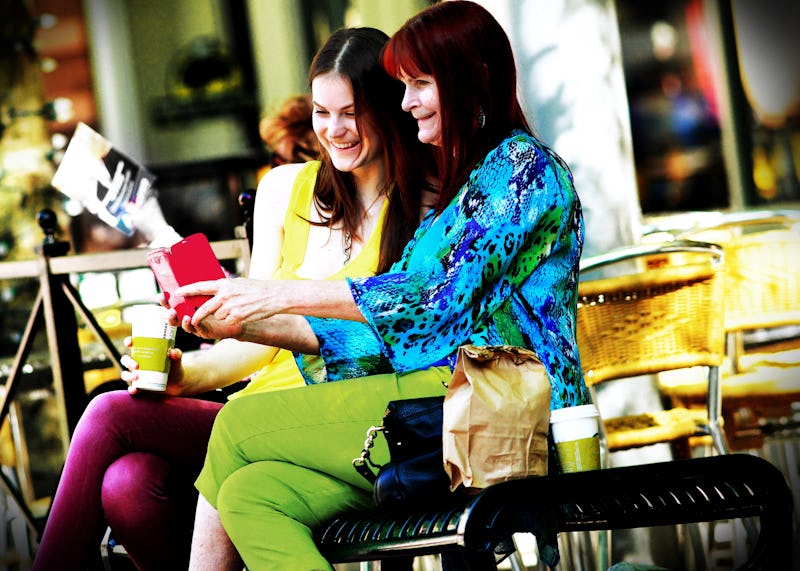 Your mom is no ordinary mom. She is a badass. She is a bona fide, totally rockin' feminist. So, the mother's day book that you're going to give her as a gift should absolutely to reflect that, no? The answer is "yes." Think about it — she wouldn't have it any other way.
I'd know, because I have one of those moms. She's the director — i.e. the head honcho — of a foundation that gives scholarships to high school students for college. Her foundation also provides grants to environmental non-profits and youth organizations. Did I mention that after 9/11, she and some friends set up a local charity to help families in need? She's pretty cool, working long hours to make this planet a better place, and also setting a great example for her daughter.
If your mom is anything like mine, she'll love these books by sharp, outspoken ladies who aren't afraid to say what's on their minds. And this Mother's Day, there's no better way thank your mama for teaching you to be the rad feminist you are than by giving her one of these books that celebrate what it means to be a woman.
Is there really a better blueprint for a tough, successful woman than Amy Poehler? Yes Please chronicles her journey from Chicago's Second City Theater and Upright Citizen's Brigade to Saturday Night Live and everyone's favorite parks director, Leslie Knope. The book is funny, but it's also a thoughtful, honest testimony to balancing career and parenthood: she gives credit where it's due — from Tina Fey to her nanny — and isn't afraid to admit the challenges she's faced.
When Kate Bolick graced the cover of The Atlantic in 2011, she was one of only three women to ever been featured on the front of the magazine. Her book, Spinster , continues where the popular essay, "All the Single Ladies," left off — examining how 21st century single women can continue to create the lives they want, no matter what society thinks.
Gay is the coolest — from a vocal Twitter feed to her own honest admission that, like feminism itself, even the essays in Bad Feminist are flawed. This collection spans a variety of topics, from cultural criticism to racial issues, which Gay speaks on with authority and sensitivity.
Although the stories in Almost Famous Women are fictional, they explore true-life heroines who have often been forgotten. Bergman seeks to give these women, who include Lord Byron's illegitimate daughter, Allegra, and Oscar Wilde's niece, Dolly, the attention they deserve by imagining their stories, which are saturated with independence and strength.
Heiny's collection of stories is a linked exploration of love, deceit, and unfaithfulness, filled with complicated irony and surprise. Take Josie, for example, who discovers her ex-boyfriend (who she met on Facebook) is now dating another woman (who he met on Twitter). Though these stories are electrically charged with betrayal and loss, they are still laugh-out-loud funny and utterly human in their portrayals.
Women by Chloe Caldwell
Caldwell's novella, Women , is about something important to all of us: identity. It features friendship lines blurred between women and sexual encounters, as well as the love and heartbreak women share with one another. At only 144 pages, it is a short but intricately told story of one woman's quest to better understand herself.
As women, we've all probably been accused of being moody once or twice (or more). But Holland, who has a degree in psychiatry, explains that our female emotionality is a strength, not a weakness. She discusses why it's problematic to medicate away our moodiness, rather than listening to the subtle systems our bodies use to tell us how to manage our lives, and even delves into how food, sex, sleep, and other factors play a role in this overall moodiness scheme.
Hausfrau by Jill Alexander Essbaum
Anna Benz lives in a suburb of Zurich with her Swiss husband and three children. Hausfrau follows a series of choices Anna makes to try to reignite this current life of aloofness. Essbaum's novel proves the strength and independence of her female narrator in a story with no shortage of moral complexity.
How to Build a Girl by Caitlin Moran
This novel begins with a teenager who feels shamed and simply decides to rebrand herself as someone else. But when she realizes it's not quite that easy, the answer is a novel filled with self-discovery and laughter. After all, Marie Claire did call the wonderfully smart and snarky Moran, "the UK's answer to Tina Fey, Chelsea Handler, and Lena Dunham all rolled into one."
Image: Pabak Sarkar/flickr