13 Amazing Rainbow Eye Makeup Looks From IG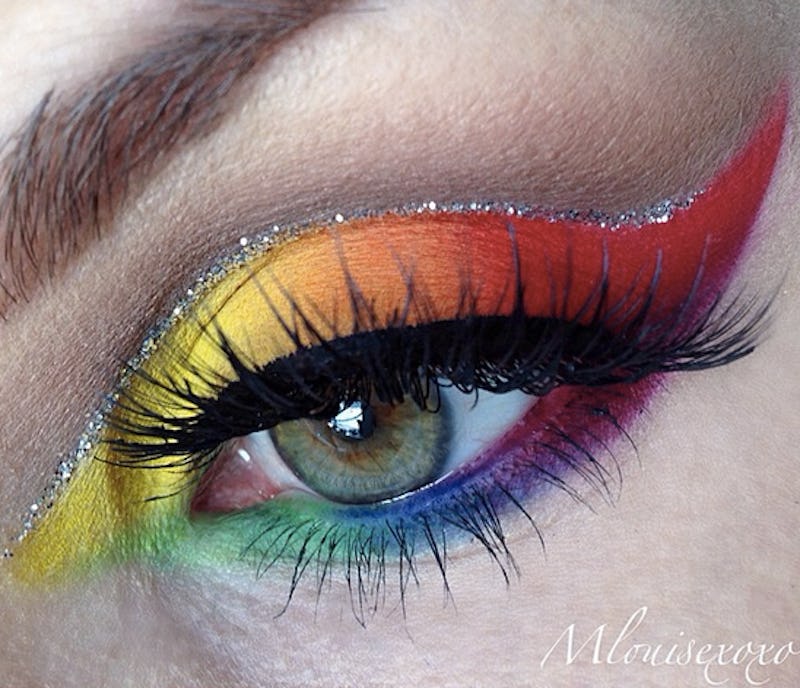 Sure, rainbow eye makeup is incredibly difficult to apply and even more difficult to pull off — but it is so fun to look at. Instagram is a great place for makeup artists to showcase their colorful work, but it can be difficult to filter through all of the highlighting and contouring to really find the elaborate colorful eye makeup. From a hint of purple liner to full-on colorblocking effects, there's no shortage of bright inspiration to scroll through.
Whether you prefer a small dose of color underneath the eye, a dramatic full eye look or anything in between, there is a rainbow eye makeup technique you can actually pull off. The best part about colorful eye makeup is that there are products at every price point, from $3 wet n wild kits to $42 Makeup Forever palettes, so you can try out a colorful look regardless of your budget.
Like any elaborate makeup look, practice makes perfect, so don't get intimidated by these intricate looks. You can have rainbow eye makeup, too! Here are 13 of the coolest colorful eye makeup looks on Instagram to get your started.
1. An under-eye rainbow
I particularly love the blue in the waterline and the blue mascara on the bottom lashes.
2. Green to purple
The key to this cool-hued look is blending each color so they slowly fade into each other.
3. An autumn-themed look
Bright yellow, to orange, to brown. The perfect colorful eye look for fall.
4. Glitter to add some extra color
Add some glitter to enhance your already colorful eyeshadow.
5. Peach and purple
The purple and blue underneath the eye help accentuate the peach shadow on the top lid.
6. Colorful eyeliner to get the rainbow look
Quickly add some color by lining your eyes with a different color on the top and bottom.
7. A purple waterline
Love the bright blue and pink on the top with the subtle hint of purple on the bottom lash line.
8. Blue mascara and a blue waterline
Another blue waterline with some blue tipped lashes for a unique look.
9. This epic rainbow creation
This look is the epitome of rainbow eye makeup.
10. Orange to purple eyeliner
The patience required to blend this eyeliner is astounding.
11. This beautiful pink and purple creation
The glossy, dewiness of this makeup is phenomenal.
12. An orange, blue and purple combo
The gold glitter on the top lid adds some nice dimension.
13. Gray and yellow with pink winged liner
It's an unexpected combination with awesome results.