7 Ways Jess Mariano Was The Perfect Starter Crush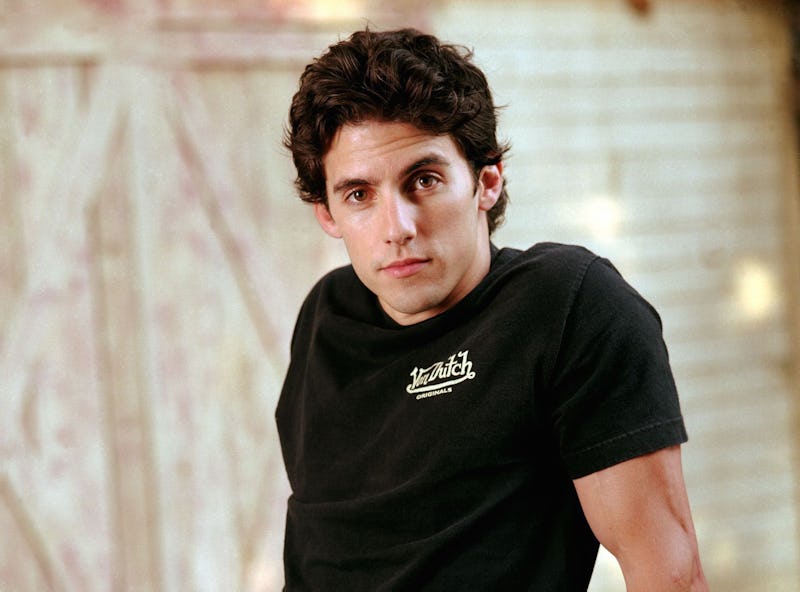 Rory had a slew of love interests during the Gilmore Girls' seven year run, and though the war still rages on about whether Dean or Logan were good boyfriends for the blue-eyed brainiac, there was only one Gilmore Girl boyfriend that had your heart. Yes, few TV characters were as crush-worthy as one Jess Mariano, laden with all his dark and broody ways.
Not only was Jess a wise-cracking intellectual who made thoughtful, romantic gestures, but he also made unstable, bad decisions while showing a small light of potential. Also, he's dark haired and wiry of figure and to be honest, that is forever and always my type. SO. As a huge Gilmore Girls fan, I can't help but find Jess to be as dreamy as ever. There's something so timeless about him, isn't there? I mean, if Jess wasn't your first crush when he first rolled into Stars Hollow so many years ago, then you were obviously watching the show wrong.
Here are seven little reasons (one for each season, although Jess only blessed us with appearances in four) why Jess Mariano was totally the perfect starter crush.
Because He Was The Bad Boy Prototype We All Lusted Over
When Jess and Rory finally get together, Lorelai is all shrugs and whatever about it. "I think Rory's 17 and it's probably about time for a Jess," she tells Luke, accepting this inevitability. Truth is, we ALL fall for the you'll-rebel-to-anything Jess Mariano types at that age. How can you not? He had that James Dean daydream look in his eyes, or whatever.
Because He Could Totally See The Inside of Your SOUL
At an age when most guys are looking to see the inside of your pants, Jess was trying to bond with Rory on a deep, profound, intellectual level. Dean could build as many cars as he wanted, but he couldn't really scratch through the surface, and that made Jess the one to truly swoon over. He says it himself that he knew her better than everyone, and we all wish we had someone like that.
Because He Was Secretly (And Endearingly) Shy
Sure, he was aggressively making out with some alt-lite girl at the harvest festival, or knitting jamboree, or whatever-event-of-the-week it was. But when it came to Rory? Their first post-Dean interactions were all about diverted glances, saying "hi," and then rushing out of the room, or taking forever to kiss each other. You know, as if they knew they had something precious and fragile. It's all very sweet.
Because He Wasn't ENTIRELY Terrible At Relationships
I mean, he's not great with goodbyes (that whole running off to California thing) and he couldn't get it together when they were still dating (that whole dropping-out-of-high school thing) but he wasn't a HORRIBLE boyfriend. That is, he didn't really treat Rory badly, and there are more than a few occasions where they look perfectly happy and in love with each other. Truth be told, teenagers tend to value the little wins and disregard the glaring signs of failing-at-life. And about that...
Because He Was Really Great At Making Tiny But Poignant Gestures
Like when he pocketed Rory's copy of Howl just to write little notes in the margins. How next level thoughtful is that? What teenage boy makes those kind of moves? None out of none, ladies. These are the kind of adorable romantic fantasies you write about in notes to your BFF in biology. Like, right before the vague sex stuff, which are saved for small script in your diary.
Because Even If You Were Attached, He Was the Perfect Distraction From Your Humdrum Boyfriend
OK, so maybe Jess Mariano WASN'T your first infatuation. Maybe you are the 1 percent who got a perfectly decent high school boyfriend, who opened the door for you, and ate dinner with your parents, and... built you a car. Maybe. If such is the case, chances are that sometime around junior year you got antsy, and if you didn't have a real life bad boy to distract you? Well, enter Jess Mariano.
Hey, it worked for Rory.
And 'Cause He Was Cute
I mean. Duh.
Images: CW (1) Giphy (8)