These Are The Best Lip Tattoos Out There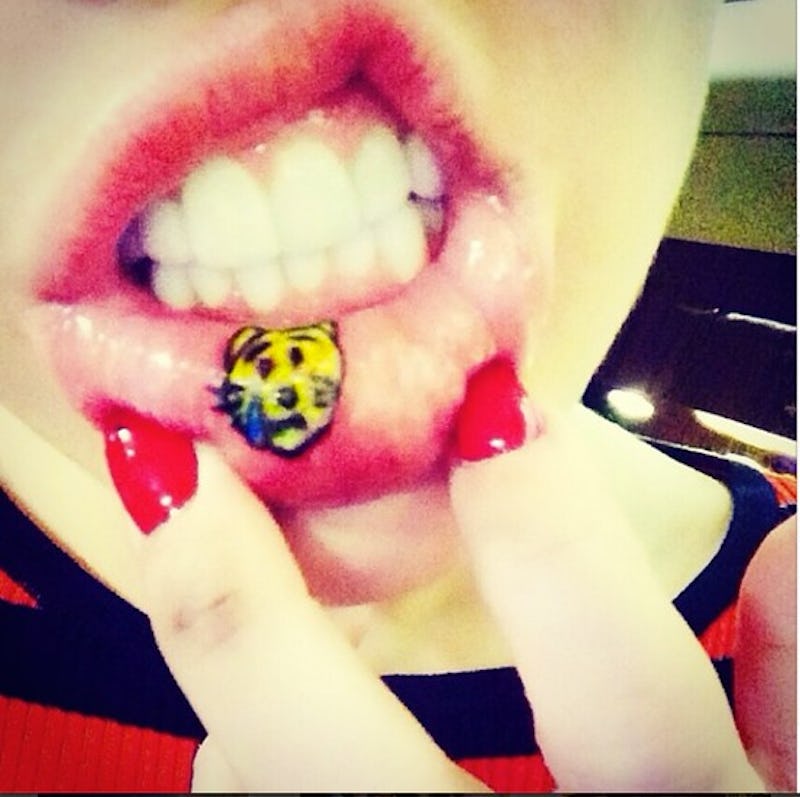 Lip tattoos have been popping up everywhere lately. From sassy phrases to tiny images, cool inner lip tattoos have been drawing tremendous popularity. Even celebs are in on the trend: Miley Cyrus was seen inking her inner lip fourteen months ago. The Instagram photo alone received over 717,000 likes.
Prior to that, pop star Kesha sported an inner lip tattoo saying "Suck It." While not everyone will want to get such feisty ink, Kesha's tattoo did spark a lot of attention to the trend. A reason that millennials are so attracted to inner lip tattoo is that the location offers some discretion. No one will be able to see it unless you show them. It's great for those just starting out in their career, or those with more conservative jobs.
Even though once inked most tattoos are permanent, there is some debate concerning the longevity of lip tattoos. Cyrus tweeted last March that her sad kitty tattoo was starting to lose its coloring. Frequent touchups may be needed to keep your tattoo looking freshly inked.
Lip tattoos are a great way to show off your personality. Having a tattoo on the inside of your lip allows you to be as silly or as daring as you want. Thinking of getting a tattoo on your inner lip? Well look no further for inspiration. Here's a look at some of the coolest lip tattoos found on the Internet.
1. Hello Kitty
2. All About That Bass
3. Love
4. Couple Tattoos
5. Heartbeat
6. POW!
7. Tiny Heart
8. Skyline
9. Peace Sign
Images: @mileycyrus/Instagram; gottshar/Flickr