The Best 'Dos To Pairs With 2015's Sunnies Trends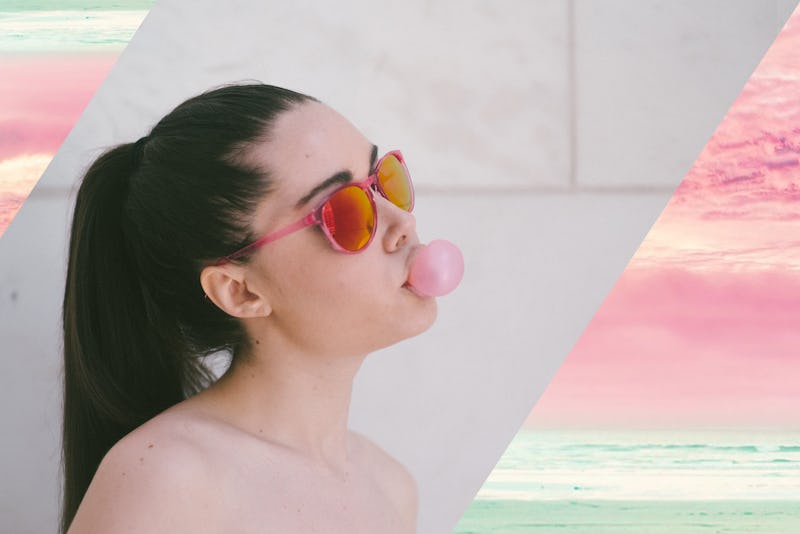 It's finally that time of year again: soaking up the sun on lunch breaks, weekend strolls around the neighborhood, and, of course, experimenting with summer hairstyles and trendy sunglasses. I know, I didn't think it would ever happen either! What better way to celebrate the season than rocking some sunnies and 'dos that even The Sartorialist would wanna capture for Insta?
There isn't one! So to honor this momentous shift in our social calendars — happy hours al fresco, anyone? — I've rounded up 5 of our favorite sunnies trending amongst the fashion elite and paired them with low-effort 'dos any lazy gal can master on-the-go. After all, with rising temperatures and increasingly packed schedules, who has time to fuss over appearances? As a wise group once said, "it's summertime and the livin's easy."
Don't be afraid to experiment with playful patterns, bold finishes or experiemental frames this year. With the introduction of cool-kid startups like Warby Parker shaking up the scene, quality eye wear with a sense of style has never been more accessible. And thanks to social phenomenas like #IWokeUpLikeThis, undone hair is more a fashion statement than a lack of effort. Without further ado, meet the five looks that'll rule your beauty arsenal 'til fall:
1. Bold Prints & Lady-like Tresses
Take a hint from the leading ladies of a bygone era and don a paired down version of the 1950's Hollywood starlets. Frames dressed up in bold prints, like this silvery animal print, add sass to any outfit. Whether a true cat-eye or a more subtle version like these Etnia Barcelona pair, strutting a deep side part and sweep of your favorite red shade is the perfect modern ode to Sophia and Marilyn.
2. Clear Frames & Half Buns
With the Brooklyn sensibility spreading like wild fire — we're looking at you Portland and Pittsburgh — it's no surprise their style is infiltrating the fashion scene too. Half ponies are no longer exclusive to your nineties-childhood-photo-nightmares; they're new and improved and now comes in bouncy bun form. Perfect for greasy hair days, match the cool girl half bun with clear frames, like these ones from Warby Parker.
3. Mirrored Lenses & Sleek Ponies
Origin: cocky state troopers or Cancun-bound frat boys? Debate still withstanding, nearly every style board on Pinterest boasts a pair of mirrored shades, now. And I don't hate it. Knockaround's more feminine version take a cue from the summer sunset. Rocked with a sleek pony, orange lip and monochrome outfit, you're set for a stroll on South Beach, Montauk, or just down to your favorite coffee shop.
4. Matte Frames & Loose Braids
When in doubt, take small risks. A modern twist on a proven classic is the formula for success, like these Brooklyn Spectacles. A black, menswear-inspired frame takes on new life with a matte finish. It's simple, it's elegant, it should be a go-to. To avoid looking too stiff, twist your locks into a casual braid — one that looks like you slept in it. Achieve this perfectly undone plait by lightly pulling at individual sections and loosening pieces around your face. Heck, just run your fingers through it!
5. Uniframes & Top Knot
OK, fine. I invented the term "uniframe" — I think. Sunnies are no longer simply two lenses and two ear pieces, brands have upped the ante by creating cool and complex frames that flip, twist, and even feature little bridges between your eyes. In my opinion, Etnia Barcelona nails it again with this brilliantly bad ass pair. We'll take Terminator 'tude with a side of cobalt blue any day. Complete the combo with an out-of-this-world top knot and leather bomber for ultimate post-apocalyptic domination. Poker face sold separately.
Images: Elisa Llera & Darien Maginn