23 Hilarious 'Bachelor' Memes You Have To See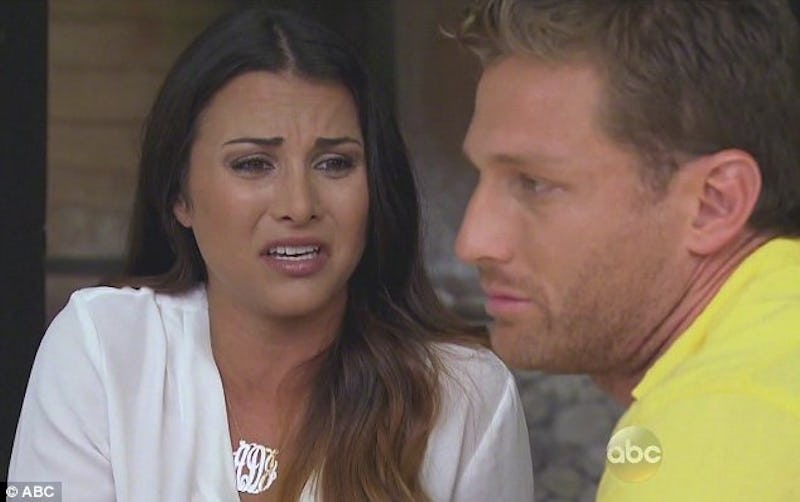 Although The Bachelor has been on for over 13 years, it's only in the last few years that it's really picked up steam thanks to the Internet and social media. Now, not only do all of the contestants live tweet the drama, but fans have made The Bachelor memes — and they're straight-up hilarious. Starting around Season 16 with Ben Flajnik, and really picking up steam thanks to "Ees OK" Juan Pablo Galavis during Season 18, the funny pictures make watching the show that much more entertaining.
The best thing about the memes is that they can include everyone from host Chris Harrison, to the Bachelor, to the contestants themselves. But don't worry, it's all in good fun. Fans of The Bachelor know that part of the whole experience is mocking it. After all, one man and 25 girls vying for love over a matter of weeks? It's a little silly — but I can't help but love to watch.
Unfortunately, we still have a ways to wait until the next season. So, for now fans, can tide themselves over with these hilarious Bachelor memes featuring the best moments of the last few seasons.
When The Bachelor Episode Isn't As Dramatic As Promised
Andi's face is everything here.
The Bachelor Meets Arthur
I love a good Bachelor doppelgänger.
Sean Was All About Those Abs, 'Bout Those Abs
Not that anyone was complaining.
Tierra The Tierrable
Remember when this girl rolled down a bunch of stairs to get Sean Lowe's attention? Cray.
The Bachelor Affects My Productivity
Chris Harrison is just so good at his hype job.
Juan Pablo Doesn't Care About Anything
Sorry, he's not sorry.
Poor Nikki
He was Juan lame boyfriend.
The Best Kind Of Product Placement
Accurate.
Ees Not OK
In the words of Andi Dorfman, "I want to die if I have to hear 'it's OK' again."
No Wonder He Loves Corn So Much
The strongest bond is between man and his corn.
#TeamKaitlyn Be Like
Mean Girls plus The Bachelor is the stuff of dreams.
Becca's Feelings Confuse Her
This is a taste of what life would have been like if Chris had picked Becca.
Kelsey's Story Continues
Isn't that amazing?
Whitney Has Big Shoes To Fill
Chris Soules sure loves his corn.
No One Likes Arlington
Neil Lane is not about this life!
Meme Times Two
Combining a Kim K. meme with a Bachelor meme is genius.
Trouble In The Badlands
"I know what you did."
Explains A Lot
No wonder he could hardly string a sentence together!
Leave No Lips Untouched
Chris Soules was quite the kisser on his season.
Anything For Love
The Bachelor contestants will put up with a lot for a shot at that rose.
Sad Britt Is Sad
I feel your pain, girl.
Don't Bother Me Mondays
Nothing comes between me and The Bachelor.
Images: ABC screengrab (2); sarahmarieh (2)/Wordpress