Free Taco Bell Breakfast? Yes Please!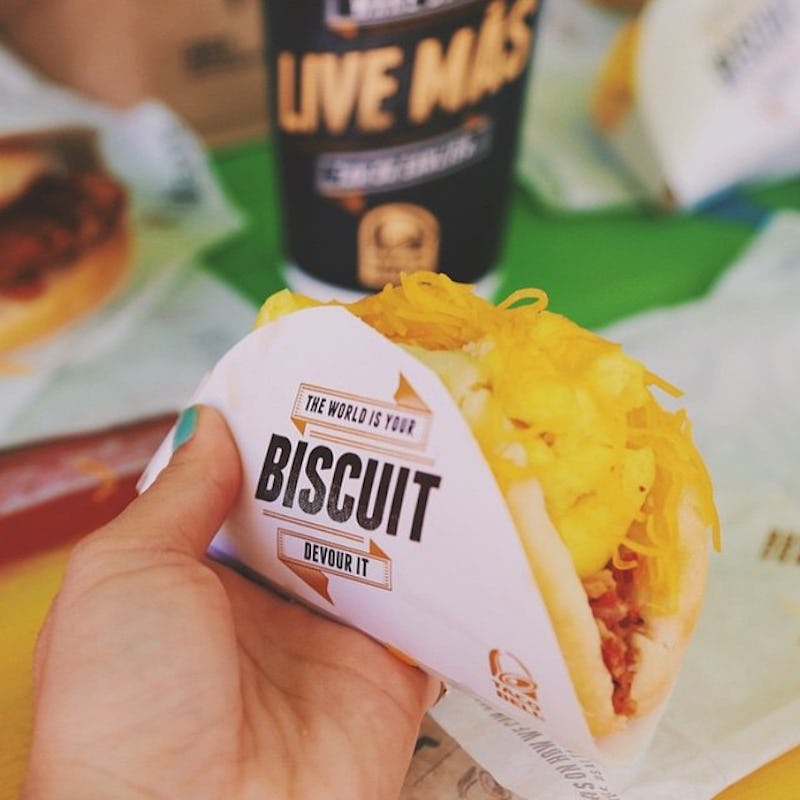 Mark your calendars, fast food breakfast fans: On May 5, Taco Bell is giving away free Biscuit Tacos. Part of the dystopian-themed ad campaign the chain recently launched, they're calling the event "Breakfast Defector Day." It's also Cinco de Mayo, of course, which may or may not have had anything to do with the decision to run the promo on that particular day… but hey. Free stuff. I'll take it.
Taco Bell made the announcement this morning via the livestreaming app Periscope, as well as posting an announcement on the official Breakfast Defector website. Here are the details:
On May 5, Taco Bell will be giving out free Biscuit Tacos between the hours of 7 AM and 11 AM at all participating locations. You've got your pick of either the sausage or bacon variety; both of them come with scrambled egg and cheese, with the only difference being your breakfast meat of choice. I'm a bacon girl myself, although I'll admit that I kind of love the way the sausage patty and the biscuit shell form a sort of double-decker breakfast taco together. Anyhoo, I'm going to recommend getting there on the early side; as usual, the promo stipulates both the hours it's ostensibly running, plus the phrase "or while supplies last." Don't get there right at 10:55 AM; they may be all out of freebies by that point. Oh, and you're limited to one free Biscuit Taco per person, of course. Since the new Diablo hot sauce will also be premiering that day, why not spice it up a bit while you're at it?
Taco Bell unveiled both the Biscuit Taco and the Breakfast Defector ad campaign earlier this year. While I'm actually quite intrigued by the idea of the Biscuit Taco (even if it did boot the Waffle Taco off the menu), I'm somewhat confused by the ad campaign. Don't get me wrong — it's super creative, and I'm sure it's capitalizing on the current popularity of dystopian fiction a la The Hunger Games and Divergent . But it's kind of… well, intense for breakfast, is it not? It owes more to 1984 than it does to any of today's YA dystopias; also, anyone who is afraid of clowns should definitely not watch any of the campaign's videos. I suppose I do have to give the whole thing credit for not dancing around the rivalry I'm sure most fast food restaurants invariably experience, though.
If you've been following the Breakfast Defector campaign, you've probably noticed that a series of "missions" have been popping up at a rate of one per week — missions that both get the word out about Taco Bell's breakfast options, as well as give participants the chance to win prizes. The final mission, called "Hype," asks Taco Bell enthusiasts to "invite a friend to get a free Biscuit Taco on #BreakfastDefector Day in a creative way for a chance to win one of five custom oil paintings of yourself." No joke. All you need to do to enter is to share your creative invitation on Twitter or Instagram with the hashtags #breakfastdefector and #promo.
Check out the full Breakfast Defector video below — but again, heed my warning about clowns. They're effing scary, you guys.
Images: Taco Bell/Instagram; Giphy