7 Reasons To Try A High Waisted Bikini This Spring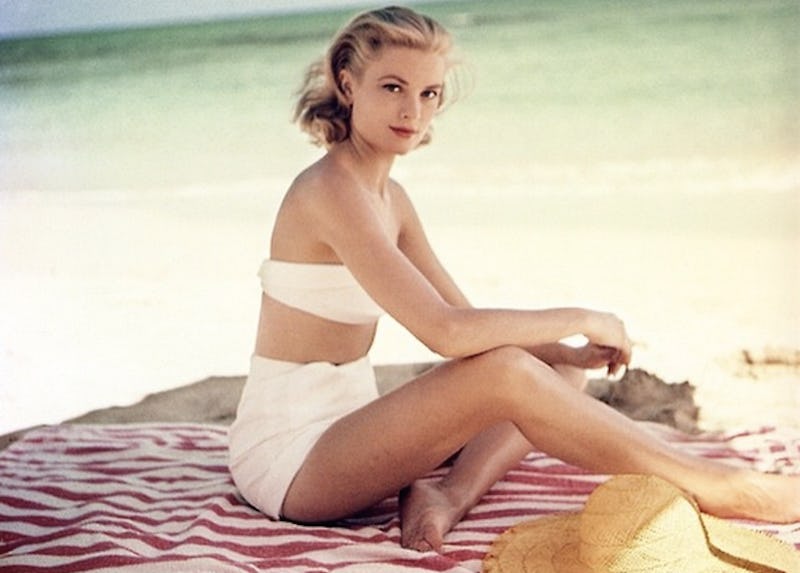 I've been enamored by the high waisted bikini trend for almost two years now, but haven't had the guts to try it. Of course, there are so many reasons why I should embrace the high-waisted bikini, but because of a few silly "it looks like a diaper" comments, I've stayed away from the trend, opting for a signature string bikini on all occasions. While I like the classic look of a triangle two-piece, I'm bored of wearing it on every beachy outing. So this summer, I've decided to ignore those silly boys and their absurd comments, and own my style in a high-waisted bikini!
When high-waisted skirts were in, I was the first to join the bandwagon, and when high-waisted pants came along, I bought a pair of those, too. So if high-waisted clothes haven't failed me yet, why am I so worried about trying a high-waisted swimsuit?
For one, it's a swimsuit. Buying revealing clothing has always been nerve wracking for me. I don't like to attract a lot of attention, so I often opt for a solid suit in a deep hue. Secondly, the high-waisted swimsuit is just not the norm. Most women at the beach aren't sporting the trend, and it can sometimes feel risky to wear something different than everyone else.
After analyzing why I was so hesitant to wear this trend, however, I realized that the main reason was because I was scared of what people might think. In retrospect, it seems worse that I hold back who I am for fear of someone saying something offensive. Fashion icons like Grace Kelly and Taylor Swift didn't let that stop them, so why should I? Here are some more reasons for why you should embrace the high-waisted bikini this summer, too:
1. Beyoncé Wears Them
While Taylor Swift is so famously known for hiding her belly button underneath a high-waisted bikini, other major fashion stars like Beyoncé and Kim Kardashian are sporting the trend as well!
2. Retro Clothes Are Always Classy
If Grace Kelly wore it, that means it is an elegant and classic trend.
3. If You're A Femme Dresser, They're A Must
The high-waisted silhouette emphasizes each and every beautiful curve, making it the most traditionally feminine suit on the market.
4. Your Bottoms Won't Fall Off
Gigi Hadidi knows that high-waisted bottoms are great if you want to romp around in the ocean without worrying about your bottoms.
5. You Will Get The Perfect Crop Top Tan
You may be worried about sun tan lines, but don't be! The high-waisted silhouette makes sure that your upper abs will look just as tan as your arms and legs.
6. They Look Adorable Under Sheer Midi Skirts
Take a style tip from Rose Byrne and switch the slip for covered up lingerie.
7. Because You Want To
If you feel confident, you will look confident. So go for it!
Images: beyonce, bikinithief, garypeppergirl, solidandstriped, blaireadiebee, tawnee_amber/Instagram