6 Ways To Turn Your Bedroom Into A She Shed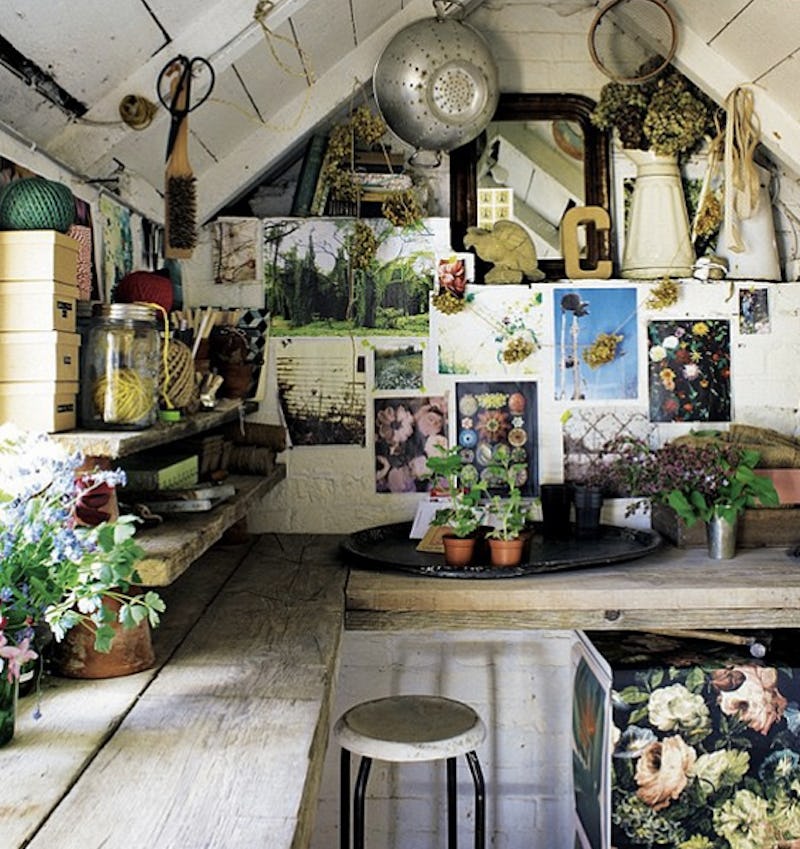 Today I am learning about She Sheds, and if you haven't heard of them, you're about to learn too. Basically, a She Shed is the lady equivalent of a Man Cave. People are posting their She Sheds to Instagram and they appear to be like little fairy paradises, decorated in flowers, teapots and the girlies, antique-iest tchotchkes the women who built them could find. Our own Emma Lord calls the She Sheds, "whimsical hideaways" created for women "to tune out all the lame sauce in their lives." Does this entire thing hinge dangerously on stereotypical ideas about what men and women like? Yup. Are we going to ignore that temporarily for the sake of talking about turning our private spaces into little getaways? Definitely. Pick your battles, guys. Although, personally, my She Shed would only need to have a case of red wine, mini fridge filled with chocolates and cheese, a television, and a powerful space heater. You know, the bear necessities.
Another important aspect of the She Shed is that it's a shed, which means you need a backyard to have one. But rules were made to be broken, so for those of us who don't live with acres of space to spare (which is at least every one of us in New York City), who needs a whole shed to get your she on? Why not turn your bedroom into your very own she shed? To be honest, all mine really needs is the mini fridge and I'm done. But for those of you looking for something more aesthetically elaborate, here are some ways you can turn your very own bedroom into a fantasy She Shed:
1. Fill it with plants and fresh flowers
One thing all She Sheds seem to have in common is an abundance of plant life. Buy yourself fresh flowers regularly and put them in mason jars for an "authentic" feel, and line your window sills with beautiful live greenery to create the illusion that you're tucked away in the corner of a backyard someplace secluded.
2. Create a decadent reading nook
Nothing says "She Shed" like a magical corner dedicated to reading. Find a pillowy arm chair in a fun color or print, stack it with fluffy pillows and surround it with all your favorite books and future reading list. While you're at it, get yourself a beautiful cup and saucer so you can feel extra special when you're drinking tea and perusing books.
3. Add fairy lights
She Sheds are supposed to be whimsical, so string up fairy lights wherever you can. You can even create a feature wall with them cascading down like a waterfall of beautiful fireflies.
4. Create a princess canopy for your bed
When I was a little girl, I used to think having a canopy over your bed was the height of elegance. Turns out, I was right. Make a princess canopy over your bed so every night when you go to bed you feel like you're in your own magical kingdom.
5. Paint it the color of your dreams
An easy way to make over your room is to paint it. It's YOUR She Shed, so paint it your dream color. Mine would be pastel pink with gold glitter. Classy, I know.
6. Add lots of impractical but beautiful things
Women love tiny boxes that nothing fits in, AMIRITE? I know it sounds like I'm being facetious, but I am actually right. The key to the perfect She Shed is filling it with the kind of crap that no one understands but YOU. It's your damn hideaway, so put a lot of frivolous things in there that have no practical purpose beyond making you think the room looks pretty and inviting.
Images: clarenolanuk/Instagram; Giphy (6)