Samantha Bee's Greatest 'Daily Show' Moments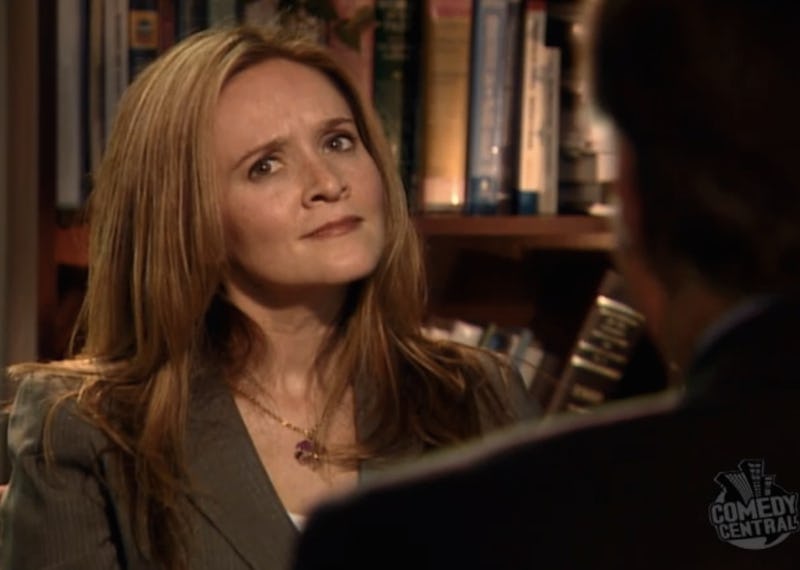 There was a glorious time when we thought that Samantha Bee might be spending a lot more time on The Daily Show. Many wanted her to be Jon Stewart's replacement, righting a gender imbalance on late night TV, but alas. While most are happy with Trevor Noah as Stewart's successor, many also felt that it was time for a female host, and it was infinitely clear that Bee was the perfect choice: a woman who could fearlessly tackle women's issue while remaining painfully funny. But Samantha Bee already had other plans, and she dispelled the rumors as soon as they started. Sadly, she'll be leaving the show before Stewart himself; Thursday night marked the end of Bee's role as Daily Show correspondent.
Luckily, this is far from the end of her comedy career. She will be embarking on a new project, a satirical show with her husband, and former Daily Show correspondent, Jason Jones. It's not clear at this point when this show will be happening, and I assume that she'll need some time in between these two major gigs. What do we do in the meantime? Re-watch Samantha Bee's best Daily Show moments, of course.
Her Long Island Secession Interviews
The way she responds to out there perspectives is perfect. She has two tickets to the gun show.
"I Watch Morning Joe"
And she is proud.
Her Occupy Interviews
Brilliantly questioning the existence of Occupy ghettos.
The Twitter Frenzy
Enthusiastically supporting the trend of media outlets using Twitter (and of course simultaneously critiquing it).
She Lends A Helping Hand...
...to the well endowed. And pitches herself as an Oprah successor. Oprah, are you paying attention?
Tackling Rapist Custody
Samantha Bee showing her serious (and outraged) side. And for good reason.
Bristol Palin's Choice
What's that word? "I think it rhymes with 'voice.'" Also, her Bristol Palin impression is pretty great.
Image: Comedy Central