Miley Cyrus' Pits Are Now "Pank"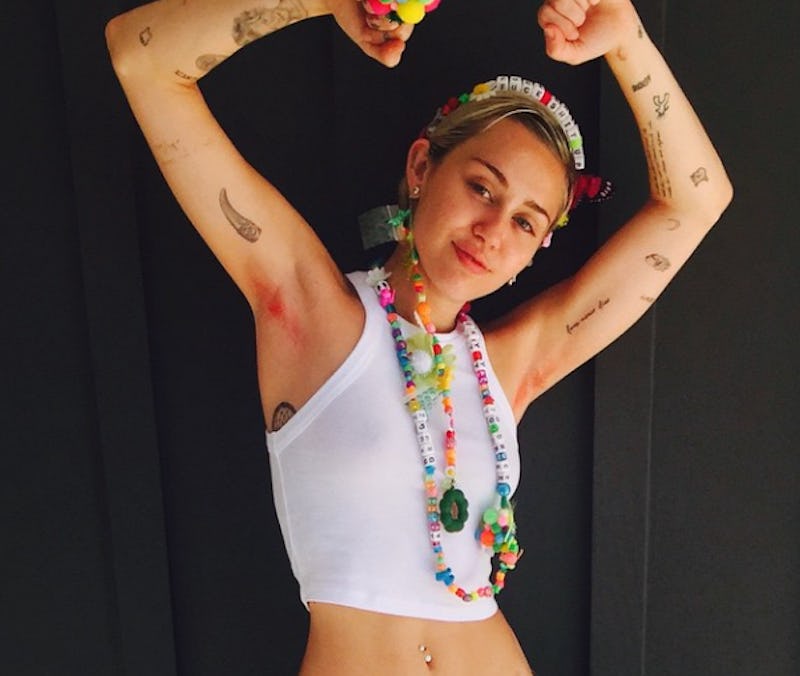 We knew Miley Cyrus was growing her armpit hair out, but now she's turned her famous DIY energies on it. As we can glean from a new Instagram post, Miley Cyrus has dyed her armpit hair a rather distinctive shade of hot pink. Or is it red? It's actually something in between red and magenta that Milez calls "Pank." Should we add it to the Pantone color wheel? I dunno. All I can say is that Miley is doing Miley to the fullest, and I'm on board.
A few weeks ago, Cyrus showcased her grown-out underarm hair in a selfie that she posted to Instagram. It was actually one of her more body-positive moments, and we've applauded her for it. Some social media commenters were trollish and didn't quite get it. So this week, when Cyrus posted a series of pictures of her dying her armpit hair, people continued not to get it. She shared one picture of herself and her colorist Justin Anderson having a "Pit Party," during which she drank a beer, pretended to "eat the bleach," and donned a pig mask. At the end of it all, she had a new color under her arms which she hash tagged #pank. Feast your eyes...
So it's not quite pink, but not quite red, but not quite magenta. #Pank seems to be a fitting title for those not-quite-classifiable color. But what led up to this? Why, a pit party, of course!
As pit parties do, it got a little wild...
And by a little wild, I mean a lot wild.
In any case, I shall applaud Miley for a second time for being kind of a BAMF when it comes to championing her pit hair. Especially considering the way that haters were hating on her grooming choice, this move is a straight-up mic drop.
Image: Miley Cyrus (5)/ Instagram