'SNL's Baltimore Sketch Is Pretty Divisive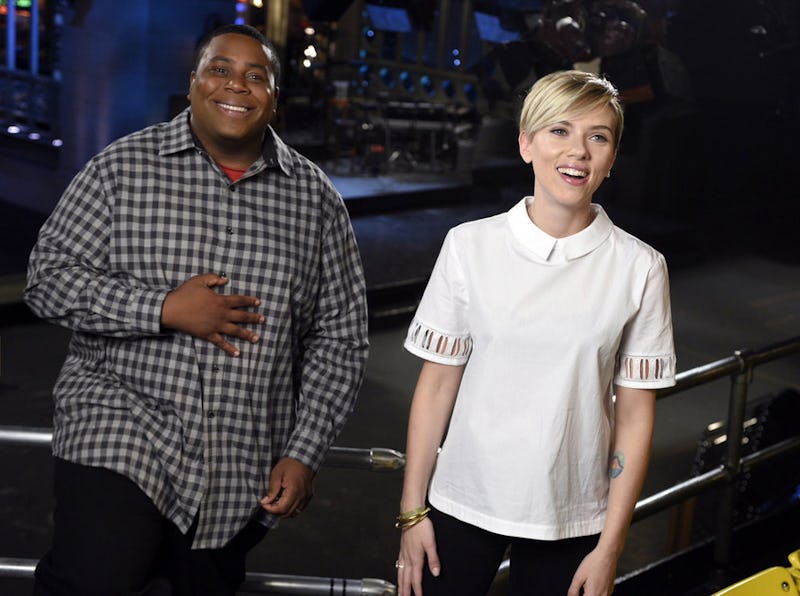 Well, we've got another SNL sketch that is sure to become a polarizing topic. On Saturday, SNL performed a Baltimore riot sketch revolving around an Orioles baseball games that was full of foot-in-mouth moments throughout the entire sketch. In the sketch, the Baltimore Orioles had a game in their home stadium with no one in the stands because of safety concerns due to the rioting. The game announcers continued to make comments that were extremely uncomfortable due to the state of emergency in Baltimore, and it seems viewers of SNL are torn on how to respond.
The announcers, who were announcing a game to an empty stadium, were aware their comments were terrible, but that didn't stop them from making them. Scarlett Johansson, the host for the evening, was a sideline reporter standing in front of armed police officers. She told viewers of the game that the only bat used for the game was a Nerf bat, which was under lock and key when not in use.
Comments about race, rioting, fires, and brutality all snuck their way into the sketch, and those things often polarizing in reception by viewers of the show. And this sketch is now different, as it is being criticized by some fans on Twitter, while others seemed to enjoy the boldness of the fervent foot-in-mouth jokes. Here's what some people are saying.
Some People Thought The Sketch Was Hilarious
Some People Didn't Think It Was Funny At All
Some People Were Happy Baltimore Was Getting Attention
Some People Knew A Baltimore Riot Sketch Was Inevitable
Some People Were Upset That SNL Made Baltimore Jokes
Images: Dana Edelson/NBC