7 Ways To Rock The Hair Gem Trend This Summer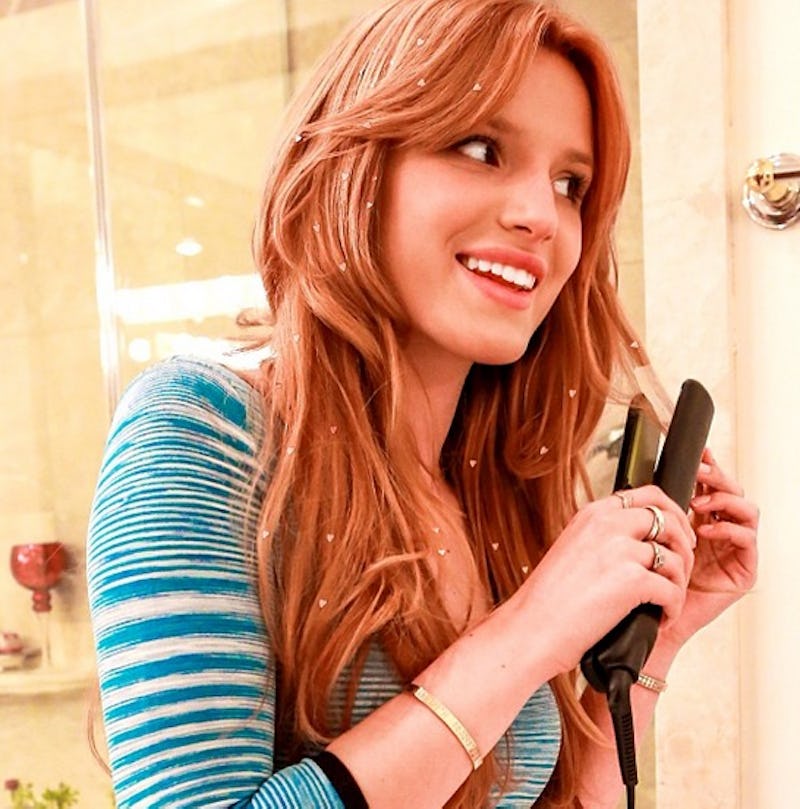 With summertime just a few weeks away — being so close we can taste it — there's no better time like the present to rock the hair gem trend. When I was in high school, hair gems were a thing for events like prom only, but now they're back and better than ever. Some styles are even so subtle that you can wear them in broad daylight without worrying that you might look ridiculous (not that you should ever worry about that, really). And while these might not be the most work appropriate accessories, it is completely possible to experiment with them on the weekends.
If you're going to a music festival this summer, hair gems could be the perfect accessory to help set you apart to stand out from the crowd. If you've been to a music festival before, chances are that you know that people don't hold back when it comes to accessorizing. Some accessories can be OTT and leave us scratching our heads, but an accessory like hair gems can still be festival-ready while letting you stay true to your style. Even if music festivals aren't your thing, there's a hair gem style that makes the perfect fit for any epic summertime outing.
The awesome thing about hair gems is that they are a discreet way to dress up any hairstyle. With so many new (and intimidating) trends like rainbow hair, hair gems can temporarily change up your look sans the commitment. Even on days when you don't feel like trying with your hair, gems can add the perfect sparkly touch without being too out there. It's literally like playing dress up for your hair, and who doesn't love the chance to get to do that? Get ready to fall in love with your hair all over again with seven ways to get on board the hair gem bandwagon.
1. Studs
Hair gems in the form of studs can add a bold, punk touch to your tresses. You can line them up in a chic design like a diamond shape or place them randomly at different parts of your strands. Gold or silver studs will keep this look on the edgier side without looking juvenile.
Some hair gems can be worn as stick-ons so you can literally just press them on, but be gentle while running your fingers through your hair throughout the day because they might fall off if they're played around with too much.
2. Stars
Major American summer holidays like Memorial Day or 4th of July can be great opportunities to rock this trend in the form of stars. Combine red, white (or silver), and blue star hair gems and place them all over your hair to celebrate in style. These would totally be a hit at an outdoor event like a barbeque and definitely make you turn heads.
3. Braids
If your usual braid is starting to look a little routine or boring, amp up your look with hair gems placed throughout the braid. Stick them on all over your braid using gems shaped like diamonds or circles and mix them up for a new twist on a classic braid.
4. Buns
For mornings when you don't have time to wash your hair and need to throw it up into a bun, switch things up with decorative hair gems. Stick the gems onto a top knot for a laid back, messy look or seep hair into a sock bun and add the gems around the perimeter of the bun for an unexpected add on.
5. Headpiece
This bejeweled look takes hair gems to the next level with an all over, bling-ed out, and dazzling headpiece. Definitely try this one if you're feeling brave and really want to stand out from everyone else. An intricate headpiece like this would look best worn over a fun up-do like a bun, but you can also wear a simpler design with your hair worn down.
6. Hearts
Take a cue from celebrities, like Bella Thorne, and throw hair gems in the shape of hearts onto loose and flowy waves. This would make an awesome look for a night out dancing. Some hair gems, like those from the brand Charmsies, work with heat from flat irons to allow the charms to stick on more easily and last longer. These bad boys aren't going anywhere, that's for sure.
7. Pearls
If you want to take your style to the next level, try wearing pearl gems throughout your hair. As classic as pearls can be, these gems are a little more adventurous than the rest and a far cry from boring.
Using the spirals attached to the pearls, these gems can simply be twisted on instead of flat ironed, and can be a great accessory if you find yourself in a pinch without much time to spend fussing with your hair.
Images: color_curl_dye, blowdryloungeamman, haircharmsies (2), saudibeautyblog, bellathorne, llyumeha/Instagram