7 Places To Buy Cute & Comfy Plus Size Shorts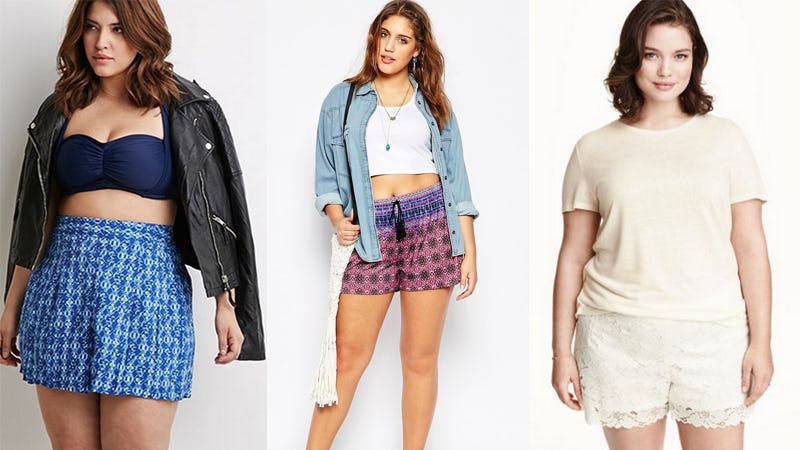 If there's one thing I dread shopping for, it's shorts. I am very passionate about shopping in general and love to purchase new clothes, but buying plus size shorts is one of those things that makes life feel really hard. Physically, I'm definitely more bottom heavy than top, so while I can still shop for shirts and many dresses in the straight-size sections of stores like Target or Forever 21, I usually have to go into designated plus-size sections in order to find shorts (let alone short shorts).
Moe often than not, this is a rather frustrating shopping experience, since finding where to buy plus-size shorts in my size that aren't completely styleless is a huge challenge in and of itself. This is undoubtedly because women of size are still presented with the message from our culture that we should be ashamed of our bodies and thus, hide them. So why would we need revealing apparel? If you think about it, it is only recently that we've seen fat women proudly wear bikinis, be given access to mainstream, trendy fashion, or be viewed as beautiful overall. We've still got a long way to go and when it comes to finding clothes that do show off our bodies, like shorts, it can still feel like an intense battlefield.
So I hope that this guide will help you to find shorts that are cute, comfortable, and stylish so that you can enjoy showing off your gorgeous gams this summer — without dealing with the trauma of searching for shorts that don't slice you in half.
Tribal Print Shorts, $15, Forever21
Forever 21's plus-size line has produced a lot of great, affordable, and stylish clothing; I am thoroughly impressed! I recently went into one of their stores and found an amazing pair of black and white wide-legged shorts that were clearly designed with a larger female body in mind, because simply making straight-size shorts larger usually isn't going to result n great fit for us fuller-figured ladies!
If you want to wear shorts that are actually short, that won't ride up, and that don't make you feel like you're being squeezed when you sit down, shop Forever 21+. Plus, the styles are amazingly cute and just as hot as the shorts they make in Small-Large.
H&M Plus Lace Shorts, $30, H&M
This trendy fast-fashion retailer also has a plus-size line and has created shorts that are really adorable and on-trend. I've actually also found that I can fit into shorts from H&M's straight-size clothing line and was really surprised by their size consciousness. I have a pair of faux leather shorts from H&M that I purchased last summer from their straight-size line that were cut to be longer in the back, ensuring that they won't ride up or expose your butt, which often happens when wearing shorts. This sort of genius in design is why I added them to this list; I know you'll love their shorts' construction and quality, too.
Women's Plus Raw Cut Denim Shorts, $34, Old Navy
Seriously, guys, you'll be delightfully surprised by the great selection and quality that Old Navy provides in regard to shorts. Its denim varieties are made with good quality and also come in a variety of washes and styles. I like that they put the same style and craftsmanship into their plus-size denim as they do their straight-sizes, as we all know how all too often jeans made for fuller-figured women are shapeless and plain.
Ryka Active Running Shorts, $33, Kohls
This department store carries a surprisingly good amount of shorts in plus-sizes. They also have a very good selection of athletic shorts, which can be hard to find if you're a plus-size woman who likes to work out or is simply more athletic in terms of personal style. I love that they offer brands that make athletic shorts like these — that are actually cute and fun — instead of being meant to hide your body (and yes, I know the model doesn't look plus-size herself, but that's a whole other issue).
Lace Trimmed Shorts, $39, Torrid
Torrid is one of the classics in terms of cute plus-size wear and its short selection doesn't disappoint! It features mostly denim, but I love fun, unexpected designs like these lace shorts. Torrid also offers a nice selection in terms of style, as they make shorts that are Bermuda length, mid-thigh level, and that are actually short, for those of us who like to show a little more skin.
High-Waisted Tropical Print Tulip Shorts, $26, Charlotte Russe
While this chain is best known for catering to teenagers, their plus-size shorts can suit women of any age. While their selection isn't huge, the bottoms they do have are made in styles that are fierce, fashionable, and fun, which are three things most plus-size bottoms are not.
ASOS Curve Shorts in the Tile Print, $33, ASOS
ASOS offers a wide selection of all plus-size clothing in their Curves collection, featuring shorts that are stylish and affordable. I love how the retailer is known for its fun, young sense of style and doesn't leave this behind in their plus-size range, as too many brands often do. Just because we're big doesn't mean we don't like to dress cute! If you like shorts that are hip, trendy, or aren't of the denim variety, you'll definitely want to check out what ASOS has to offer.
Images: Courtesy Brands