Gabi Gregg Dyed Her Hair A Beautiful Purple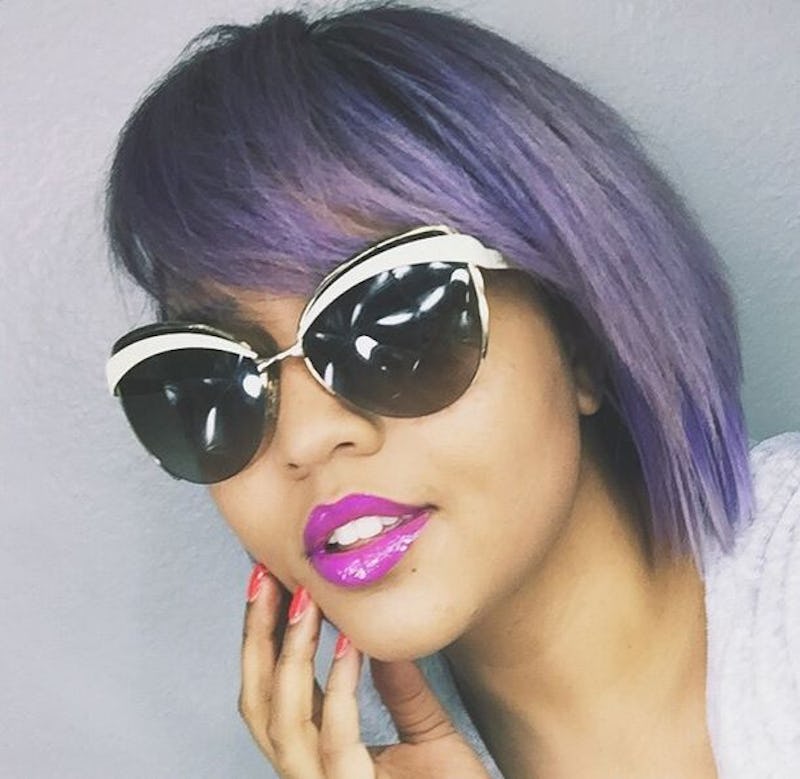 It's a new week, a new season, and a great time to update your look. Fashion blogger Gabi Gregg dyed her hair a lovely pastel purple and has just shown us on her Instagram how one of the easiest ways to give your style a fresh boost is by coloring your hair.
It's an instant change that lasts more than a day or a solitary outfit! The pastel color trend is still so hot, as we can see from Gabi, and it's perfect for spring/summer. We have continued to see the look styled to perfection recently on celebs like Kaley Cuoco, Kylie Jenner, and Hillary Duff. Pastels and non-natural colors give you that ex-factor that makes you stand out and says you're up for experimenting and having a bit of fun at the same time. And what other time is as perfect as spring, when the flowers with all their gorgeous hues are blooming?
Gabi, the body positive style blogger and ever enchanting plus-size fashion icon took her baby blonde tresses and lathered on a luscious lavender from root to tip. As she says on her 'gram, she was hoping for a lighter shade. But the bombshell always has the best attitude, reminding herself that after a few washes, her look will be just as she planned.
I love how she's paired her new hair with that lovely purple lipstick. She's a refreshing flower of the fashion blogosphere, and I'm so excited to continue to see her bloom. The color pop of that regal purple has "princess" written all over it, and I can't wait to see what looks she'll be showing off to accent her new hairdo on her blog and Instagram. And can I just say, the gal can rock those shades, too!
Image: gabifresh/Instagram