Mr. Chocolate Was Brought Up On the 'RHOA' Reunion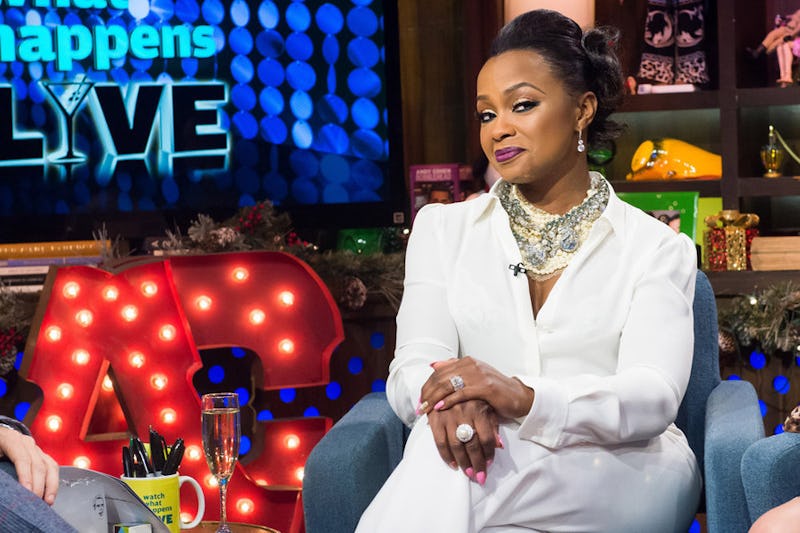 The absence of Apollo, Phaedra's husband, was heavily felt during the Real Housewives of Atlanta reunion, especially because his accusations that Phaedra is cheating on him with "Mr. Chocolate" took over the whole second half of the episode. Every single Housewife had her own perspective on just why it was that Phaedra may have cheated or if Mr. Chocolate is even real. Some asserted that the text printouts might have been faked, while others (Kenya), promised that there's no what Apollo could have falsified it. And if it's all false, why did Phaedra get so emotional about Kenya's accusations? She claims it was just the turmoil caused by the events of the day prior, which was the big showdown at their home on the day Apollo was supposed to turn himself in.
In the first part of the reunion, Phaedra claimed that her plans for divorce are on hold and this week even said she still loves Apollo, so it's understandable why she denied it all, even if there was a Mr. Chocolate at some point. But she's consistently denied that there has been since day one, and there's no evidence of a new boyfriend on her Twitter or Instagram or anything. It's all cute baby pics coming from Phaedra. The rest of the cast all had their own separate ideas.
Kenya was faced with the accusation that it was none of her business and that she basically chose to believe it because of all the things that Phaedra and Apollo did for her. Claudia literally did not say a single thing for the entire episode. She was used for a couple of reaction shots and hair-flipping shots, but not a single question was directed at her. NeNe steadfastly sat by Phaedra both literally and emotionally, but she didn't speak up on the subject. Instead, she screamed at Kenya for asserting that she flirted with Peter, Cynthia's husband.
Kandi said she both didn't believe it and that she didn't care about it — that the marriage between Apollo and Phaedra was so damaged that they both had the right to move on and meet new people. This was interesting to me because it suggests that maybe Mr. Chocolate is real and that maybe Phaedra shouldn't put her divorce on hold.
Image: Charles Sykes/Bravo