'The Fresh Prince' Best Guest Stars By Season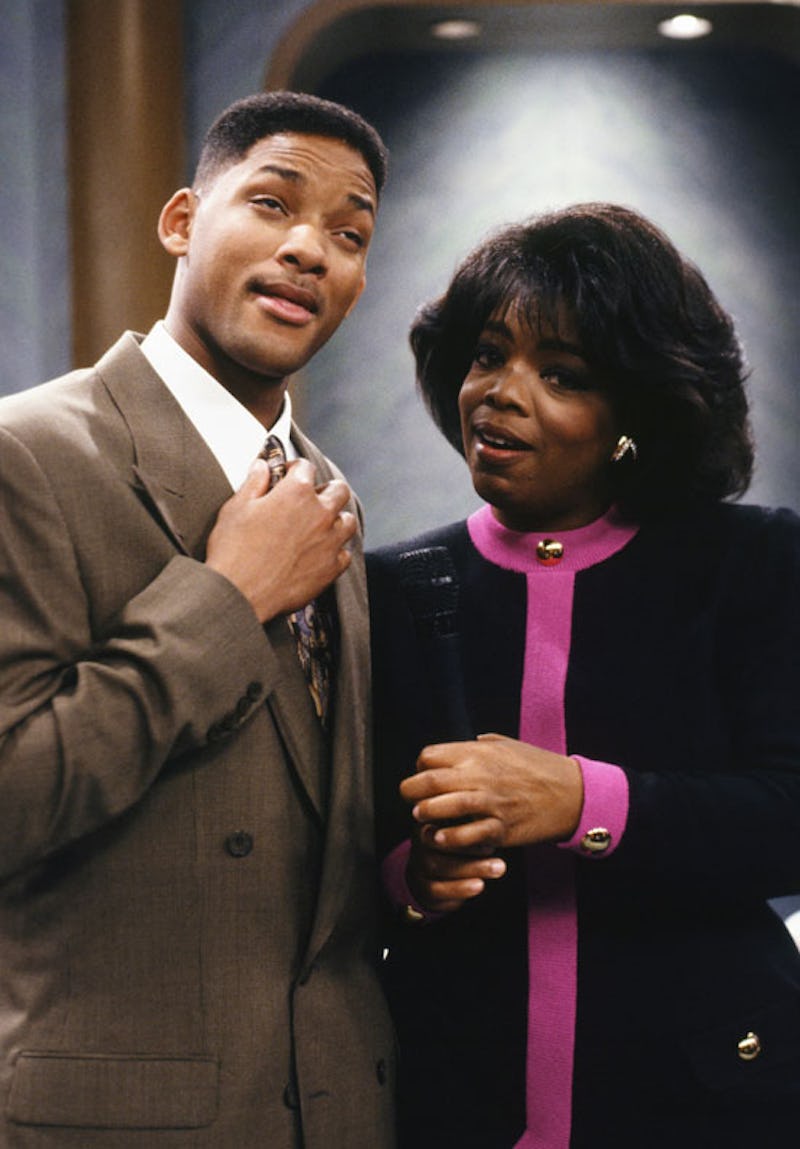 The Fresh Prince of Bel-Air has been off of the air for nearly 20 years, and yet, the show is just as relevant today as it was in the 1990s. The show was revolutionary not only because it was a mostly African-American cast show, but also because of the issues that it chose to take on. The Fresh Prince tackled racism, sexism, and gun violence, among many other controversial subjects. The show lasted six seasons, totaling 148-episodes, and even surviving through a cancellation after the fourth season. It's no wonder then that such a widely popular show hosted some of the biggest names in entertainment. Before his role on Fresh Prince , Will Smith saw some success in the 1980s from his part in the hip-hop duo DJ Jazzy Jeff & The Fresh Prince. However, it was producer Quincy Jones' star power and NBC that garnered these incredible names.
The Fresh Prince of Bel-Air's most famous guest stars include a top model, a NBA superstar, a Grammy award winning R&B group, and even a late night-show host. The guest stars appearances were even more amusing because they often claimed to know Will's cousin Hilary; who regularly bragged about rubbing elbows with the rich and famous.
The Fresh Prince of Bel-Air will go down in history as show that helped define a generation. Here's a list of some of The Fresh Prince of Bel-Air's most memorable guest stars by season.
Don Cheadle
Episode: "Home Sweet Homeboy," Season 1
Before Don Cheadle was kicking butt in The Avengers or talking trash as the morally corrupt consultant Marty Kaan in House of Lies, he was "Ice Tray", Will Smith's homeboy from West Philly.
Isaiah Thomas
Episode: "Courting Disaster," Season 1
After falling asleep in class, Will imagines himself playing one-on-one with NBA superstar Isaiah Thomas. He even boasts his own pair of gym shoes; aptly named "Air Fresh."
Evander Holyfield
Episode: "Deck the Halls," Season 1
Long before MayPac ruled the world of boxing, Evander Hollyfield was a legend. In the first season's Christmas episode, Will narrowly escapes an altercation with the then heavy-weight champion of the world.
Queen Latifah
Episode: "She Ain't Heavy," Season 2Queen Latifah actually appeared on The Fresh Prince twice as two different characters. She first appeared as a obnoxious actress in season one then, more memorably in Season 2 as Will's blind date Dee Dee.
Bell Biv Devoe
Episode: "The Butler Did It," Season 2
After Carlton rents out the Banks' living room to New Edition the spin-off of Bell Biv Devoe chaos and hilarity ensue.
Oprah
Episode: "A Night at the Oprah," Season 3
You know you have a hit on your hands when Oprah agrees to guest star on your show. Oprah appeared on the third season of The Fresh Prince when the Banks family went on her talk show.
Tyra Banks
Episode: "Where There's a Will, There's a Way, Part 1," Season 4
Supermodel Tyra Banks began her acting career on the season four premiere of The Fresh Prince as Will's home girl from Philly, Jackie Ames. Her character appears throughout the entire fourth season.
Boyz II Men
Episode: "Twas' the Night Before Christmas," Season 4
In the fourth season of the series, the top selling R&B vocal group appeared to sing at Little Nicky's Christening. Nicky's name, Nicholas Andrew Michael Shawn Nathan Wanya Banks was created from the group members' names.
Jay Leno
Episode: "Will's Up Dirt Road," Season 5
In the fifth season of series, Will tried to impress his girlfriend Lisa but instead ends up being sued by Jay Leno.
Image: NBC