Could Eddie Be Eobard's Father On 'The Flash'?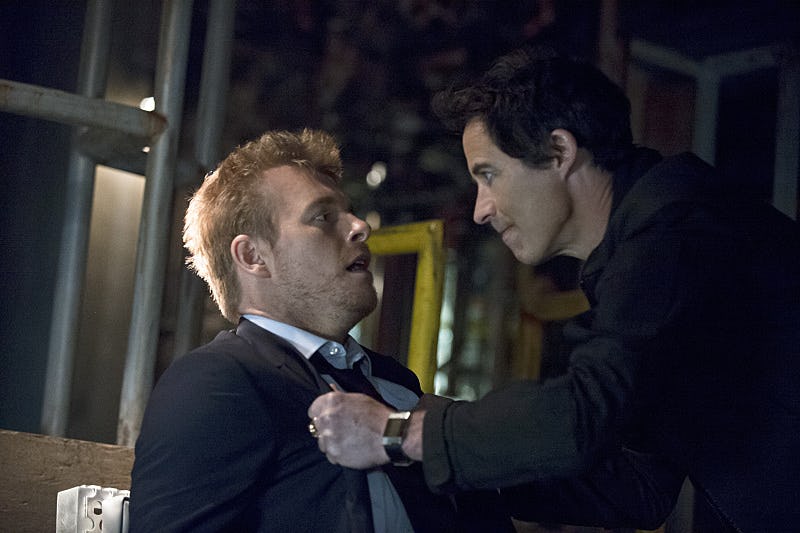 Season 1 of The Flash is already coming to an end, and there's no promises that anyone will make it out of the season alive... at least, in this timeline. Adding time travel in the form of both Barry's powers and the presence of time traveler Harrison Wells, also known as Reverse-Flash, made a lot of different things possible and totally changed the game. But because Reverse-Flash's real name is Eobard Thawne both in DC Comics and on The Flash, as "Tricksters" revealed, fans have been wondering if cop Eddie Thawne is actually Eobard's father, who has been posing as Harrison Wells for years. We've seen in the trailer for the May 5 episode that Wells kidnapped and is holding Eddie in his lab while The Flash and the Wests are forced to defend the city against Grodd, a giant gorilla tormenting the sewers. As Captain West goes through the sewers, he sees graffiti reading "father" everywhere. It's not the subtlest way to connect the two stories, but perhaps it could be a way of linking the themes, with Wells creating this twisted child the same way Eddie perhaps created him.
Wells (I know he's really Eobard, but it's hard not to refer to him as Wells) is the Reverse-Flash/Man in Yellow, and we know he's not lying about being from the future, because he has that newspaper from 2024. And according to what he told Cisco in that scene, he's been trapped in the past for 50 years. So could Eddie be Wells/Eobard's dad? It doesn't seem like Eddie's ready to have kids just yet, even though he was going to propose to Iris West before Wells grabbed him.
But if Eddie is Wells' father, than why would Wells want to potentially tell his father about what's going to happen in the future? The show has already demonstrated that changing things in the past can have serious ramifications. So if Eddie is Wells' dad, maybe he doesn't want to be born? But if wasn't for him, there wouldn't be a Flash, and in the comics, Eobard Thawne is the Flash's biggest fan. However, in the trailer, Wells can be heard promising that Barry Allen will die, so maybe he's actually fulfilling the timeline, and time traveling was his predetermined destiny. And we've seen what he's done to his surrogate family members before... he's not a sentimental guy. Poor alternate-timeline Cisco.
Wells is also the only person right now who knows why Barry Allen disappears in 2024, so there's still a slight chance that even if he's been acting like a villain for the past few episodes, he's really trying to do something noble. Rick Cosnett, who plays Eddie, promised to CinemaBlend back in late 2014, that "I have a clear trajectory. The writers have dropped bombs on me as we've sort of gone along, but Eddie is very much the opposite of Barry." Maybe finding out just how twisted his descendant — and possible son — Harrison Wells is will be what sets Eddie Thawne on his dark path.
Images: Cate Cameron/The CW; hummelssmythe/Tumblr