I Recreated The Best 'Age Of Adaline' Hair Looks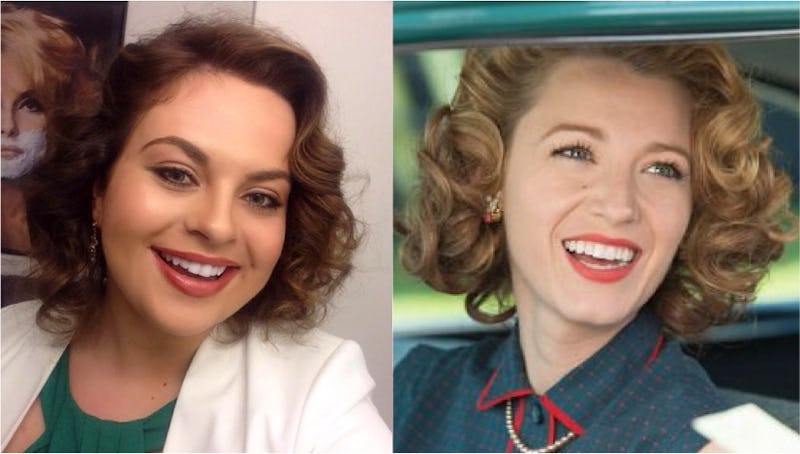 After three devastatingly long years, our favorite California girl next door has made her return to the silver screen— and back onto our beauty Pinterest boards. Blake Lively and her amazing locks are back, rocking decades worth of amazing hairstyles in Age of Adaline, the story of a woman living an eternally ageless life. From the Shirley Temple curls to the slinky gowns, this movie is overflowing with beauty inspiration, so much so that I recreated the best 'Age of Adaline' hairstyles so that you could too.
From the first three minutes I spent watching the trailer, I knew this film would be chock full of looks we would eventually store away in our beauty arsenals. Lucky for all of us, the film takes place over the course of almost 10 decades, giving us plenty of iconic beauty looks spanning from the 1920s to modern day to recreate for ourselves. After all, these looks are considered classic for a reason.
For this experiment, I picked three looks that I think can be achieved with most hair textures and lengths. Whether your hair is straight or curly, short or long, you can adapt elements of these looks to your own locks. Without further ado, let's do some time traveling.
1. Adaline's 1980s Pin-up
During the 1980s phase of the film, Adaline starts sporting an elegant side-parted pin-up style, which is not only insanely easy to recreate, but is perfect for that dirty hair you battle with on the days you wake up late and only have time for dry shampoo. To start, I curled large sections of hair with a straightener, flipped my head over, and tousled the waves with my fingers for an undone effect.
Next, I split my hair into two sections, with more hair on one side than the other. Using two bobby pins per side, I took the top layer of each side and twisted it toward the back of my head until I got something that looked akin to this picture of Blake. When I got the desired placement, I secured both sections with two bobby pins each. Spritz a little hairspray and you have a brand new hairstyle for your unwashed locks. Congrats! You get to snooze for 20 extra minutes.
2. Adaline's 1930s Curls
This 1930s tight curl was a bit of a challenge, considering my hair falls wells below my shoulders AND is pin straight. Have no fear — this is why curling rods were invented. Using a 1 inch curling rod, I curled the top layer of my hair in very small sections, allowing for the curls to be tight just like Adaline's in this picture. I pinned the bottom layers of my hair up in the back of my head and let the curled layer fall on top, creating the illusion that my hair is indeed only chin-length long.
Next, I brushed the curls out to create volume and pinned one side up like the picture. If you're ever in need of a dramatic hair change without the commitment, try this look first. You can try out short hair without having to permanently snip to combat your beauty boredom.
3. Adaline's 1970s Loose Waves
When it comes to glamorous mermaid waves, Adaline hits the nail on the head. The key to this look is focusing on smoothness. I parted my hair to the side and brushed my roots down with a paddle brush. Next, I began curling sections of my hair with a straightener all in the same direction and brushed the waves to create a smooth and uniform finish. If you have done it correctly, you will notice that all of your hair will fall into a uniform S-shaped wave.
Next, I re-separated each curl with my fingers to create definition without frizz. Finally, I pulled all of the hair to one shoulder, sprayed my brush with hairspray and then brushed the other side of my head to smooth down any extra fly-aways. Of all of the looks, this is the easiest and fastest. Whoever said Kim Kardashian's signature waves were high-maintenance was just jealous.
Images: Lionsgate; Samantha Schnurr