We May Have Found 'Arrow's Next Big Bad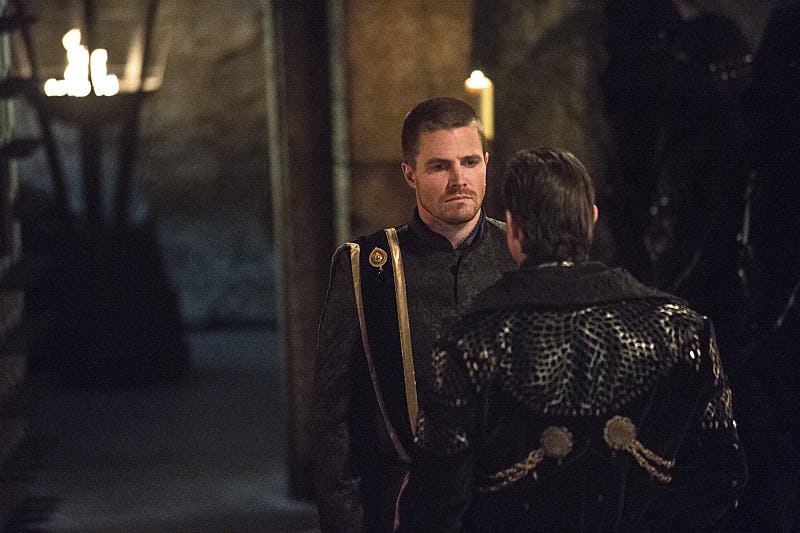 This season of Arrow has revolved around the growing conflict between Oliver Queen and the leader of the League of Assassins, Ra's al Ghul. That chapter of Oliver's vigilante life appears to be coming to an end as Arrow heads into its last two episodes of Season 3. Whatever happens between Oliver and Ra's, whether it be good or bad — though it will most certainly be bad — it's time to look ahead to what's going to happen next. Rumor on the Starling City streets has it that Arrow introduces a mysterious "Damian" during it's season finale, so could Damian Dark be the Arrow Season 4 villain?
Some of this chatter is all just beautiful speculation, thanks in part to a scoop TVLine grabbed from the Arrow showrunners. According to website, the end of the Season 3 finale will introduce a character who's been "referred to internally as 'Damian Dark,'" setting the slate for Season 4 next fall. And as readers pointed out to TVLine, there is a DC Comics character named Damien Darhk, so it's very likely that Arrow just changed up the spelling.
In the comics, this Darhk is, of course, a villain, and one with lots of ties to H.I.V.E. Oh, so that's a DC acronym we haven't come across too often huh? H.I.V.E. stands for Hierarchy of International Vengeance and Extermination, and they take pride in how they train their assassins and mercenaries. They've been mentioned before on the show, since they're the group that was responsible for killing Diggle's brother, Andrew. Ra's mentioned them during the episode, "Al Sah-Him," when he also mentioned a man named Damian Dark, and how he wanted the demon's head title. This link would be a great way to introduce a new villain to Arrow, especially if Oliver decides to keep being the head of the League of Assassins.
But Darhk isn't the only notable member of H.I.V.E. in comics. There are also notable members like Deathstroke and — wait for it — Talia al Ghul. Arrow is already pretty invested in the al Ghul family, so I would not be surprised at all if Talia made her way to the show. I wouldn't even be surprised if Nyssa took on some of the traits/storylines for Talia from the comics, and joining up with H.I.V.E. could be one of them.
It looks like Oliver and Nyssa will get married in this week's episode and considering that neither of them actually wants to marry the other, I doubt their their honeymoon period will be very hooneymoon-y. Nyssa could easily peace out of Nanda Parbat, running off to find this Damian. That would leave Oliver still in charge of the League, with his blushing bride and this new enemy fighting to be the next Heir to the Demon.
My best educated Arrow guess? Damian Dark (or Damien Darhk, however it ends up being spelled) will become the new Arrow villain, whether or not he still has ties to Ra's or H.I.V.E. Arrow loves to keep us on the edges of our seats week after week, and introducing a huge new villain just before it goes on hiatus for the summer is the perfect way to keep us hooked. It'll also make the summer months without Arrow that much harder. Is it fall yet?
Images: Cate Cameron/The CW; supernatural-ruined-me-goshdarn/Tumblr