'SNL' Handles Diversity Issue Right Away, Moves On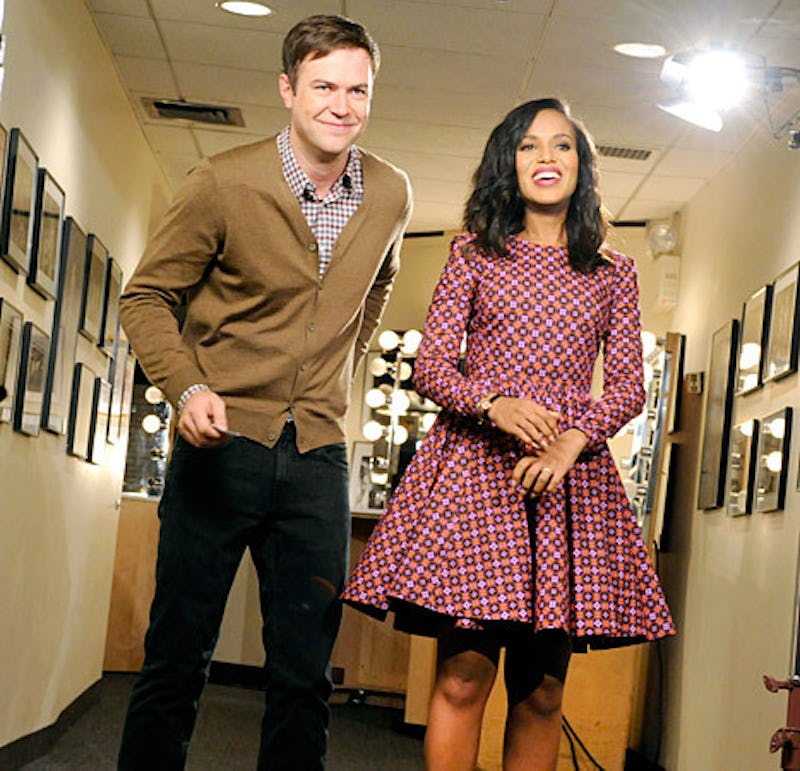 Finally. A black female on the set. Ever since SNL's whitewashed cast has been dominating the conversation, there's never been so much unspoken racial tension in the air since Washington schooled Julia Stiles' character in Save the Last Dance. Even Kenan Thompson found himself in hot water when he said SNL had no black female cast members because it "couldn't find ones that were ready." So how refreshing it was to see the show reference its outdated shortcomings. Let's get right to it: Here's what you should watch and skip from Saturday night's episode:
WATCH: COLD OPEN
Things were off to a promising start with a cold open that addressed SNL's diversity issue with Washington as a succession of black females (first lady and otherwise.)
The pregnant Washington delivers the return of Michelle Obama and the entrance was the closest thing we felt to happiness for her since she danced to "At Last" for the inauguration.
But hold that thought because the frustrated hostess has to breathlessly change. Oprah's JUST announced her arrival. When she busts in as the queen of Chicago, it's huge and to choruses of laughter, but then Washington has to make an exit because Beyoncé's just arrived. (No Mr. Carter - Jay Pharaoh's on as Obama.)
But six different Matthew McConaughey's? Coming right up.
A disclaimer scrolled, and here, the highlights recounted for you:
"We would like to apologize for the number of black women [Kerry Washington] will be asked to play tonight…SNL does not currently have black women…not an ideal situation we hope to rectify it unless we fall in love with another white guy first."
Poking fun of itself, but still wielding that power in the face of some very serious criticism that goes beyond casting to include sometimes racist content.
The episode makes a bold move by asking Al Sharpton to announce we're live from New York, which is handled somewhat awkwardly.
WATCH: MONOLOGUE
Washington's monologue was funny and Scandalous. She fixes PR nightmares for Moynihan and Bayer but Thompson comes onstage, his shirt covered in blood, his living PR nightmare an unaired secret everyone's in on.
The beaming hostess lit up the stage, and brought a freshness to the sketches, if not the stop-at-nothing-energy of other hosts that carried her the whole way. At least the writers gave her a balance of parts (scholar, Uganda woman, and ghetto assistant) with others (Long Island teacher, game show host, airheaded MTV contestant.)
The episode as a whole was mostly a hit, delivering solid sketches (McKinnon makes out with Pedrad for real) and only a few moments you wish you could fast-forward.
But for now let's bask in the bright spots.
WATCH: CAREER WEEK SPEAKER
Last week was a refreshing precedent for Pedrad because she leads her own sketch again.
Meet Hesha. She's a 44-year-old motivational speaker on the public school circuit from the city of sewage fires in Yemin. She has a Honda and an OkCupid account. Her moves are martial arts mixed with air sex replete with gun sound effects.
Stick around until the end because Washington gets low as Heshe's ghetto assistant.
WATCH: MY GIRL
The parody of the Fox worked well with Pharoah as the philanderer and Washington as his his snooping girlfriend. He locks his phone, but his girlfriend nabs his cloud full of butts. Washington's clearly having fun here stepping into her silly side for a rooftop dance sequence.
SKIP: EMINEM
Eminem's back, and he's sober but not short of his edge. Sidekicks opened both of Eminem's performances for him. First up was Rick Rubin on the turntables contributing some genre-melding to the fold. If he's a little new to rock, Mathers was digging pounding the air to the sound of a guitar. His first song was filled with nostalgic celebrity disses, which register as somehow less relevant now post-Slimshady. But he's still spitting fire. Collaborator Skylar Grey sings for his second song, which was darker and less mischievous. He saved up his wind up move for it.
SKIP: HOW HE'S DOING
Thompson's character's back, pushing black voters to the limit on what they'd put up with before Obama lost their vote (everything.) But if this was the strongest scenario the writers could deliver on the Obama's approval rating at a record-breaking low with a record-breaking high of three black people, they should have moved on to another idea.
WATCH MOSCOW BEAUTY PAGEANT
Contestants from impoverished fringe countries destroy the show Washington (Uganda,) Byrant (Greenland,) McKinnon, (Moldova,) and Bayer (Bolivia.) Most importantly McKinnon makes out with Nasim and delivers this line to her children who can't actually watch her from home "It's 2a.m. go to bed! I'm kidding, go to the factory!"
WATCH: WEEKEND UPDATE
This week's Weekend Update was strong tackling the usual suspects (healthcare, Kardashian, etc.) Seth Meyers breaks the fourth wall early on, joking that they rehearsed a sound effect for the NSA bit for an hour.
WATCH: CHANCELLOR ANGELA MERKEL
Best was McKinnon as the German Chancellor (the moment the role was announced, you knew it'd be Kate.) She masters the shame and the strength as she bravely announces some less, much less than proud moments in her sad text and browser history.
SKIP: BARKLEY AND SHAQ
Pharaoh's Shaq was too much of a cringey caricature so jump past that part.
WATCH: CARTOON CATCHPHRASES
Aidy Bryant showcases how she crumbles in the face of her husband's war path of infidelity. She nails the exploding rage and weirdly a couple of accents as the same character (A Blue Jasmine-y thing? Then Southern? Who is she?)
WATCH: PRINCIPAL FRYE FALL CARNIVAL
Pharaoh and Washington were right on target for this one. Pharoah's announcement about the pranks got better and better with time. Thanks to the mirrors, he couldn't tell if he caught two students fornicating in the fun house or an orgy. Glad Washington's part didn't revolve around her being a black female. Instead she played a first-year teacher from Long Island.
WATCH: DATE OR DISS
The MTV parody worked, though it felt somewhat oddly timed. Killam enables the three women to shine as they freak him out one by one with an endless succession of facts about how damaged they are. Some of them even rhyme MTV-style. (They reveal all for the camera from "my birthmark screams" to "I grew up in a bathroom" to this charmer "mirror mirror on the wall num num I'm hungry for this guy's balls.") Fittingly because being a hot mess equals airtime, the losers of the show get their own spinoff deal "Bitch Apartment," revealing exactly how MTV should up its ratings. Seriously, this could be a real promo in your future.
SKIP: ICE CREAM
Buried at 1 a.m. was this ponderous one. A joke about needing ambulances from binge eating sugar sends everyone who hears it into an imaginary world in their mind's eye. Absurdist for SNL, but it's nice to see these continued bold move in that direction. Missable.